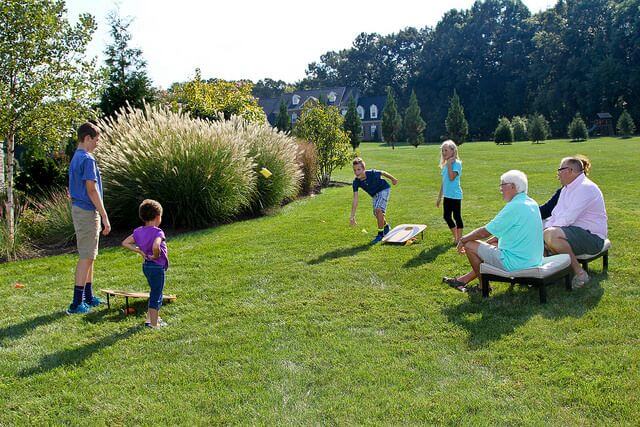 10 Tips for Hosting the Ultimate Backyard Party
Being the ultimate backyard party host while staying on-budget is possible, with Eden. Eden takes care of the yard work, giving you more time to take care of your party essentials.
1) Check your stock before you buy
Is your cupboard full of miscellaneous disposable plates, cutlery and cups? These party essentials can accumulate with holidays, events and birthdays. Declutter and save money by using your unique assortment of tableware. Like drinking out of mason jars, eating off mixed plates is trendy, and the ultimate host is always on trend.
2) Serve seasonal foods
Head to your local market and pick up vegetables in season. Not only is this more cost effective, it supports local farmers and the community. The ultimate host will discretely mention how sweet the corn farmer was, because sourcing local shows you went the extra mile.
3) Make a playlist or stream music for free
Have you ever been to a BBQ where the music is too loud, too quiet, or just too sporadic? Like when Drake comes on after Norah Jones? Set your party's ambiance by making a playlist and testing out the sound equipment beforehand. Be sure to mix in some popular hits to get people on their feet dancing! We recommend looking into purchasing an outdoor speaker and downloading free music streaming apps.
4) DIY yard games
Want to feel like a kid again? The whole family will be thrilled to have outdoor games to play. Lucky for you, some of the best games don't require a lot of equipment. Get creative! Use empty plastic bottles filled with sand for lawn bowling, or buy chalk from the dollar store and make your own twister game in the grass.
5) DIY sauces and rubs
Do you get tired of ketchup, mustard and relish? After attending a few BBQs these condiments begin to seem basic. Spice it up and wow your guests by making simple changes to these condiments. Make your own BBQ sauces and rubs with the spices and condiments you already have.
6) Put a twist on favourite BBQ classics
Classic BBQ food is always popular, so don't overdo it by overthinking your selection. Add your unique twist to staple BBQ foods in flavour or presentation. Make it Instagram worthy, and your guests will be begging for the recipe.
7) Serve punch bowl style beverages
Have you always wanted a drink named after you? Now you can. Save money by mixing a signature cocktail with only a few simple ingredients and serving it in a punch bowl. Not only are punches refreshing and look summery, they require less work.
8) Limit your fuel usage
How much fuel do you burn through at one BBQ? Save money on fuel and be more green by turning the BBQ down or off when you're not cooking.
9) Potluck dessert table
Dessert is very essential at any party. Save yourself the time and effort making dessert for everyone by asking your guests to contribute. Pot luck style desserts are low maintenance, plus you can never have too many desserts.
10) Keep it simple
The final and most important tip we have for you, is to keep it simple. The setup, the food, decorations, and drinks. Simplicity is refreshing and cost-effective.