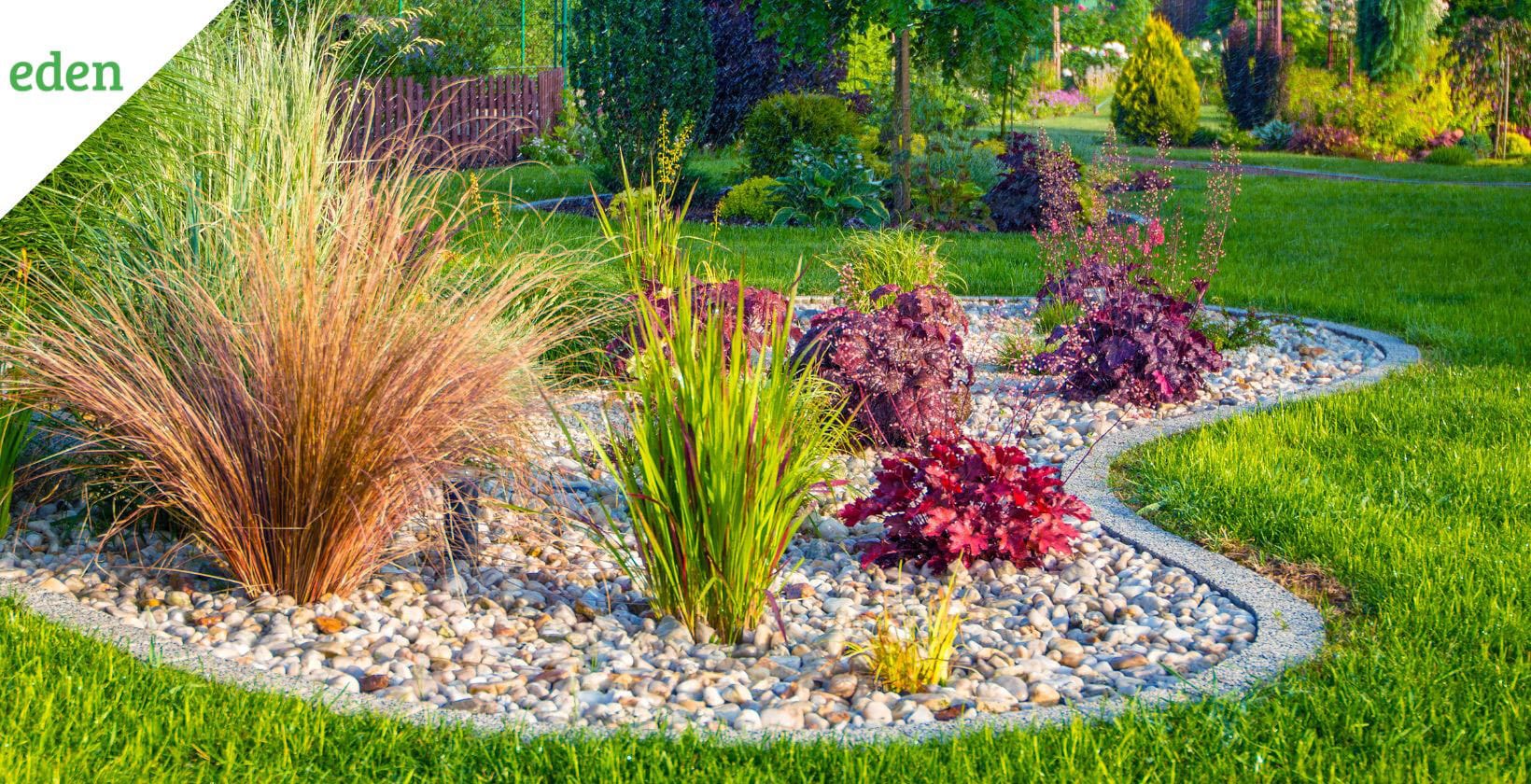 12 Landscaping Ideas With River Rock
Landscaping with river rocks is an excellent idea if you're looking to give your property a more natural feel. There are many ways to integrate them in your landscape and they are suitable for every space ‒ from small urban courtyards to large country gardens.
From selecting the right seasonal plants to installing an outdoor kitchen, our landscaping services can do it all for you. Contact us today for a stunning landscape!
River rocks are simply stones that have been smoothed by moving water of oceans, rivers, or streams. They come in all types of shapes and colors, with each being amazingly unique. Manufactured river rocks are also available which are made to provide the natural, perfectly imperfect look.
There are plenty of ways you can create using this textural material. To demonstrate, Eden has rounded up some of the best ways to use river rocks into landscaping ideas.
1. Create Pathways
Using small, round stones, you can use river rocks to create an elegant walking path.
As you walk on the rocks, the clicking, crunchy sounds will delight your ears, and the path's texture will be a pleasing sight. Additionally, this gives a more natural appearance in your yard compared to other stonework.
2. Create a Dry Creek Bed to promote drainage
As rounded river rock does not fit easily together to create a compact surface, similar to machine crushed gravel, water is able to effortlessly pass through these small stones and into the ground.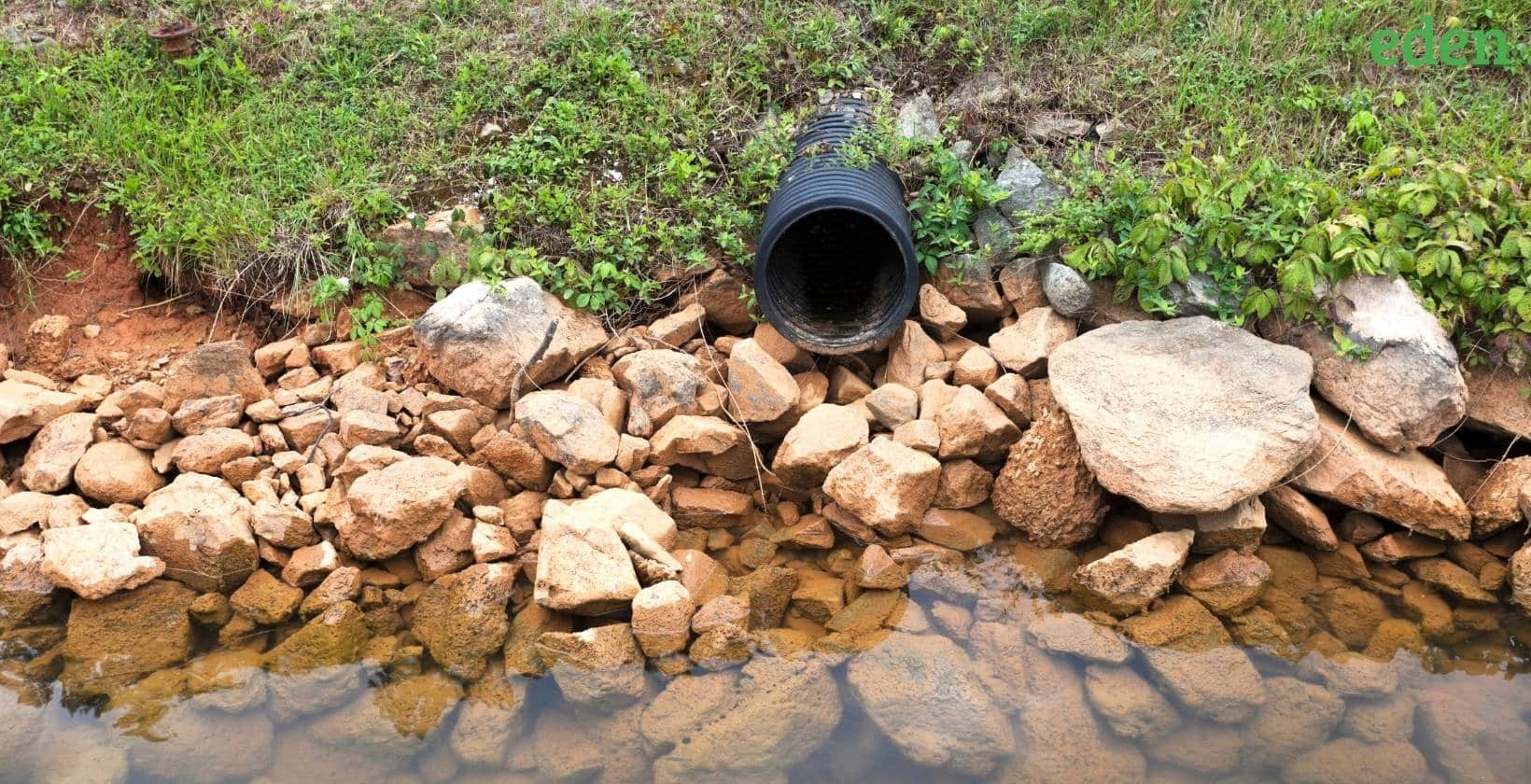 Poor drainage can result in contaminated runoff polluting water habitats, such as streams and rivers. Runoff can also damage your home's basement or foundation.
A river rock surface offers better drainage. Surfaces made of concrete, pavers, or asphalt are nonporous, so they don't allow water to drain into the ground below.
3. Design a Mosaic
You can make a river rock mosaic that can be embedded in concrete to create an attractive walking path in your front yard.
A river rock mosaic in the front yard sounds exciting and will have your family and friends enthusiastic about your put-together lawn.
4. Landscape Edging
Spread a layer of river rocks as edging around your garden beds. Edging focuses attention to your gardens and flower beds by making a definitive border, and it also helps to prevent erosion.
Moreover, edging with river rocks can prevent mulch from spilling out of garden beds after heavy rain or wind.
5. Keep at the Bottom of Your Water Features
For a calming, natural effect, add river rock at the bottom of your pond or graceful water fountain, if you have one in your landscape. The clear water will form ripples on the beautiful stones.
6. Landscape Around Your Pool
Add river rock around your in-ground or above-ground pool. Poolscaping makes a similar strong impression as your landscaping. Also, give a makeover to the aging patio and surrounding greenery with different river rock ground covers.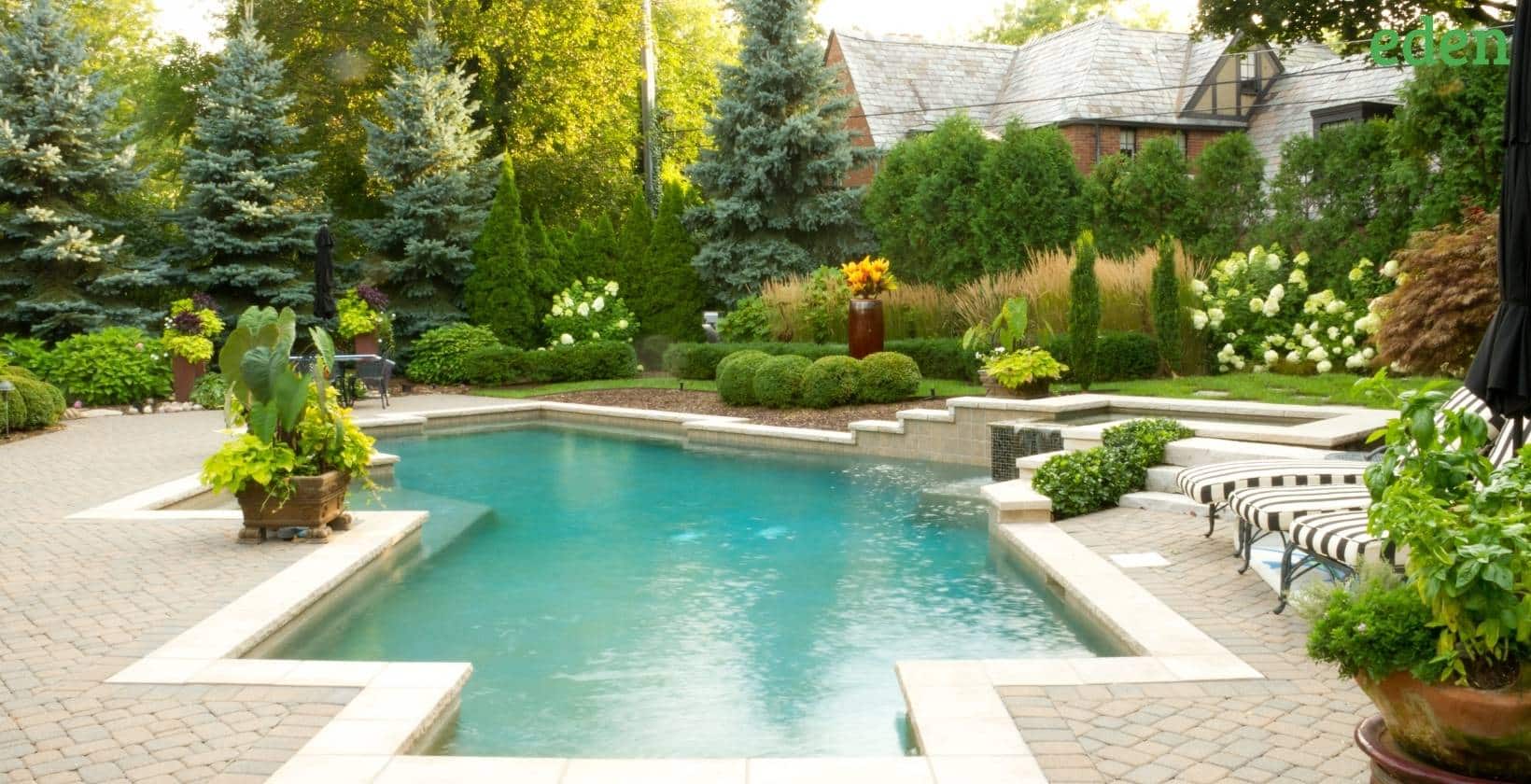 As a mulch ground cover, river rocks will look stylish for your pool's lush garden. You can place your pool's patio furniture on a river rock bed.
7. Xeriscaping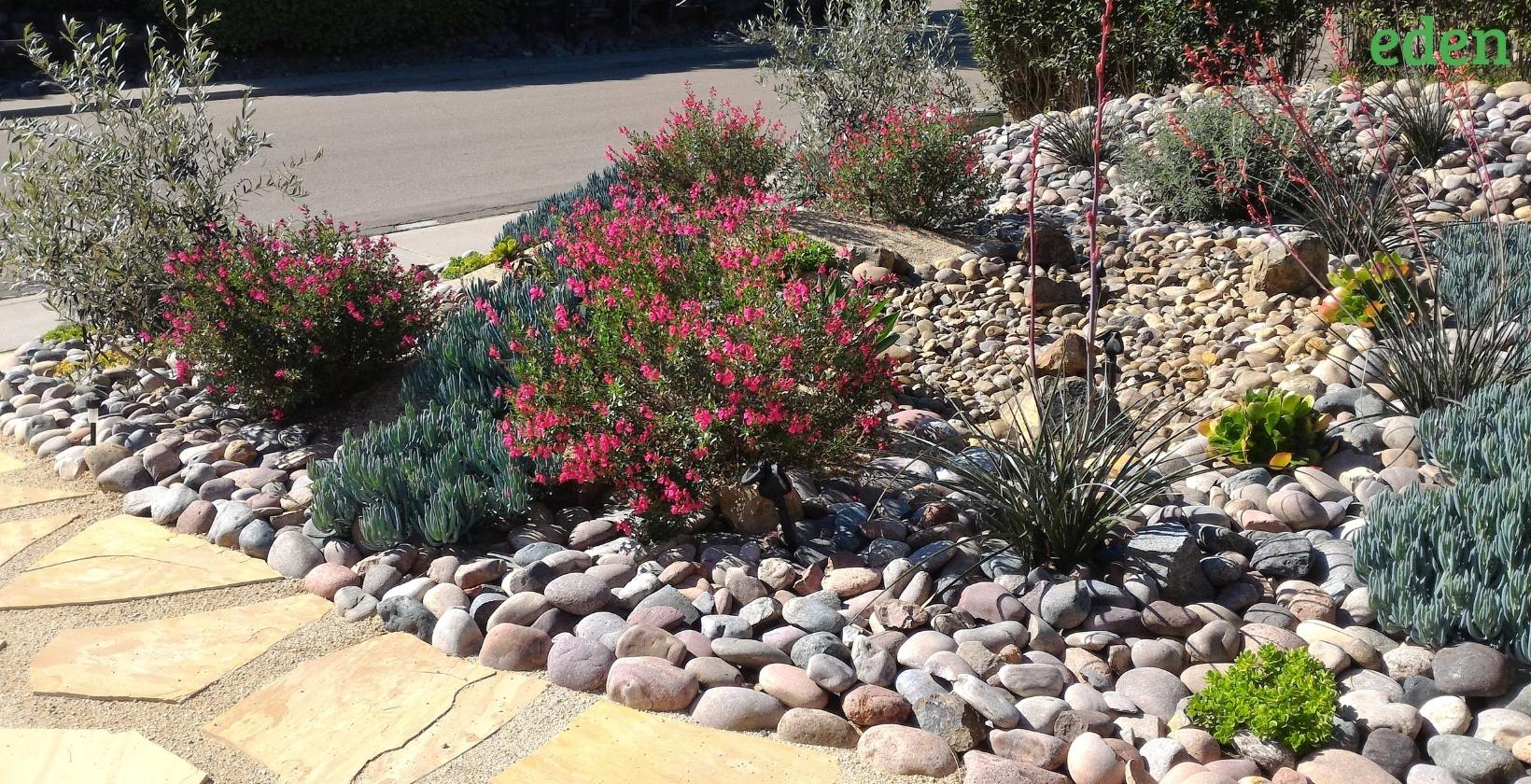 River rock will fit effortlessly into your xeriscape and promote good drainage in your dry garden. Xeriscaping is a landscaping option implemented for the purpose of conserving water and requires as little irrigation as possible. If you xeriscape the right way, your garden should need water from the local climate only.
8. Brighten shaded areas below trees
Landscaping around trees can be difficult. There are some plants that will grow below a leafy canopy, many won't thrive in the shaded and dry conditions.
A low-maintenance and easy approach is to surround the base of your trees with river rocks. Select light shade stones and the space will get instantly brighter. You can place one or two plants under trees with them, and maybe a larger rock, to have a space that feels attractive and curated, yet organic.
You can also consider adding a winding pathway made with bark chippings for an inquisitive, woodland vibe.
9. Place with colorful flowers in a rock garden
River rocks are a gorgeous addition to a rock garden, providing an interesting, textural view with leafy foliage and colorful blooms.
The fiery orange tones of California poppies in this scenery look outstanding against the muted grays. Also, an artfully placed, rusted chain makes for a characterful and interesting detail.
10. Line a fence for a stylish look
Looking for a low-maintenance garden idea for styling your fence line? You can consider a border created with pale river rocks, combined with the odd shrub.
It's a more minimal and easy-care option and looks super stylish too. Add stake lights to have a nighttime glow and maybe a garden statue or a small water feature to complete the contemporary scene.
Furthermore, you can consider painting your garden fence in a modern color – with a moody black, chic gray, or fresh white. It's a budget-friendly way to prepare any timber boundary.
11. Choose contrasting colors for dramatic appearance
Be attentive to the overall look of your garden when selecting the color of your river rocks. For example, do you want them to give a striking contrast with the surroundings, or mix with the background?
White pebbles look stunning against the lush green shrubs and scarlet-toned acer, offering a distinct contrast in hues. Dark gray or Black pebbles can add a bold, modern touch to a space, and look fabulous adjacent to lime-green foliage. Also, a mix of sandy hues can provide a more beachy vibe that is perfect for pairing with the best coastal plants.
12. Mix up the textures in your borders
Add a relaxed, woodland feel to your flower beds by adding chosen river rocks. It will serve as a non-biodegradable mulch, and not only will suppress weeds, but will also help to prevent soil erosion. Additionally, the mix of textures will provide an aesthetically-pleasing contrast. Just ensure to spread some landscaping fabric below to make maintenance easier.
Adding larger boulders will further enhance the look and continue the theme, while creating sculptural points of attraction throughout the scheme.
To conclude, the best landscaping ideas with river rock include ‒ creating pathways, creating a dry creek bed to promote drainage, designing a mosaic, and landscape edging, among others. Choose the ones most suited to your landscaping.
Contact the landscaping experts of Eden to beautify your landscape with river rock and also provide landscaping services at affordable rates.
From selecting the right seasonal plants to installing an outdoor kitchen, our landscaping services can do it all for you. Contact us today for a stunning landscape!