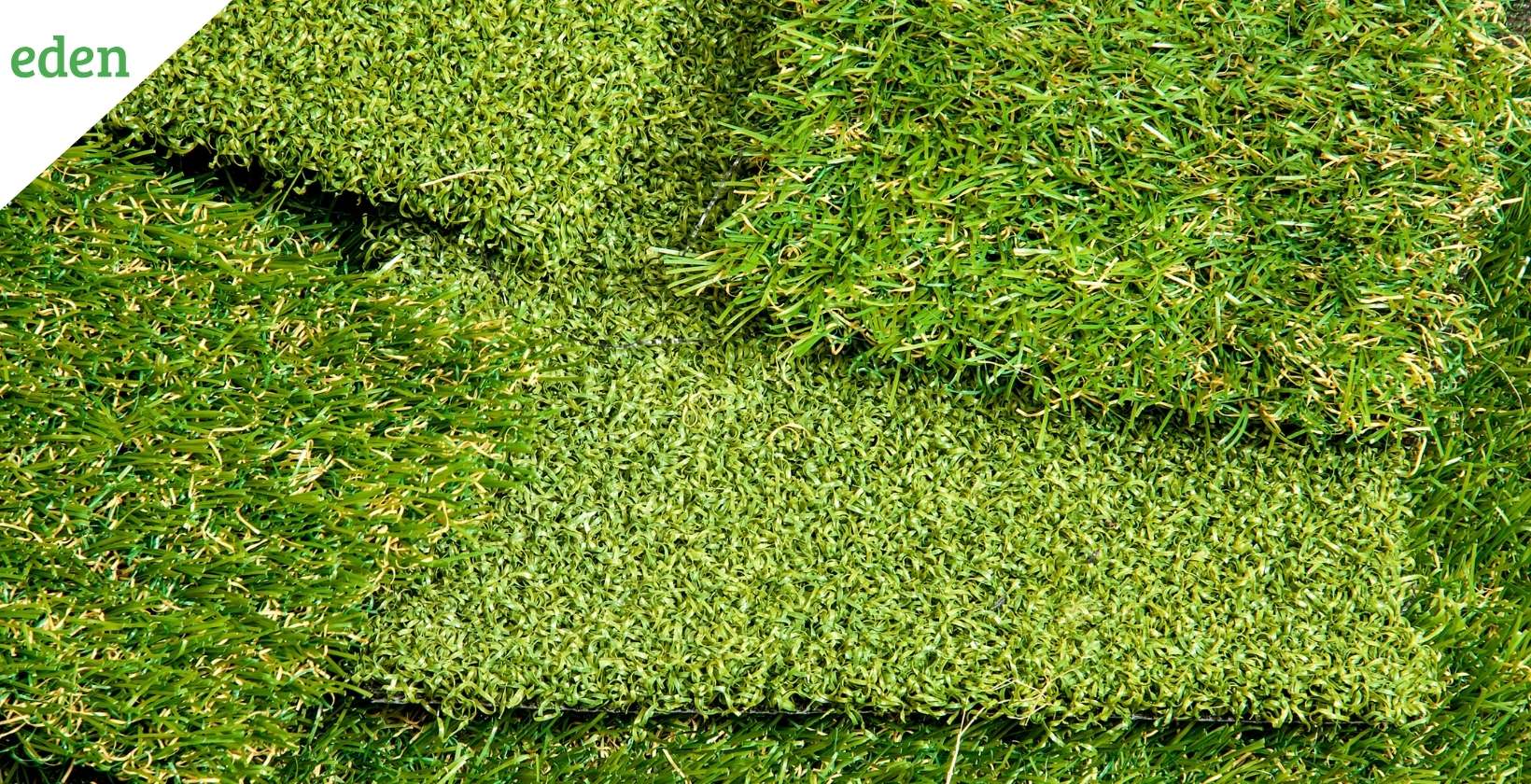 How much does artificial grass cost?
Artificial grass costs between $5 to $18 per square foot, with a national average price of $11.5 per square foot. If you have a 1,000 square feet yard, you'll be spending around $11,500. Note that the total cost will vary depending on the turf's brand, material type and where you buy it from.
From selecting the right seasonal plants to installing an outdoor kitchen, our landscaping services can do it all for you. Contact us today for a stunning landscape!
Artificial grass is made of synthetic fibers that look like natural grass. It is often used for athletic purposes, but now it is being used on residential lawns and for commercial purposes as well.
Factors that determine artificial turf cost
The main factors determining your synthetic grass installation cost include:
Type and amount of material

: The three main types of material are Polypropylene, Nylon, and Polyethylene. 

Labor

: Cost will vary depending on the amount of excavation needed and the size of the yard.

Preparation and cleanup costs

:

Costs for the things to be done before the artificial turf installation.

Brand of your artificial turf

: Some manufacturers sell greater quality turfs compared to others.

Blade Shape of the turf

: Some blade shapes are more heat-resistant and durable than others.

Size of the Area

: More square footage leads to paying more for labor and materials. 

Shape of the Area

: Curved or irregular shaped areas can make the installation process tougher. 

Location of the Area

: Costs vary depending on where you want to install the grass, such as the rooftop or backyard.

 
Let's check them in detail:
1. Type of Material
You have three main artificial grass types to choose from: Polypropylene, Nylon, and Polyethylene. Every lawn is unique, and each type is better suited for varying situations.
The price range according to the most common turf material type is given below:
Each turf material type differs in price and quality. If you buy higher quality turf, you can expect to pay more. If you find low-cost artificial turf, it may not always be the quality you want.
Polypropylene price ranges between $1.9 to $6.8 per square foot, with an average of $4.35. It is an excellent option if you need artificial turf for athletic purposes. It feels like soft, real grass and is more durable for golf clubs and cleats. The material is also suitable for those areas that aren't exposed to high temperatures and have relatively low foot traffic. It has a fairly low cost as it doesn't hold up well over the years.
Advantages: 
It sometimes sells at a lower cost than nylon and polyethylene

Suitable for shady areas 

You can use it as decorative indoor grass
Disadvantage:
Not suitable for outdoor use where foot traffic and temperatures are high
Polyethylene has a softer texture than Polypropylene and Nylon and looks more natural. Polyethylene turf can also bear heat and foot traffic much better than polypropylene. 
Polyethylene offers good drainage and is non-absorbent, making it a great choice for homeowners with pets. Its price ranges between $2.5 to $3.9 per square foot, with an average of $3.2.
Advantages:
It looks like natural grass

Great grass for outdoor use

It offers more durability than polypropylene

It has a softer texture than polyethylene and nylon

Excellent for pets as it is non-absorbent and offers good drainage
Disadvantages: 
Not as durable compared to nylon, however some high-quality polyethylene turfs are durable
Nylon offers higher strength and tolerates and maintains its shape in heavy foot traffic but gives an unnatural feel. Nylon is more resilient to extreme heat than other types, so you might want to consider Nylon as an option if you live in an area that experiences scorching summers. 
You can take advice from a professional landscaper, like Eden, on which turf will look the best for your yard and which is the most suited for your needs. Its price ranges between $5 to $5.8 per square foot, with an average of $5.4. 
Advantages:
Most durable among the three artificial turf types

Can tolerate weight, heavy foot traffic, and heat

Great turf for sports fields
Disadvantages:
Expensive

Durability of nylon can make it stiff
2. Labor
The professional team you hire to install the artificial turf will divide their expenses into several parts. They'll begin excavating and removing the current grass, apply base gravel, fit the turf, and ensure it's in place.
Labor costs range between $3 to $12 per square foot, based on the amount of excavation needed and the size of the yard.
3. Preparation and Cleanup
It would be best if you prepared the yard to get it ready for artificial turf installation. By preparing ahead of time, you may save time and money, which could drop the labor costs by as much as $3 to $5 per square foot for artificial turf installation.
You can do the following to prepare and clean your yard:
Clear the top 2 inches of soil

Get rid of existing weeds and lay weed-control membranes

Add a layer of gravel and compact it to create a flat surface

Top it with sand to eliminate bumps produced by the gravel
4. Brand of the turf
When shopping for artificial turf, you'll come across many brands to choose from. Prices will vary among various manufacturers of artificial grass. Brands selling high-quality turf usually charge more compared to brands selling lower-quality turf. Below you'll find different artificial turf brands with their low-end, high-end and average turf prices.
5. Blade shape of the turf
Artificial turf blades come in various shapes. Blade shape determines how natural the turf looks, its durability, and how well it can tolerate high temperatures. The total costs may vary depending on the grass' blade shape.
W-shaped blades

– expected to overheat less in high summer temperatures.

C-shaped blades

– offer more durability if you have heavy traffic in your yard.

U-shaped blades

– softer, but still durable if you prefer walking on it with bare feet.

S-shaped blades

– softer blades, however their appearance is more on the whiter side than green.

V-shaped blades

– can tolerate high traffic and recover quickly.
6. Size of the area
Whether you are installing artificial grass in your backyard or in your indoor playroom, larger spaces will need more turf and labor, leading to higher costs.
Homeowners can expect to spend an average of $12,330 to install artificial turf in a 1000-square-foot area. Larger spaces will require more budget for artificial grass.
7. Shape of the area
Artificial turf fits easily in an area with right angles and straight lines. Installing artificial turf in a curved or irregularly shaped area requires more labor. 
Your professional will need to work around the curved shape and existing landscaping to get the turf placement appropriately. The professional may need to cut or reshape the turf in some cases, increasing the labor charges.
8. Location of the area
Artificial turf can be installed almost on any suitable surface. The important thing to note is in some locations installing artificial grass may be more expensive than others. Discuss it with your professional turf installer about where you would like to install your turf and how this may affect labor and material costs.
Locations that may impact artificial turf installation costs include: Patios, Decks, Balconies, Stairways, Concrete surfaces, Walls, Indoors, Sports fields, to name a few.
Artificial turf costs by region
Average artificial turf costs based on a few different U.S. states and major cities in Canada are given below: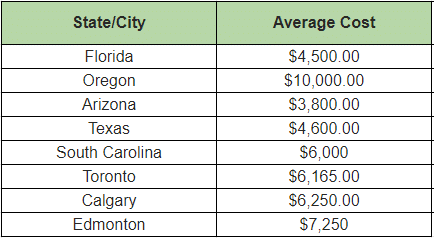 DIY artificial turf installation cost
If you plan to lay down artificial turf as a DIY venture, it will save you labor cost. The process of laying down artificial turf is simple, and you'll only spend around $2,000 to $4,000 for an average-sized yard when you do it yourself. The cost depends on the material and the quantity of turf you purchase.
It's important to ensure all the pieces fit together and are secured, and you have enough space for drainage to prevent your yard from flooding. If the pieces don't fit properly or are unsecured, they can get ripped up by wind or animals. You have artificial grass edging options to choose from  to provide structure and prevent ground erosion. Your new turf will turn into a swamp without proper drainage. For detailed information, read the article ‒ How to install artificial grass.
If you feel you can't do the artificial turf installation properly by yourself, hire a professional landscaper instead.
Artificial Turf Cost vs. Sod Cost
An artificial lawn is more expensive than a natural grass lawn. Artificial turf installation ranges between $5 and $18 per square foot on average. Sod installation is much cheaper as it costs most homeowners between $0.8 to $1.7 per square foot. 
However, the sod requires maintenance, which adds up costs year after year, whereas synthetic turf can save you money in the long term because of its low-cost maintenance requirements. Also, an artificial turf yard can pay for itself in a few years. Explore more in the article ‒ Artificial turf maintenance and care.
Artificial Turf Advantages and Disadvantages
Before installing artificial turf, research on artificial turf and have your questions answered by a professional. There is a lot to learn about artificial grass. For example, whether artificial grass is more eco-friendly than natural grass is an ongoing discussion, although it may save gallons of water. Listed below are a few pros and cons of artificial turf.
Advantages:
It saves water.

No fertilizer or pesticides needed

No lawn mowing required

It saves money in the long run

Always looks good
Disadvantages:
The turf is made of plastic

You cannot recycle it

It tends to get hot

It is a breeding ground for bacteria

It has a rough texture than natural grass

Runoff proves harmful

Generates waste in the manufacturing process

It affects the soil's ecosystem
In conclusion, artificial grass costs between $5 to $18 per square foot, making an average price of $11.5 per square foot. You can choose among the three main materials: Propylene, Polyethylene, and Nylon. You can install artificial turf as a DIY venture or hire a professional landscaper to do the job for you.
Contact Eden today to professionally install artificial grass in your yard at affordable prices.
From selecting the right seasonal plants to installing an outdoor kitchen, our landscaping services can do it all for you. Contact us today for a stunning landscape!