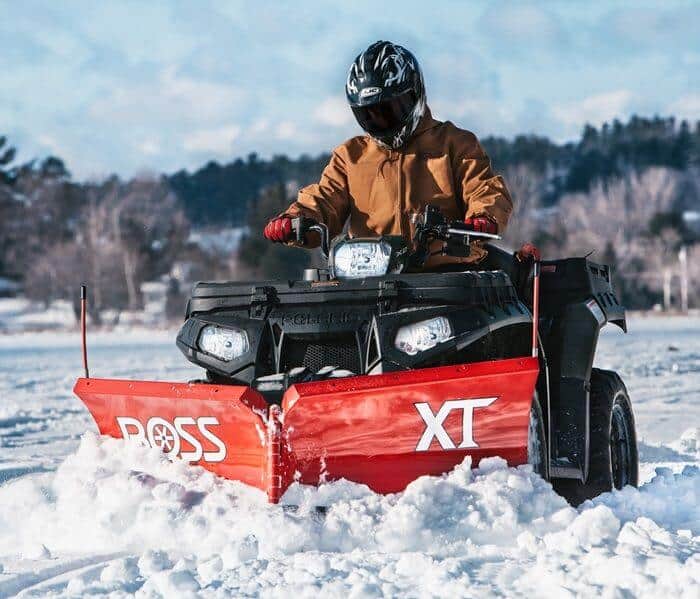 Best Snow Plows For ATVs And UTVs
Many people in North America have an ATV or UTV. They use it heavily in spring and summer but forget about it during the winter months. This is a mistake. You could put that vehicle to use by simply adding a snow plow. It can then get to work clearing your driveway and sidewalks from snow and ice.
Simply the Best
The current market offers a variety of snow plows designed for ATVs and UTVs. However, finding the best match for your particular machine may not be simple. Before you start, you must look to see if your machine has the capability and the structure to fit a snow plow. After you are certain, you have the right specifications and/or know what type of attachment kit you require, consider the options listed below.
· Warn 78950 ProVantage: This is the first snow plow many consider for their UTV. The 12-gauge steel plow is durable and rigid. It is adjustable and stable due to its stable wide plow bases and large plow skids.
· Warn 79958 ProVantage: This has the same qualities as the Warner 78950 but, instead of a straight plow blade has a larger side-by-side one.
· Extreme Max 5500.5010 UniPlow One-Box: This plow kit is suitable for most ATVs. It is durable and powder-coated.
· Denali UTV Snow Plow Kit: This kit suitable for most ATVs and UTVs requires a winch to perform the necessary tasks. The snow plow is 72" and of 12-gauge steel. The kit comes with stabilizers as well as push bars and skid feet.
· KFI Products 105500 SNO-Devil: This snow plow is designed to fit 90% of all ATVs/UTVs. The company powder-coats all components for increased durability and longevity. Its mount is different than it is for other types of snow plows, mounting to the frame located just behind the wheels.
· Moose V-Plow: An expensive option, but it is capable of doing everything you would ask and expect from a truck-mounted snowplow. It is suitable for ATVs 700cc and more.
· Kimpex Click N Go2 Plow: These models with an interesting peddle system as well double pivot point and 11 gauge steel straight blade do the job well. They are also less expensive compared to others.
· Kolpin X-Factor ATV Plow System: Kolpin has produced quality ATV and UTV accessories for a long time. This is advertised as the "first complete bolt-together ATV plow system in a box!"
· Swisher Commercial Plow Combo: Swisher produces reputable ATV and UTV accessories in addition to lawn and garden equipment. It is able to fit a majority of ATVs and UTVs. It is also attachable to either the rear or the front.
The final choice is up to you – although compatibility between machine and snow plow is essential. By picking simply the best snow plow for your ATV or UTV, you can reduce the time and energy you normally spend on ice and snow removal.
Best Snow Plows for ATVs and UTVs
If you have an ATV or UTV vehicle, you can turn it into a snow plow. But, before you go ahead and purchase one, make sure the structure of your ATV or UTV allows you to mount a snowplow. You must also make sure the two are compatible. Check with the manufacturer first to see if they provide plows for their products. Talk to snow plow distributors and retailers about the best possible matches. Rent an ATV/UTV-snow plow combination to see if this is what you want. If not, consider using a third-party service such as Edenapp available through Android, Apple, and Edenapp.com to hire a snow removal company. You can then sit back and enjoy the entire snow removal experience vicariously.