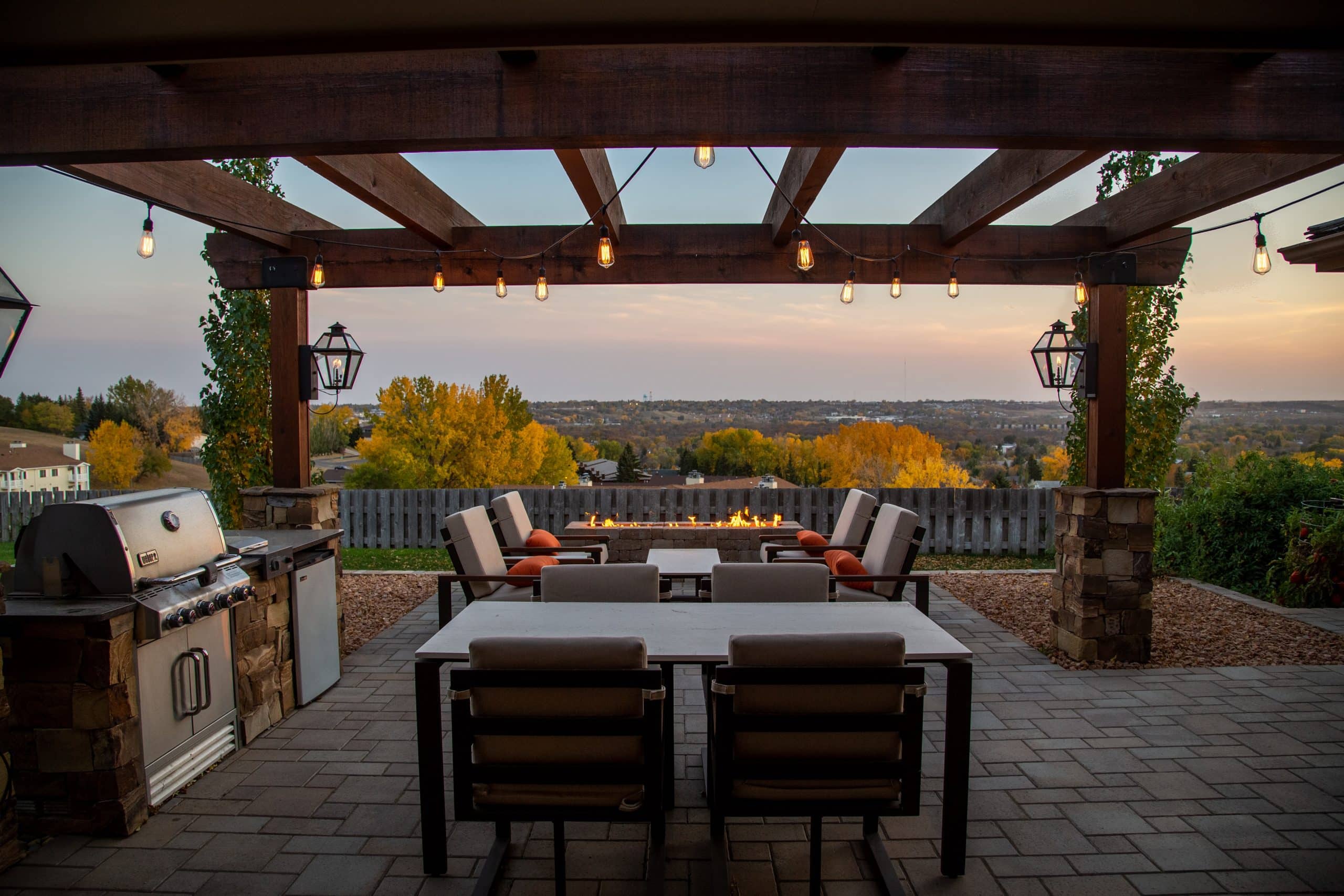 Cost of a Patio: What Is the Average Price?
Patio is a Spanish word that refers to the area of your building's courtyard. They're on the ground floor and close to your house. They can be made out of concrete or gravel. They're usually not made of wood and aren't raised at all. A patio does not need to be surrounded by walls. Patios are a constantly popular undertaking among homeowners who prioritize the building of outdoor living spaces.  
What are the basics of Patio pricing ?
The cost of constructing a patio is determined by the following factors:
Access to the site: We can't emphasize enough how price is influenced by access. It will be easier to manage logistics if you can get to your patio site quickly. Patio installation costs rise as a result of difficult access.
Deconstruction/Removal: If your existing deck or patio needs to be removed, the pricing will reflect the additional labor.
Patio dimensions: More materials and work are required for a larger patio or deck.
Patio Design:A complicated shape, such as one with curving lines or a specific pattern, will necessitate more labor and, as a result, a higher price.
With all of this in mind, you might be wondering if a deck is a better option for your yard. A patio may be a better option than a deck because it is often less expensive and requires less care. Patios also provide extra privacy, as a raised deck allows you to peer into your neighbor's windows (and vice versa).
Let's look at some specific patio ideas now.
A properly installed patio can cost anywhere from $2,363 to $5,909, with an average of $3,994.
The national average for a professionally installed patio is $3,994, although the typical price ranges from $2,363 to $5,909. Excavation of the patio site, supplies, materials delivery, and labor – in other words, a complete installation.
Expect to pay at least $1,212, but some customers have paid up to $8,431 for higher-end materials, more complicated designs, or more square footage.
In general, the cost of a complete patio installation ranges from $8 to $20 per square foot.
What Is the Price of a Patio?
The average cost in the United States is $3,994.
$2,363 – $5,909 is a typical price range.

$1,212 (very low end)

$8,431 (very high end)
In most regions, patios may be enjoyed throughout three or even four seasons, but hardscaping improvements can be costly.
Keep reading if you've ever wondered how much it would cost to spend a little more time outside throughout the year. We'll go over pricing averages, material alternatives, money-saving tips, and other costs to consider before committing to your new outdoor patio.
Cost Estimator By Size
When it comes to constructing your patio, size is crucial. This, along with materials, are the two most significant cost factors (besides labor).
You don't want to construct it too tiny so that you don't have enough space to spend time with friends and family, but adding more square footage can quickly add hundreds or thousands of dollars to the entire cost.
We'll apply our typical cost range of $8 – $20 per square foot to small, medium, and large patios to obtain an idea of the average cost range for each size.
Other Factors That Affect Cost
If you're looking to keep prices down, materials and square footage are likely the two most crucial factors to consider. The average price ranges for some of the most often used patio materials are listed below.
Please keep in mind that these are only the material costs. Labor and other expenditures are not included in these pricing.
Gravel ranges in price from $0.81 to $2.85 per pound.

$2.67 – $6.00 for concrete pavers

Concrete slabs $3.38 – $8.12 – $3.38 – $8.12 – $8.12

$6.75 – $10.00 per brick paver

$8.65–$20.65 for flagstone

Concrete stamps $13.30 – $9.15
Materials for the patio
These are average material costs; however, expenses may fall outside of these ranges in some cases. This is solely for the materials cost; it does not include installation, excavation, labor, other materials, or any other charges.
If you want to research all of your material alternatives, you'll usually start with the large box home improvement stores, but don't overlook local stone yards and reclaimed brick, for example.
Here's why: Depending on what's available in your area, local stone and salvaged materials producers may be a cost-effective solution.
Patio Material Alternatives
Patios made of gravel. This is the easiest solution, although it does take some upkeep, as you will need to add new gravel at some time. Gravel patios have a 5- to 10-year life expectancy. They are inexpensive, provide excellent drainage, and have a rustic appearance. Gravel patios have the disadvantages of requiring more upkeep and gardening, being potentially messy (gravel wedges into shoe bottoms and can scratch floors), and being difficult to move garden furniture and other accessories (as these can leave tracks in the gravel). Gravel is also unpleasant to walk on in bare feet. A gravel patio will cost between $5 and $10 per square foot.
Patio made of poured concrete: Poured concrete patios have a lifespan of more than 50 years, but expect some cracking along the way. This is the most affordable option for a patio with a hard surface. Concrete patios are simple to set up, easy to walk on, and come in a wide range of colors and finishes. They're low-maintenance, but due to the tendency for concrete to crack, they don't add much to the value of a home.
Cracking is unavoidable, and repairing cracks while keeping the patio looking beautiful is a challenge. Concrete is not regarded as a premium option in general, and lower-end concretes lack visual attractiveness. This, once again, limits the value added to your home. Patios made of poured concrete will cost between $10 and $20 per square foot.
Pavers made of concrete. With a life expectancy of over 40 years, this option is clearly the most bang for your cash. Pavers are available in many different shapes, colors, and styles. When compared to poured concrete, they are easier to walk on and add value to your home. Even the most affordable paver stones are appealing and functional in a variety of settings.
Pavers are simple to match to your home's existing decor, and if you need to expand your patio later, it's no problem. Pavers are also easy to maintain (if they settle, simply add extra underlying sand, and the repair will be barely noticeable), and some pavers are permeable. They are permeable, which means they help with drainage and safeguard the environment. Concrete pavers cost between $15 and $23 per square foot.
Natural Stone that has been set dry. Natural stone enhances the beauty of your yard and blends in with almost any setting. The stone will remain virtually indefinitely, but because most natural stone patios have a gravel layer underneath, they will only last 15 to 20 years. Natural stone has the disadvantage of creating an uneven surface that is unsuitable for chairs or tables. The stones may wobble a little in the long run.
 Furthermore, real stone hues can vary, making it more difficult to match stones to their surroundings and to one another (if this is your desired look). Each stone is unique, and the irregular shapes might be viewed as a benefit or a drawback. When the stones are put together in an aesthetically pleasing manner, however, a dry set natural stone patio can appear extremely attractive. A natural stone patio with a dry set might cost between $20 and $30 per square foot.
Natural Stone Mortar Set This is the most expensive patio material option, but it is also the most lasting and easy to maintain. The stones are put into mortar that lies on a concrete slab in this form of patio. This style of patio has a great, crisp appearance and is pleasant to walk on. On mortar built natural stone patios, setting up chairs and tables is also simple. The material is extremely long-lasting, low-maintenance, and has a high-end appearance. The only major disadvantages of this material are its high cost and installation time. The cost of a natural stone patio placed in mortar ranges from $50 to $80 per square foot.
For both dry and mortar set natural stone patios, smaller stones can be used. Smaller stones are less expensive than larger stones, but they will add to the labor expenditures of the project. Larger stones, on the other hand, are more expensive but take less time to install. Consider using concrete pavers that look like natural stone to save money. This article should help you understand the various options for patio installation and construction. 
Maintaining your patio
Do you think your patio is a low-maintenance component of your yard? Not so fast, my friend. True, you won't have to mow or weed your patio on a weekly basis, but you will need to inspect it once or twice a year to keep it in good operating order.
Check for low levels of regular or polymeric sand between your pavers every six months or so. Fill the sand to a quarter inch below the surface of the pavers.
A 40-pound bag of normal patio sand costs roughly $4, whereas 48 pounds of polymeric sand costs around $22. If you're building a new patio, these will cover between 30-45 square feet; if yours is already built, reduce the size accordingly.
Another consideration in patio upkeep is whether or not to seal your pavers. Although the majority of specialists claim it isn't required, they are quick to point out that it is quite useful. Sealers protect the pavers and joint sand, decrease the risk of irreversible discoloration, and help keep the original colour.
Depending on the manufacturer's specifications, sealing should be done every 2-5 years. A gallon of sealant will cover 125 square feet of patio and will cost around $30.
Patio furniture and accessories
Your patio is finished, the fire pit is set up, and you've planned your first outdoor dinner party. But where will everyone take their seats? Consider the expense of sitting in addition to the cost of the patio.
A simple two-chair table set costs roughly $100, but if you want to outfit a big patio with multiple dining sets, sectionals, and chairs, expect to pay several thousand dollars.
Are you looking for a new hammock? The cost of a free-standing hammock begins at roughly $100.
Locate a skilled patio builder in your area.
Additional Services
You may require more than pavers to create the outdoor living space of your dreams. Here are a few more costs to consider in order to tie everything together.
Installation of a fire pit
Family and friends will enjoy gathering around a fire pit. If you want one installed, they cost between $367 and $2,233.
A fire pit can cost as little as $250, but custom work might cost as much as $7,500 or more. The typical cost of installing a fire pit is around $750.
Lighting
Lighting can let you enjoy your outdoor living space for longer periods of time. Is there no sun? It's no problem.
If you want your contractor to install lights, expect to pay anywhere between $188 and $325 per light, with an average cost of roughly $260.
For a typical lighting project, the total cost ranges from $1833 to $5333.
Landscaping
Many hardscaping companies also offer soft-soaping and other landscaping services.
Plan on $4 – $14 per square foot in installation fees if you want to add seasonal color, perennials, flower beds, or bushes to your new patio space.
Locate a skilled patio builder in your area.
Cost of a DIY Patio
If you want to keep the expenditures of your patio makeover under control, you've undoubtedly considered doing it yourself.
Professional installation costs a lot of money in terms of labor and equipment. The average cost of labor per square foot is $9.69. According to some estimates, labour costs account for more than half of overall costs. However, by reducing this expense, you will save a large amount of money.
Assume you wish to construct a 12-by-20-foot (240-square-foot) concrete paver patio. (We'll assume you already have all of the essential tools.) The pavers cost on average $4.34 per square foot. Let's have a look at the details:
Cost of Materials
$22 for landscape fabric
$69 for 48′ of edging and steel spikes
$1,041.60 for concrete pavers
$73.41 – $88.45 TOTAL
If appropriate, a delivery fee of up to $100 may be charged.
$1,235.01 – $1,250.05 TOTAL
Equipment Needed
This is a basic materials list. Depending on the materials you use to construct your patio, your list may differ.
Equipment Required for a Do-it-Yourself Patio
You most likely have string lines.
Eye protection is essential. From $2 to $20
$3+ for ear protection
The cost of appropriate footwear and apparel varies.
$3 – $30 for a tape measure
$5+ hammer
a mallet made of rubber From $6 to $27
If you're using polymeric sand, you'll need a garden hose. $10+
Gloves range in price from $10 to $15.
$15 for a trowel
Blower for leaves, $20
With a carpet or other base protection, use a plate compactor or a mechanical compactor. Rents for $60 for a half-day or $86 for a full day.
Bobcat is a type of cat that lives in (rental) $289 – $330 per day OR $200 – $230 for four hours
Circular saw (two-battery cordless kit) $350
How to install a DIY patio
Here's a broad summary to consider if you're an experienced DIYer who wants to try your hand at building your own patio:
To find out if you need a permit, contact your city's building department. Although a grade-level freestanding patio is unlikely to require one, double-check. Also, inquire about code and inspection requirements while you're conversing with them.
Consult your homeowner's association.
Make a blueprint or plan.
Make sure you don't dig into any utility lines by calling the local utility department.
Take a friend or two with you.
Prepare your patio area properly.
Install the patio materials in a code-compliant manner.
With flying colors, you'll pass the inspection (if applicable).
Start enjoying your new outdoor living space by bringing out your furniture.
DIY cost vs. professional service
So, our average 240 square foot DIY concrete paver patio costs $1235.01 – $1250.05, plus any relevant delivery fees.
A 240-square-foot professionally installed patio costs $1,920 – $4,800 if we apply our $8 – $20 per square foot figure.
Locate a skilled patio builder in your area.
Patio Prices by Location
Consider that patio materials are substantial. Materials sourced from afar will be more expensive, so ask your contractor what materials are accessible locally if you want to save money.
Take into account the labor costs in your area as well. These differ by location and are taken into account when contractors submit bids.
FAQ About Patios
1. How long does it take to install a patio?
A well-oiled crew can put together a basic patio in a day or even a few hours. Extend the time if you have an elaborate paver design or multi-tiered construction plans, for example.
If you're a do-it-yourselfer, plan on spending two to four weekends on the project, depending on the complexity of your design and any extras you're adding (seating walls, fire pits, etc.).
2. How many companies should you look into if you want to hire a professional?
Before making a final decision, most experts recommend receiving estimates from at least three providers. Prepare a list of questions ahead of time so that you can compare the same data from all three contractors.
3. What is the expected lifespan of a paver patio?
For thousands of years, people have been laying stones on the earth as roads and patios. Although your installer may not offer a multi-generational warranty, most experts agree that paver patios should endure "forever." This isn't to say you won't have to perform routine maintenance. Any hardscaping project's lifespan depends on regular upkeep.
Other important considerations include the preparation and stability of the subbase materials (soil, sand, and stone), chemical exposure, patio installation quality, and if the site is periodically maintained with joint sand and sealer.
Also, many manufacturers provide guarantees on their products, so if a paver cracks, you may replace it with a new one.
With a good foundation and a little TLC, homeowners can expect their investment to last for decades.
Conclusion
A patio can be an affordable way to enjoy more sunshine and outdoor time with family and friends, whether you are a seasoned DIYer or prefer to have someone else handle the logistics and installation.
Remember that not only does the DIY option save money, but so does choosing the right patio size and materials.