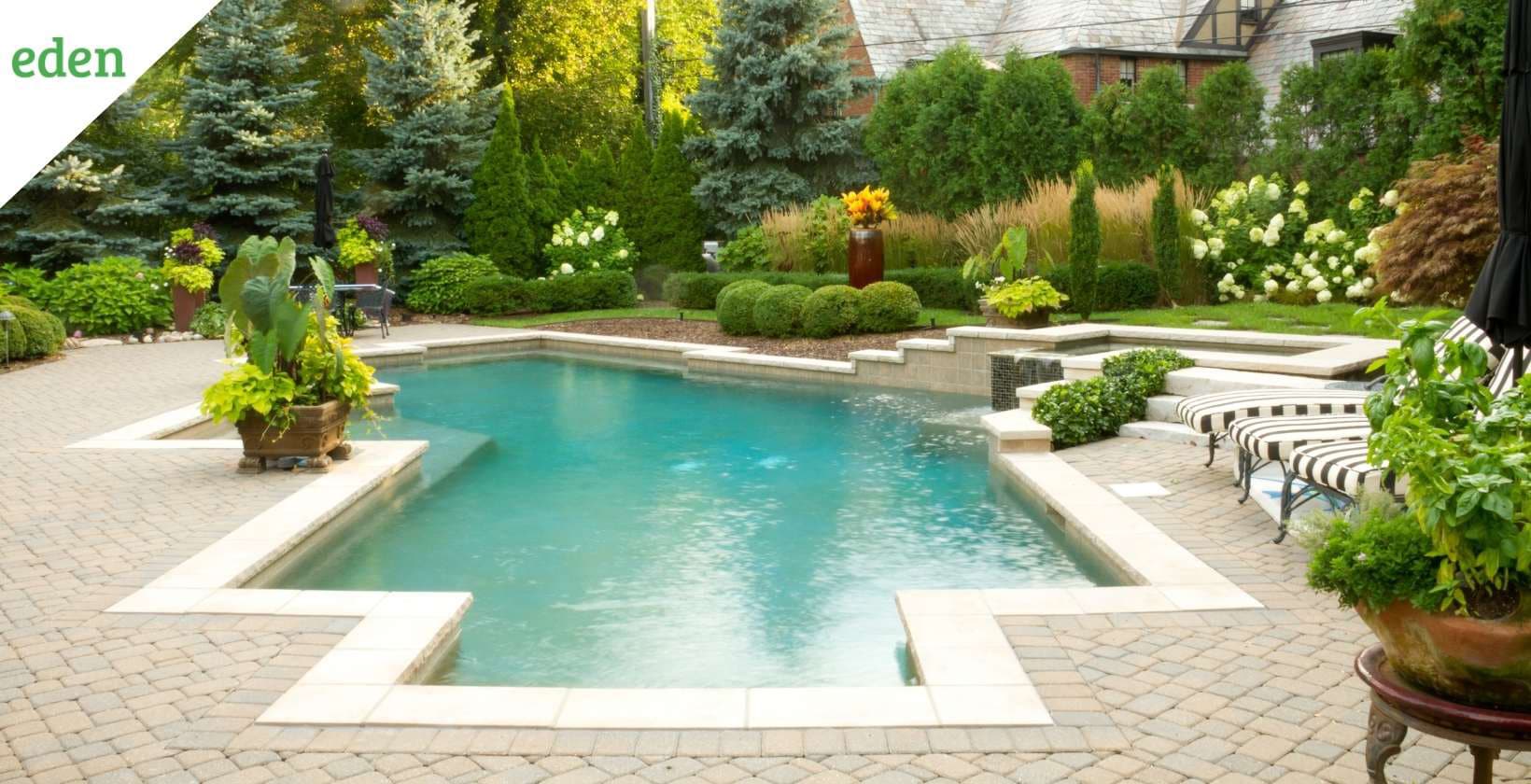 How to Landscape around an In-Ground Pool
You can try various landscape ideas for an in-ground pool. These include installing privacy fences, planting trees, shrubs, succulents and flowers, using hardscape or lighting fixtures, etc. Landscaping around an in-ground pool helps to transform a mundane yard into a beautifully landscaped plot of land. You can choose the ideas that go well with the overall aesthetic of your home. This is yet another example of effectively and efficiently improving the curb appeal of your property.
From selecting the right seasonal plants to installing an outdoor kitchen, our landscaping services can do it all for you. Contact us today for a stunning landscape!
Let's take a detailed look at the different landscape ideas for in-ground swimming pools.
Privacy:
Having nosy neighbors is the most common reason that homeowners choose to install privacy fences on their property. This is also an excellent way to ensure complete privacy around your pool where you can have fun with your family.
Here are some options for privacy around an in-ground pool:
Fence – Install a privacy fence around your backyard, but make sure it meets your state's regulations regarding swimming pool barriers. You should check with your city council office and the homeowners association's rules regarding fence height. The U.S. Consumer Product Safety Commission has specific guidelines for keeping private swimming pools safe with fences. Besides fencing, there are other innovative ways to create privacy around your backyard swimming pool.


Plants –

You can also

plant boxwood shrubs around the edge of the pool

, or

install a trellis with vines growing on it

. If you live in a

tropical region

, you can even

grow palm trees around the pool or your property. These plants give a peaceful island resort feel while ensuring optimal privacy for you and your loved ones.


Terrace – Building a terraced landscape

is even more aesthetically pleasing than privacy fences around the pool. You can

add colorful plant beds

to the retaining walls surrounding your pool to enhance its aesthetic appeal even more.
Trees:
You can easily integrate various types of trees into the overall landscape by planting the trees strategically around the pool. However, you can't just plant any tree near a pool. Trees tend to shed leaves, some more than others, which can litter the pool and clog the cleaning equipment too.
To prevent unnecessary littering you can plant trees that don't shed their leaves during the hot summer days, when you use the pool mostly. Besides this, you also need to be careful about the height of the tree around backyard swimming pools. If the tree's roots stretch out too much, they could easily damage the pool's plumbing and water supply system, and even the concrete structure itself. On the other hand, if the tall tree's roots do not have sufficient hold in the soil, it can topple over on to your in-ground pool.
Some of the trees that are efficient for planting around in-ground swimming pools include:
Citrus tree

Palm tree

Japanese maple

Fruitless olive tree

Cascalote tree
Some of the trees that are not recommended to be grown around an in-ground swimming pool are:
Flowering cherry tree

Crape myrtle

Honeysuckle

Tulip tree

Pine tree
Shrubs and Flowers:
According to landscape experts at Eden, you should choose plants and shrubs that are colorful and vibrant. These types of shrubs tend to complement the bright blue color of the pool water. Make sure to select plants of different varieties, textures and colors to make your in-ground pool look even more inviting during the hot summer days.
Here are some of the most popular flowers and shrubs to grow around an in-ground pool:
Hibiscus

Bird of paradise

Hydrangeas
You can achieve a natural look that is easier to maintain by lining your pool with a "bed-head" style garden. This is a type of garden that grows randomly, just like a field of vibrant and varied wildflowers. On the other hand, you can choose to create a container garden surround the in-ground pool by arranging potted plants in a cohesive design. This idea is excellent if your pool is surrounded by hardscapes that prevent from planting.
Succulent Plants and Alternates:
Besides trees and shrubs, succulents are also excellent to enhance the landscape around an in-ground swimming pool. Let's look at some of the popular alternatives to improving the landscape around an in-ground pool using succulents and other types of plants.
Succulents and grasses – Succulents and ornamental grasses are considered as low-maintenance options that can become focal point of the landscape surrounding your pool.


Ground cover plants –

Creeping plants, also called 'ground cover plant', such as vines are also excellent to add greenery to the pool without pulling attention away from the main ornamental plants.
Herbs –

You can plant herbs to transform your pool into a luxurious spa by planting fragrant herbs around the borders. For instance, safe, jasmine and lavender not only enhance your pool's appeal but also release a soothing scent into the air.
Hardscapes:
Hardscaping around your pool can also enhance its overall appeal. Here are some great hardscape ideas for an in-ground swimming pool:
Patio –

Add an outdoor patio to entertain guests or erect a simple pool deck to rest after a long swim.

Sculptures –

You can also add a water-feature or garden ornament as a conversation-starter and enhance the overall appearance of your backyard remarkably.

Stones –

You can achieve a more natural looking landscape around a swimming pool by surrounding it with river rocks and boulders. You can even add a bubbling fountain or a simple waterfall to create a peaceful, serene spot in your backyard.

Pavers –

If your swimming pool has a geometric shape, pavers can be perfect addition. You can create incredibly appealing, ultra-modern landscapes around in-ground pools with a Spartan look and clear lines.
Lighting:
People living in a hotter climate usually use their backyard swimming pools after sun-down. In such situations, lighting your pool in unique and innovative ways helps to give your in-ground pool a distinctly inviting look.
Here are some great lighting ideas to improve the landscape around an in-ground pool:
Tropical theme – The theme of the landscape helps to decide the most attractive way to light up an in-ground swimming pool. If you have significant numbers of tropical plants in the garden, you can install tiki torches to enhance its exotic look.


Romantic – You can choose to install softer lighting around the pool for when you are in a romantic mood. You can easily drape string lights across the poolside patio or the surrounding trees.


Solar lights –

You can also install small, solar-powered pool lighting around the pool's edges as these are less noticeable during the day but become incredible integral with the surrounding landscape when switched on after dark.
Conclusion
As we've seen, there are several options to enhance the landscape around an in-ground pool, such as using trees, fences, flowering shrubs, fragrant herbs, outdoor structures, hardscapes and lighting. Some of these pool landscaping projects may be DIY but is it always recommended to call in professionals, like Eden for the best results.
From selecting the right seasonal plants to installing an outdoor kitchen, our landscaping services can do it all for you. Contact us today for a stunning landscape!