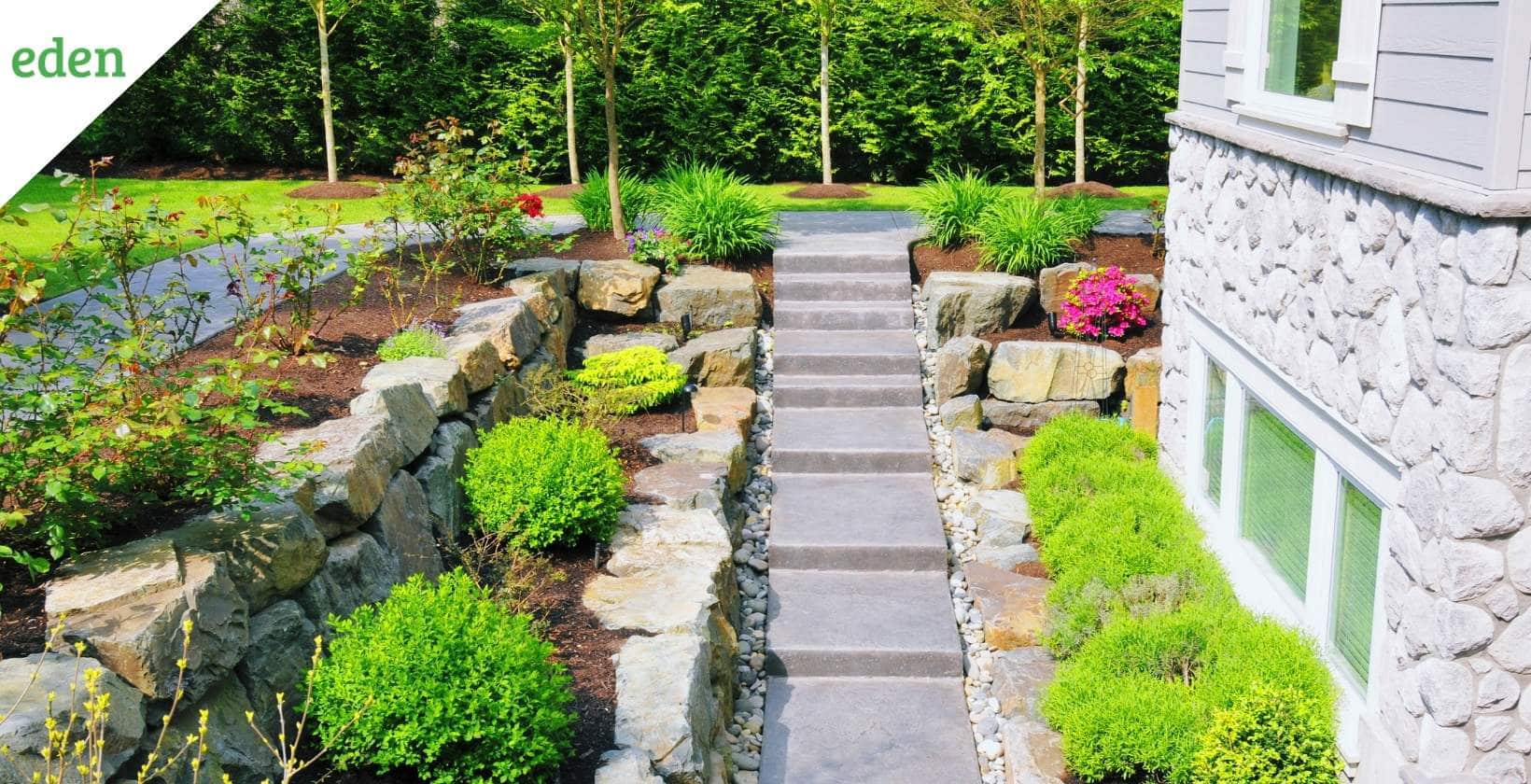 Landscaping Block Ideas for your Yard
Landscaping blocks are versatile and can be used for a variety of interesting and appealing ways in your yard. You can use landscape blocks to erect a retaining wall, put wall caps, highlight outdoor lighting features, create a fire pit, a fireplace, use them for landscape edging, etc.
From selecting the right seasonal plants to installing an outdoor kitchen, our landscaping services can do it all for you. Contact us today for a stunning landscape!
Landscaping blocks are often called Legos for grownups. They are quick and easy to install and offer an excellent way to spice up your dull backyard, flower bed or hilly terrain. You can use landscaping blocks to create several features for the yard, with various styles, utility, color, material and texture. These blocs can help to create fun DIY projects for your backyard. However, these landscaping blocks are incredibly versatile in the hands of expert landscapers, such as Eden.
Let's learn a little more about landscaping blocks before checking out the different landscaping block ideas for your yard.
What are Landscaping Blocks?
Landscaping blocks are also called landscaping bricks, wall blocks and pavers. These are construction blocks that are available in a wide variety of shapes, sizes, materials, colors and textures. Many landscaping blocks have a self-locking flange in the back, a lip that overhands and grasps the block below it. The flange lets you easily and quickly install by simply stacking the blocks to make a landscape feature, such as a retaining wall.
You usually don't require adhesive or mortar when stacking landscaping blocks as the flange self-lock effectively. However, this may vary depending on the landscape project and the type of landscape blocks you are using.
Best Landscaping Block Ideas for your Yard
1. Retaining wall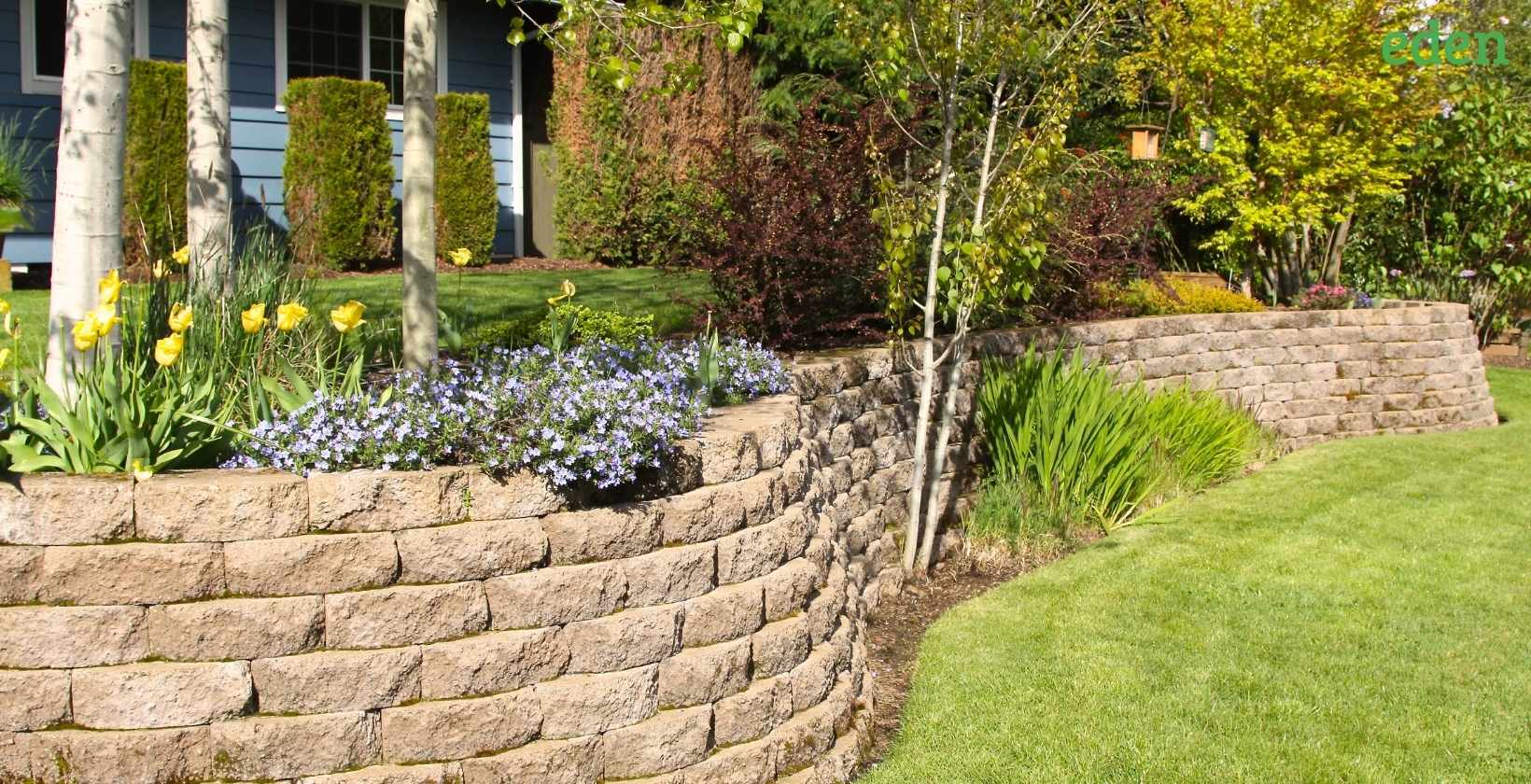 If soil erosion is a major problem in your yard, then you can create a retaining wall using landscaping blocks to solve this. A retaining wall is helpful in preventing heavy winds and rain from washing away the soil. The decrease in the soil's topmost layers can expose the delicate plant roots and cause the area to erode in time. A retaining wall helps to hold the soil in place and prevents soil erosion.
2. Stacked retaining wall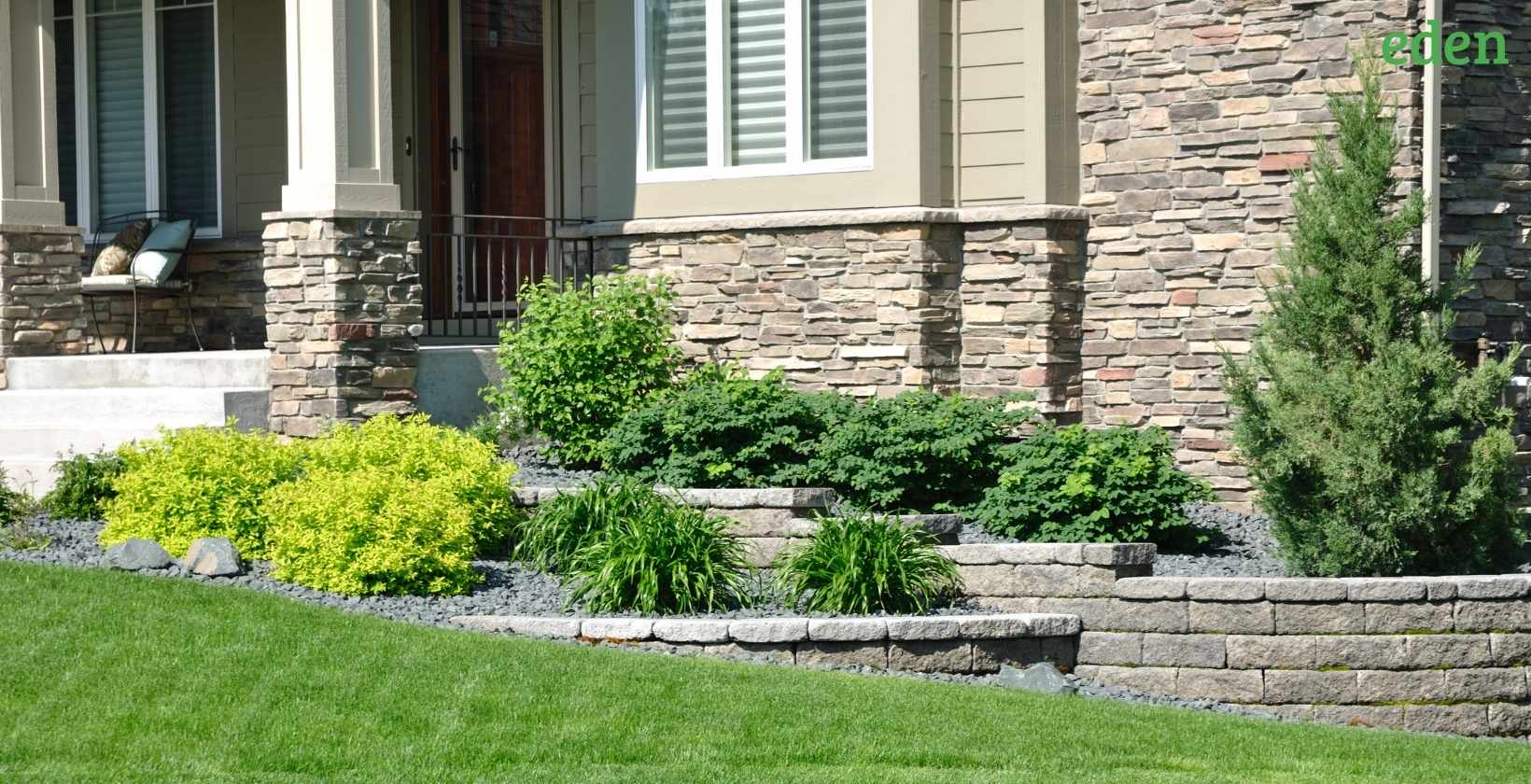 Landscaping a hill or incline can seem imposing at first. However, there are plenty of easy-to-do ideas that can spruce your lawn or garden. You can stack together landscape blocks to create a stacked retaining wall. These walls help prevent soil erosion and also help to make hilly terrain more level, which makes it easier to fix landscaping features.
Even better, a cascading view of a stacked retaining wall can look extremely attractive, especially if you plant colorful, bright flowers all along every level.
3. Wall cap
Wall caps are the finishing touch to your retaining wall, just like a frame is needed to complete a picture. Though wall caps are not usually necessary for a retaining wall, they are aesthetically pleasing and add a distinct look to your retaining walls. You may need to use an adhesive or sealant to keep the wall caps fixed in place.
4. Highlight lighting feature
Landscape lighting is essential to light up your yard or lawn after dark. A small stand offers the lighting fixture a place to shine. You can choose to stack landscape blocks to create a support stand for your favorite outdoor decorative lighting lamps in your yard. You can build lighting stands using landscaping blocks along driveways, pathways and patios so your outdoor lamps can light up the landscape evenly after sunset.
5. Fire pit
Who doesn't like spending an evening chilling in the yard with family? If you like, you can create a fire pit in the backyard. Use landscaping blocks and wall caps to achieve a rustic look that goes well with the surrounding landscape.
A fire pit is an excellent addition to any landscape. It gives a cozy ambience and is excellent for hot chocolate and warm conversations with the family.
6. Fireplace
If you think a fire pit will be too small for the family, you can choose to build a fireplace instead wit landscaping blocks.
A fireplace will look excellent in an outdoor living space and help make it into a spot for an exciting evening party. The crackling fire and the wonderful view of outside will make your party more memorable.
7. Landscape edging
If you notice that the mulch keeps spilling out of your raised flower beds or vegetable patch after a heavy rain or windy day, then you can use landscaping blocks to create an excellent edge to it. Using landscaping blocks to create edges along the flower beds will keep the mulch in place and also highlight the flower beds with a concise border.
8. Flagstone pathway
Flagstones are basically flat landscaping blocks. You can lay them along the landscape to create a charming, winding path. This path can take your visitors through your garden, or guide them around your backyard.
A walkway helps to keep foot-traffic away from well-maintained grass, offers a safe path to walk and guides visitors to only those garden aspects you want to highlight. For added appeal, you can fill the small space between each flagstone landscape block with colorful river rock or pea gravel.
9. Freestanding wall
Walls don't necessarily have to be sunk into the ground to prevent soil erosion. Freestanding walls can stand alone, without the need to have a deep underground foundation.
Using freestanding walls made of landscaping blocks you can divide the different parts of the landscape, such as a patio wall or garden wall. This way, you can add aesthetic appeal, ensure privacy and provide low-standing seating areas.
10. Paver patio
You can install paver landscaping blocks to create the patio you've always wanted. A new patio can enhance the appeal of your simple backyard.
A patio offers additional opportunities to incorporate more unique landscaping features in your yard. You can choose to set up an outdoor dining area and enjoy meals with family and friends under the sun. or you can install an outdoor grill or even an outdoor kitchen to spend warm afternoons outside with the entire family.
Conclusion
Landscaping blocks are incredible and extremely good for enhancing the overall appeal of your landscape and the house. You can create edges, walls, patios, walkways and much more using these versatile landscaping items. Make sure to consult with landscaping experts, such as Eden before deciding to install a new feature in your yard.
From selecting the right seasonal plants to installing an outdoor kitchen, our landscaping services can do it all for you. Contact us today for a stunning landscape!