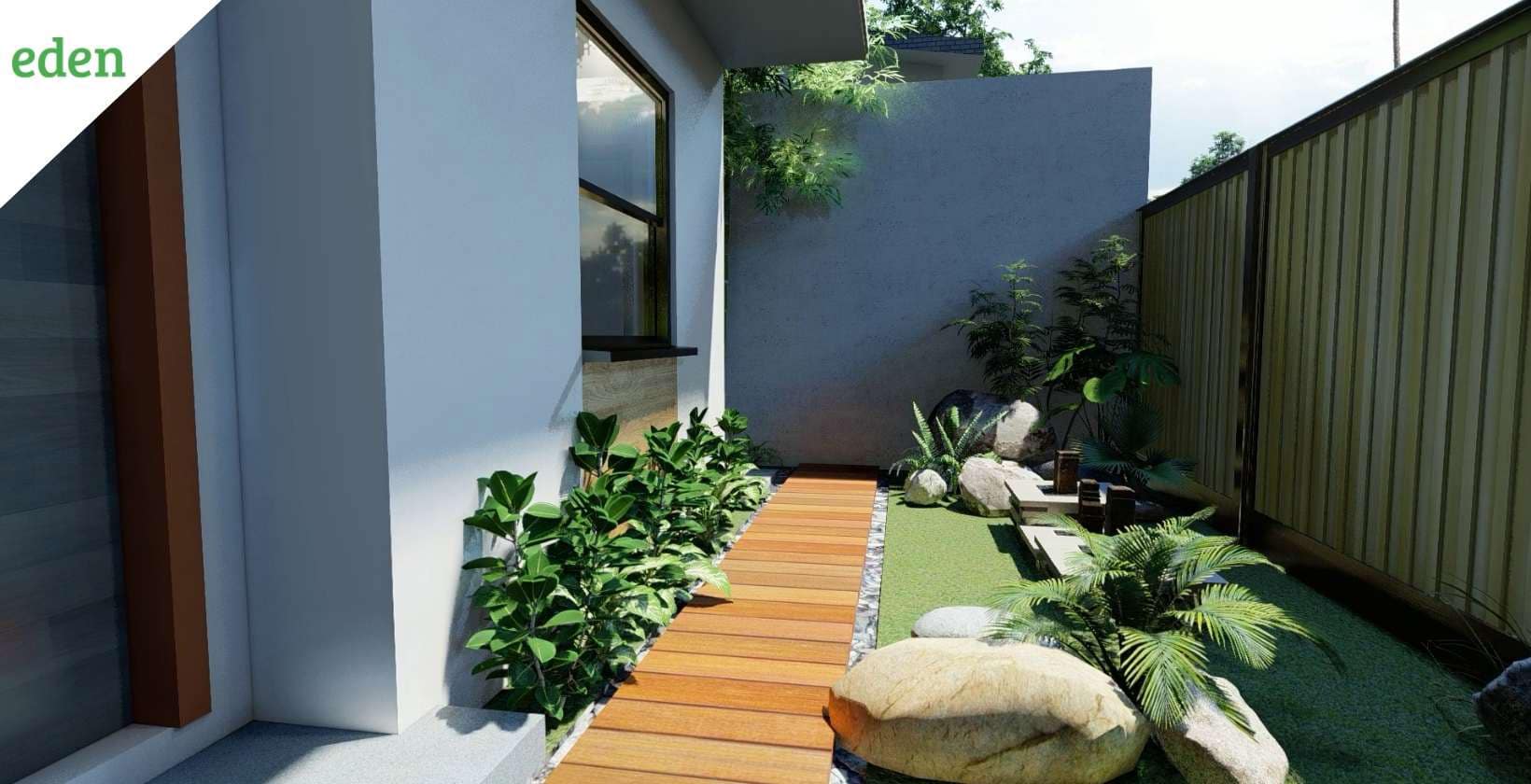 Landscaping ideas for a small front yard
Your front yard is a reflection of your choices in style, aesthetic and cleanliness. You can enhance your front yard by updating the entryway, planting select trees, planting ground covering plants, enhancing the perimeter, creating a border and by including unique aesthetic aspects to it. 
From selecting the right seasonal plants to installing an outdoor kitchen, our landscaping services can do it all for you. Contact us today for a stunning landscape!
We've listed some incredible ways to rejuvenate your front yard and enhance your property's value with landscaping ideas for small front yards. Most of these ideas are easy-to-do DIY projects while some are more complex, and usually require hiring professional gardeners, such as Eden for best results.
Here's our list of landscaping ideas for a small front yard.
1. Update the entryway
You can put in a decorative gate, brick walkway, planter and small trees near the doorstep as frame for the house. You can also add dynamic design elements like water and fire to enhance the aesthetic appeal even more.
According to landscaping experts at Eden, water features and fire pit in the front lawn have the ability to reduce street noise and give a warm visual to the front lawn at night, respectively.
2. Select the right trees
You can plant a small-sized tree in the front yard. Make sure to select a type of tree that grows around 15 to 20 feet in height. Some of the best options include planting star magnolias, eastern redbuds and dogwoods.
3. Groundcover plants
You won't have to worry about cutting, trimming and edging patches of your front yard when you transform it into an incredibly low-maintenance spot using groundcover plants. Besides this, you can also create stepping stone paths, mulched areas and plants. Some of the best groundcover plants for the front yard are hosta, candytuft, creeping phlox and liriope. You can mulch this area with organic materials, such as pine bark mulch or colored wood mulch to enhance the soil quality.
4. Improve the perimeter
A quick way to enhance the look of your front yard is by cultivating a border of vibrant flowers along the base of your house's foundation. Make sure to plant the blossoms directly into the soil, close to the walls of the house. On the other hand, you can also use individual potted plants to create a unique effect. You can also add texture to the landscape by mixing small and large rocks into the overall design of the front yard.
5. Create a border
Another excellent way to enhance the overall appeal of your front yard is by lining the front walkway or driveway with a mix of evergreen and coniferous shrubs. You can use azaleas, boxwoods and dwarf pines for this. According to landscape experts at Eden, you should group shrubs in odd numbers for balance. Besides this, you can also border the area with pavers of varied textures to increase the elegance element.
6. Choose uniqueness
Though you need to make sure that the overall design fits the norm of the community you live in, you should definitely add a touch of unique personality to it. You can make your front yard look unique and different from others by erecting a gazebo, metal sculptures or a wishing well.
7. Setup seats
A small seating area, to the side of the front yard or part of an extended front walk, can add a welcoming vibe. This is also an excellent way to enhance your lawn's charm. You should select furniture that goes well with the other landscaping features. You can even add a fire-pit to enhance the experience even more.
8. Prefer privacy
Screening the front yard with shrubs, vertical plants and fencing has become common to increase the appeal of front yards in the United States. You can choose to erect a simple picket fence, or make things warm with sleek, modern, wood-colored options. You can also enhance the look of your front yard by installing metal partitions.
Conclusion
You don't necessarily need to handle these tasks all by yourself. You can hire professional landscapers, such as Eden. This way, you will not only get professional advice but also get experts to help enhance the aesthetic appeal of your front yard and increase the curb value of your property at the same time.
From selecting the right seasonal plants to installing an outdoor kitchen, our landscaping services can do it all for you. Contact us today for a stunning landscape!