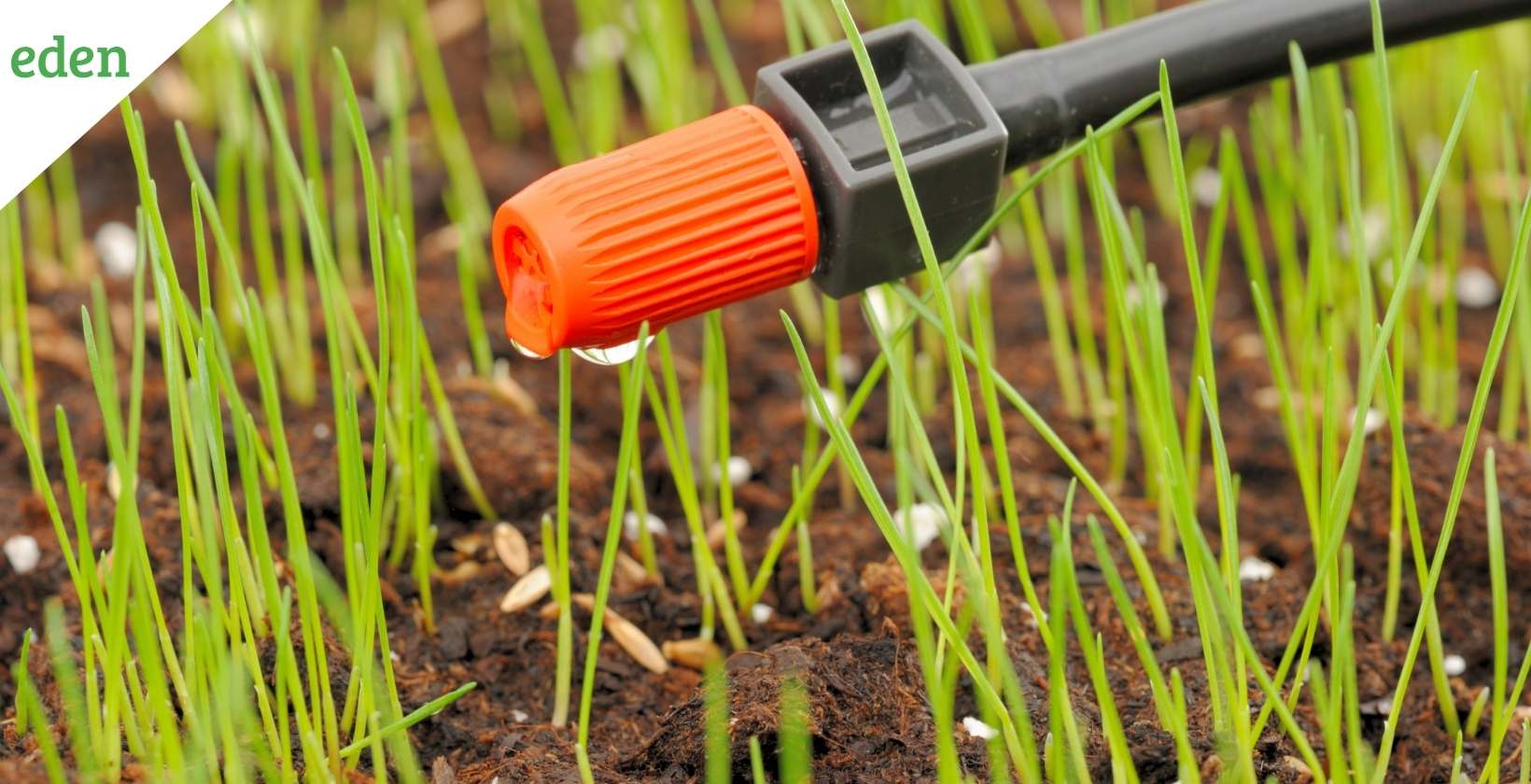 Rain Catchment Drip Irrigation for Landscaping
Rain catchment drip irrigation for landscaping helps to conserve water and lower your utility bills. On an average, an American household uses around 320 gallons of water every day. More than 100 gallons is used for irrigation and outdoor purposes. The easiest way to cut back on using this water supply is to use the water flowing through downspouts in rainstorms. 
From selecting the right seasonal plants to installing an outdoor kitchen, our landscaping services can do it all for you. Contact us today for a stunning landscape!
However, setting up a rain catchment drip irrigation system for landscaping can be quite a complicated DIY project. Hence, it is always advisable to consult and hire a professional landscaping company, such as Eden. If you live in an apartment with a small yard or a townhouse then the conventional 55-gallon barrels under the downspout will do the trick. You can easily buy these at a hardware or gardening store. However, for collecting a large amount of rainwater you should consider the following steps.

Step 1 – Calculate your water budget
To get a better idea of how much water you need for irrigation, you can try this simple equation and figure out how many gallons of water your roof expels when it rains:
Roof Size (sq. ft.) x Annual Rainfall (inches) x .6
For instance, let's assume your house measures 20' by 30' (length and width of the roof) in a fairly wet region that has around 40 inches of rainfall annually. Hence:
(20 x 30) x 40 x .6 = 14,400 gallons
In very dry climates the rain usually falls in winter, commonly seen along the West Coast. In these conditions, you can easily use the irrigation water in spring, summer and fall. On the other hand, if you live in a region that gets rainfall throughout summer, it is important to know how much water you will need during a dry summer spell.
Irrigation requirements can vary according to the climate, soil type, shade, and vegetation type. However, this equation will give you a pretty accurate idea of your garden's water needs:
Area to be Irrigated (sq. ft.) x Weeks between major Summer Rain Storms x .5
For instance, if your yard or garden measures 30' by 30' then the amount of water you will need to irrigate it during a month-long dry summer spell is:
(30 x 30) x 4 x .5 = 1,800 gallons
Step 2 – Calculate the size of irrigation system
The exact size of the rain catchment drip irrigation system for landscaping depends on your budget and the space you are willing to commit to installing it.
Usually, rainwater is stored in plastic tanks which you can easily buy in any farm supply store or an online supplier. Most of these tanks cost around 50 cents per gallon of storage. However, the larger sized tanks tend to be considerably more expensive.
You should avoid using large, bulky tanks as they are usually an eye-sore and may bring down the curb appeal of your home. Most people who wish to store rainwater choose 5000-gallon tanks, which are around 10' in diameter by 10' tall and can weigh around 800 lbs. These are light enough for a strong person to move. Homeowners in urban areas choose to install 1000-gallon tanks. These are only 6' in diameter by 6' tall and weigh around 200 lbs.
Step 3 – Find the perfect location
Rain catchment drip irrigation tanks for landscaping are usually positioned near, or at a downspout so the water can be easily directed into it. Rain tanks are not designed for aesthetics so you will have to install them out of sight. Failing that, you can choose to conceal the tank with shrubbery, trellis or other types of cover.
Landscaping professionals recommend using small barrels for collecting the rainwater directly from the downspout. You can then pump the water from the barrels to an underground water tank located elsewhere on your property. An alternative to this is to bury the rain tanks near the house and let the water flow from the downspout through drain pipes into the tanks. You can buy specially-designed underground tanks for this purpose.
You can even choose to collect rainwater falling off of the roofs of sheds, barns and other outbuildings. This way, you can also conceal the water collection tank instead of installing it next to your house.
Step 4 – Basic installation techniques
When filled, rainwater tanks become extremely heavy, with over 8 lbs. of weight added for every gallon of water. Hence, it is vital to create a firm base for them to rest on. Else, the soil below may begin to sag and cause the tank to shift.
According to landscaping experts, first you should remove the topsoil before spreading a 6-inch thick layer of granite fines or gravel. This creates a firm pad for the tank. You should grade the surface flat and smooth before tamping it with manual tamper. This way, you can prevent the material from settling any further. Usually, building regulations require you to put a 6-inch thick concrete slab as base for tanks that are over 5000-gallon limit.
The next step is joining the downspouts with the openings of the tanks. To do this, you can simply cut an existing downspout above the height of the tank and use a combination of 'A' and 'B' style elbows and lengths of downspouts to reroute it to the tank. You should use a carpenter's level to make sure that the horizontal parts of the downspout are sloped at a minimum ratio of ¼-inch per linear foot.
Step 5 – Connecting the irrigation system
You may need to install a pump to provide sufficient water pressure, unless the tank is noticeably higher in location than the area to be irrigated. A foot of elevation causes around .43 lbs. per square inch (psi) of water pressure. Drip irrigation systems usually need at least 15 psi (or 35 feet of elevation) while common sprinkler systems need at least 30 psi (or 70 feet of elevation).
Conclusion
You can choose from various pumps and pump accessories to pressurize your rain catchment drip irrigation for landscaping. However, unless you are a professional with plumbing and electrical expertise, it is strongly advised to consult with experts, such as Eden for creating an effective and functional rain catchment drip irrigation system for landscaping.
From selecting the right seasonal plants to installing an outdoor kitchen, our landscaping services can do it all for you. Contact us today for a stunning landscape!