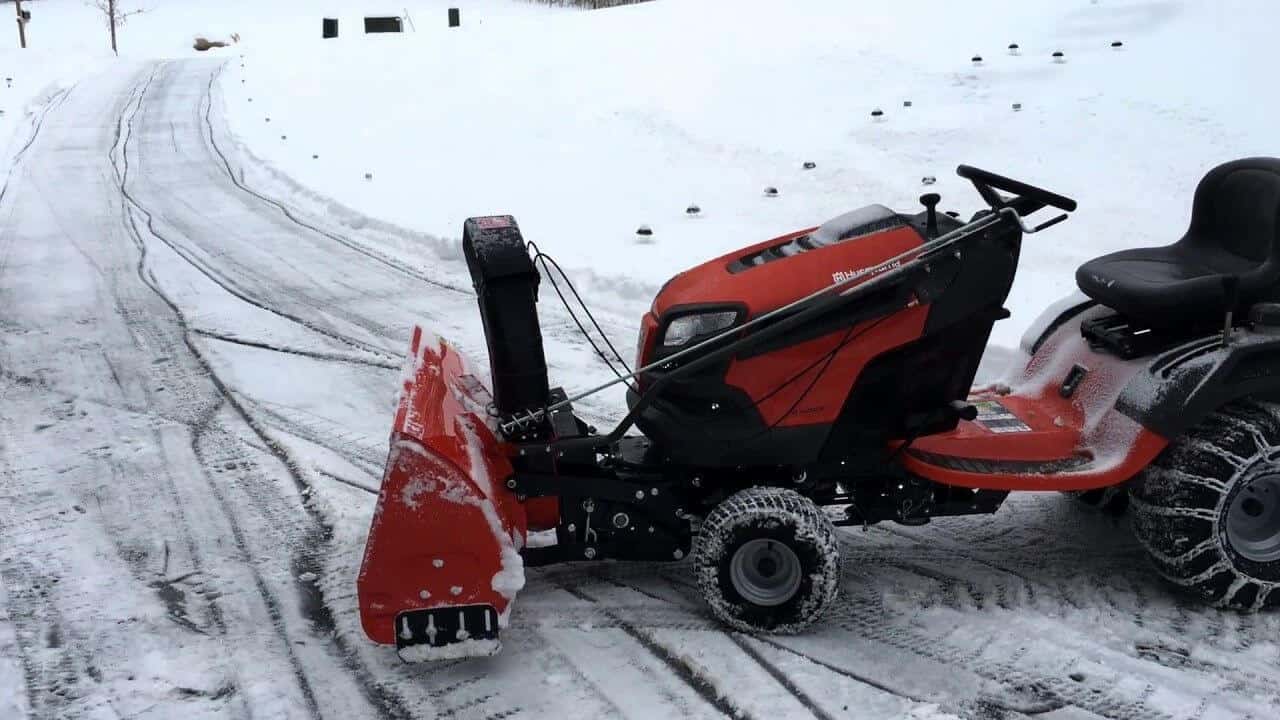 Many property owners have riding motors or small garden tractors to help them perform summer chores. They use them to help cut the lawn. If the property is extensive and/or health issues interfere with the use of a regular lawnmower, a garden tractor can be beneficial. They can also help out in the winter. By adding a compatible snow plow to a garden tractor, it is possible to remove the snow build-up on sideways, driveways, and patios.
The Best Lawn Tractor Snow Plows
Not every lawn tractor is suitable for snow removal. Attaching a plow to one does not automatically make it a snow removal machine. It is best to go with makes and models for which the manufacturer has stated its capability and construction to use in this fashion. Such companies actually make it easy for you. They market their own brand of snow blower or snow plow – ones that are specifically for their own equipment.
However, if the machine is suitable for adaptation to winter tasks, it is not very difficult to both find a suitable snow plow or other attachment and convert the tractor to its new purpose. Below are five garden tractors that are able to become snow plows with the right attachments – either those produced by their manufacturers or ones found to be congruent.
If 'By what time will they clear your driveway?' has been your thought all over the winter, we are here to help you easily drive away.
1. Troy-Bilt TB42:
This model of garden tractor has 420cc and is an auto-drive 7-speed riding lawn tractor. Troy has been manufacturing top equipment since 1937. The company has always been a top contender in a variety of categories, including garden tractors.
2. Husqvarna 960430211 YTH24V48:
At 24 HP. and with a hydrostatic transmission, this is a fast machine. It provides a smooth ride while, with a snow thrower attachment, it can really throw the snow out of the way.
3. Cub Cadet XT1 GT Series:
This is considered a good snow mover. The gas engine is from Kohler. Some prefer the Cub Cadet XT GT series with blowers. Both Enduro models have a snow plow accessory available. It is easy to install due to Cub Cadet's FastAttach™ Connection System.
4. Ventura 3400:
For power and versatility, it is hard to beat this compact tractor. An articulating frame makes it highly maneuverable. The S.D.L.A. control, under a patent by the company, makes the tractor easy to handle, steer, and control such things as direction, lift, and any auxiliary functions requested.
5. John Deere:
Nothing runs like a deer – even when it is dashing through the snow. Snow blower attachments and even snow plows are listed for several series, including the 100s and 200s. With John Deere, size can matter, so check their site and talk to your friends about what would work best for your conditions and situation.
6. Kubota:
If you purchase the right Kubota garden tractor, you are stepping up your ability to not only easily clear your driveway of snow, but your neighbor's as well. The company makes compact, agile snow removal machines that are durable and able to address even the most brutal environmental conditions. Consider GR2020 and GR 2021.
Garden Tractors and Snow Plowing
If you have a long driveway and a rather large lot, you may own a riding lawnmower or garden tractor. If it snows where this property lies, then you definitely need to purchase a snow plow attachment for your tractor. Since snow plows can damage the surface of your driveways and walkways, do be sure you purchase one that is not only appropriate to the jobs required of it but also compatible with the garden tractor you own and operate.
Conclusion:
If you want to avoid the situation altogether, consider hiring a contractor or other professional snow removal service to do the job for you. Simply obtain a third-party service such as Edenapp, from Apple, Android. They can help you locate the provider that is ideal for the type of snow removal services you and your property require.
If you don't want to shovel the snow yourself don't worry our trusty snowplow operator will clear your driveway! EDEN is just a Call away.