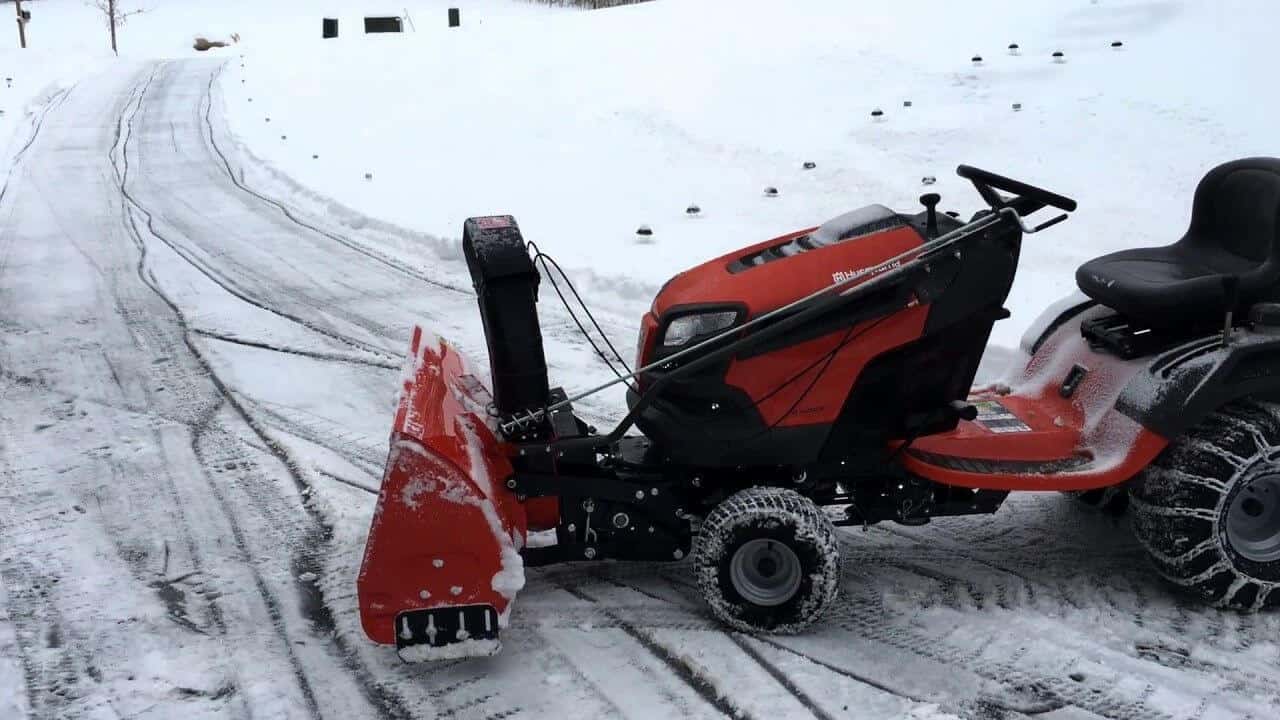 Top Garden Tractors For Snow Plows
Many property owners have riding motors or small garden tractors to help them perform summer chores. They use them to help cut the lawn. If the property is extensive and/or health issues interfere with the use of a regular lawnmower, a garden tractor can be beneficial. They can also help out in the winter. By adding a compatible snow plow to a garden tractor, it is possible to remove the snow build-up on sideways, driveways, and patios.
The Best Lawn Tractor Snow Plows
Not every lawn tractor is suitable for snow removal. Attaching a plow to one does not automatically make it a snow removal machine. It is best to go with makes and models for which the manufacturer has stated its capability and construction to use in this fashion. Such companies actually make it easy for you. They market their own brand of snow blower or snow plow – ones that are specifically for their own equipment.
However, if the machine is suitable for adaptation to winter tasks, it is not very difficult to both find a suitable snow plow or other attachment and convert the tractor to its new purpose. Below are five garden tractors that are able to become snow plows with the right attachments – either those produced by their manufacturers or ones found to be congruent.
If 'By what time will they clear your driveway?' has been your thought all over the winter, we are here to help you easily drive away.
1. Troy-Bilt TB42: 
Troy-Bilt TB42 has 420cc and is an auto-drive 7-speed riding lawn tractor. Troy has been manufacturing top equipment since 1937. The company has always been a top contender in a variety of categories, including garden tractors.
2. Husqvarna 960430211 YTH24V48: 
At 24 HP. and with a hydrostatic transmission, Husqvarna YTH24V48 is a fast machine. It provides a smooth ride while, with a snow thrower attachment, it can really throw the snow out of the way.
3. Raven MPV7100
Raven's MPV7100 model is red and black and offers 3-in-1 functionality. By utilizing gas/electric hybrid technology, this mower can effortlessly transition from mower to multi-purpose vehicle or generator in minutes. It has front off-road shocks and suspension, a 46-inch mowing deck that can be removed, and a 7100 Watt electric generator. In either gas or electric mode, the turning radius is 14 inches, and the top speed is 17 mph. 
4. Cub Cadet XT1 GT Series:  
This is considered a good snow mover. The gas engine is from Kohler. Some prefer the Cub Cadet XT GT series with blowers. Both Enduro models have a snow plow accessory available. It is easy to install due to Cub Cadet's FastAttach%u2122 Connection System.
5. Ventura 3400: 
For power and versatility, it is hard to beat this compact tractor. An articulating frame makes it highly maneuverable. The S.D.L.A. control, under a patent by the company, makes the tractor easy to handle, steer, and control such things as direction, lift, and any auxiliary functions requested.
6. John Deere: 
Nothing runs like a deer – even when it is dashing through the snow. Snow blower attachments and even snow plows are listed for several series, including the 100s and 200s. With John Deere, size can matter, so check their site and talk to your friends about what would work best for your conditions and situation.
7. Kubota: 
If you purchase the right Kubota garden tractor, you are stepping up your ability to not only easily clear your driveway of snow, but your neighbor's as well. The company makes compact, agile snow removal machines that are durable and able to address even the most brutal environmental conditions. Consider GR2020 and GR 2021.
How Do I Turn My Lawn Tractor Into A Snow Blower?
You may convert a four-wheel lawn tractor with a powerful engine to a snow blower to remove snow. So, rather than purchasing a snow-removal machine, you can create one using an existing lawn tractor and a few modifications, and you'll be ready to remove the snow in no time. 
Blades for Snow Plows
The plough blades may be readily mounted to your garden tractor to clear the way of snow. Bringing the blades closer to the ground and clearing the snow from the field is simple.
Cabins in the Snow
In frigid weather, sitting on the garden tractor for an extended period of time to clear snow is painful. The snow cab acts as a cover for your tractor, making snow removal considerably easier in colder climates. It shields you from bitter cold and heavy snowfall, allowing you to work comfortably. 
Tires Chains
Tire chains will keep your tractor from slipping on snowy or wet areas if you need to remove snow from steep or narrow roads. Most lawn tractors are equipped with rear-wheel drive, which provides more force when pulling or pushing loads. Tire chains are equipped on these vehicles for use in snowy situations. 
Wheels Weights
The chains provide traction for the lawn tractor, but extra weights are occasionally required to keep the tires firmly planted on the ground. To keep the tractor grounded, these weights are fastened to the back tires. It aids in keeping the tractor from slipping on snowy or hilly surfaces. 
Garden Tractors and Snow Plowing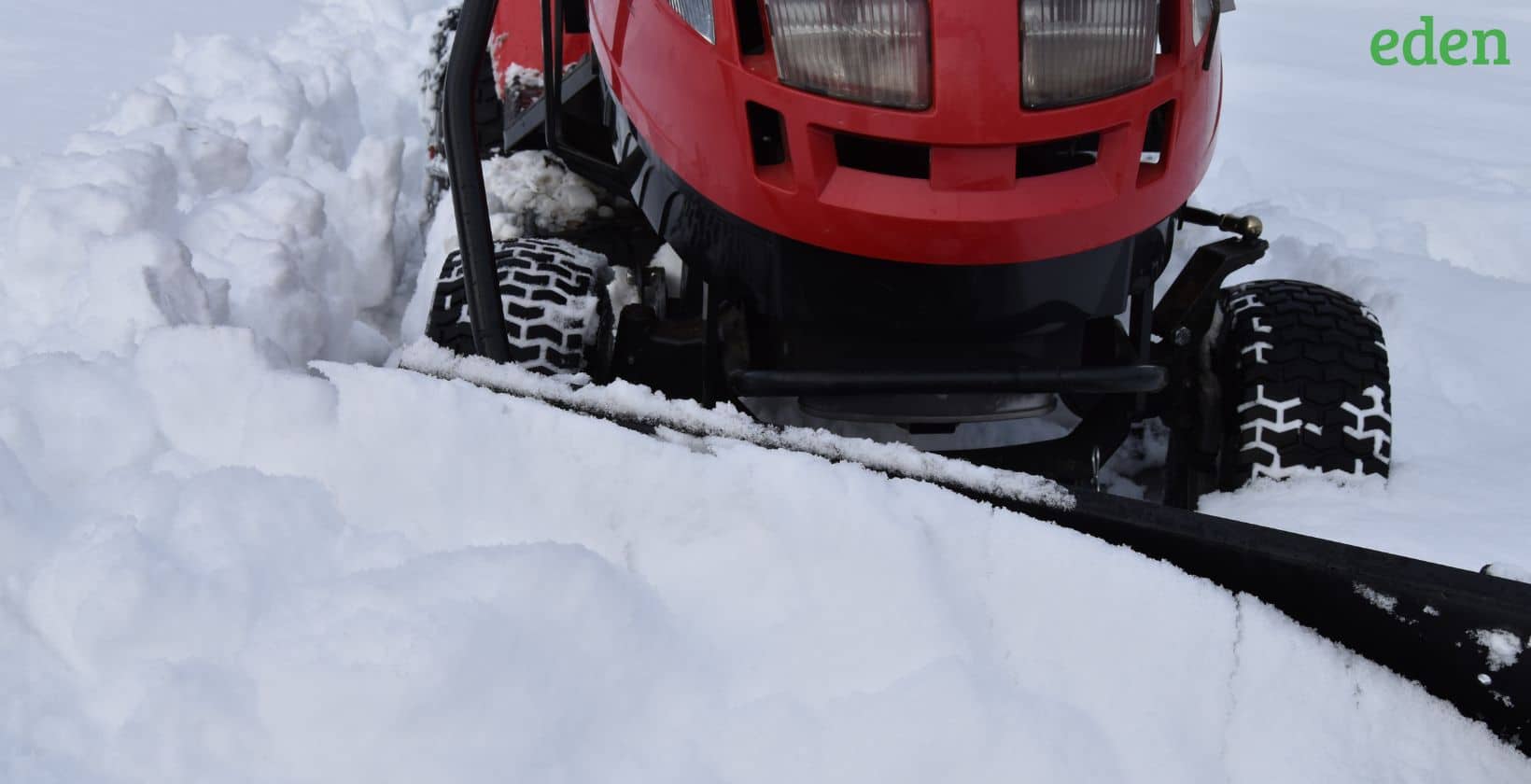 If you have a long driveway and a rather large lot, you may own a riding lawnmower or garden tractor. If it snows where this property lies, then you definitely need to purchase a snow plow attachment for your tractor. Since snow plows can damage the surface of your driveways and walkways, do be sure you purchase one that is not only appropriate to the jobs required of it but also compatible with the garden tractor you own and operate.
Consider These Factors Before Purchasing The Best Lawn Tractor For Snow Removal 
During the ride, it is really comfortable
Your lawn mower must have controls that are easily accessible. To provide comfort to the user, the seat must be well-cushioned and adjustable. You should purchase a lawn tractor that moves smoothly and does not vibrate. If you want more comfort, seek for a lawn tractor with a high back seat. During the ride, it will aid in the support of your upper body. 
The Correct Steering Direction
Two-wheel steering, four-wheel steering, and zero-turn radius mowers are among the steering choices available. Residents can purchase two-wheel steering mowers to maintain yards up to 3 acres because they have the shortest turning radius. These are ideal for large yards with few obstructions and tight bends. It's great for sloping terrain. The four-wheel steering mowers offer a lot of comfort when it comes to maintaining lawns larger than three acres. It can navigate barriers such as trees, plants, slopes, and other obstructions. A zero-turn mower (ZTR), on the other hand, has a zero-turn radius for tight corners and curves. ZTRs are best used on level ground with little incline. 
Attachments
Many mowers are capable of more than just mowing. The tractor comes with a number of accessories that can be used for a variety of applications. You should think about some additional mower accessories before making a purchase. For example, there is a bagger or a mulch kit for bagging or mulching, a snow blower or plough for snow removal, and so on. You must make certain that all of these accessories are within your budget and that they serve your objective in purchasing a lawn tractor. 
Maintenance
Garden tractors are expensive, so make sure to read the warranty and maintenance information provided by the manufacturer. If you have a problem with the equipment's performance, you should notify the firm immediately and have your problem resolved. All of the mowers come with a user manual that explains how to use the unit. It has safety features as well as means for performing routine maintenance. 
Budget
It is the most important factor to consider when purchasing a lawn tractor for snow removal. You must know exactly how much money you can spend or how much money you can afford on this equipment. Although the market is inundated with different tractors, you must pick the best one at a reasonable price. 
Conclusion:
If you want to avoid the situation altogether, consider hiring a contractor or other professional snow removal service to do the job for you. Simply obtain a third-party service such as Edenapp, from Apple, Android. They can help you locate the provider that is ideal for the type of snow removal services you and your property require.
If you don't want to shovel the snow yourself don't worry our trusty snowplow operator will clear your driveway! EDEN is just a Call away.