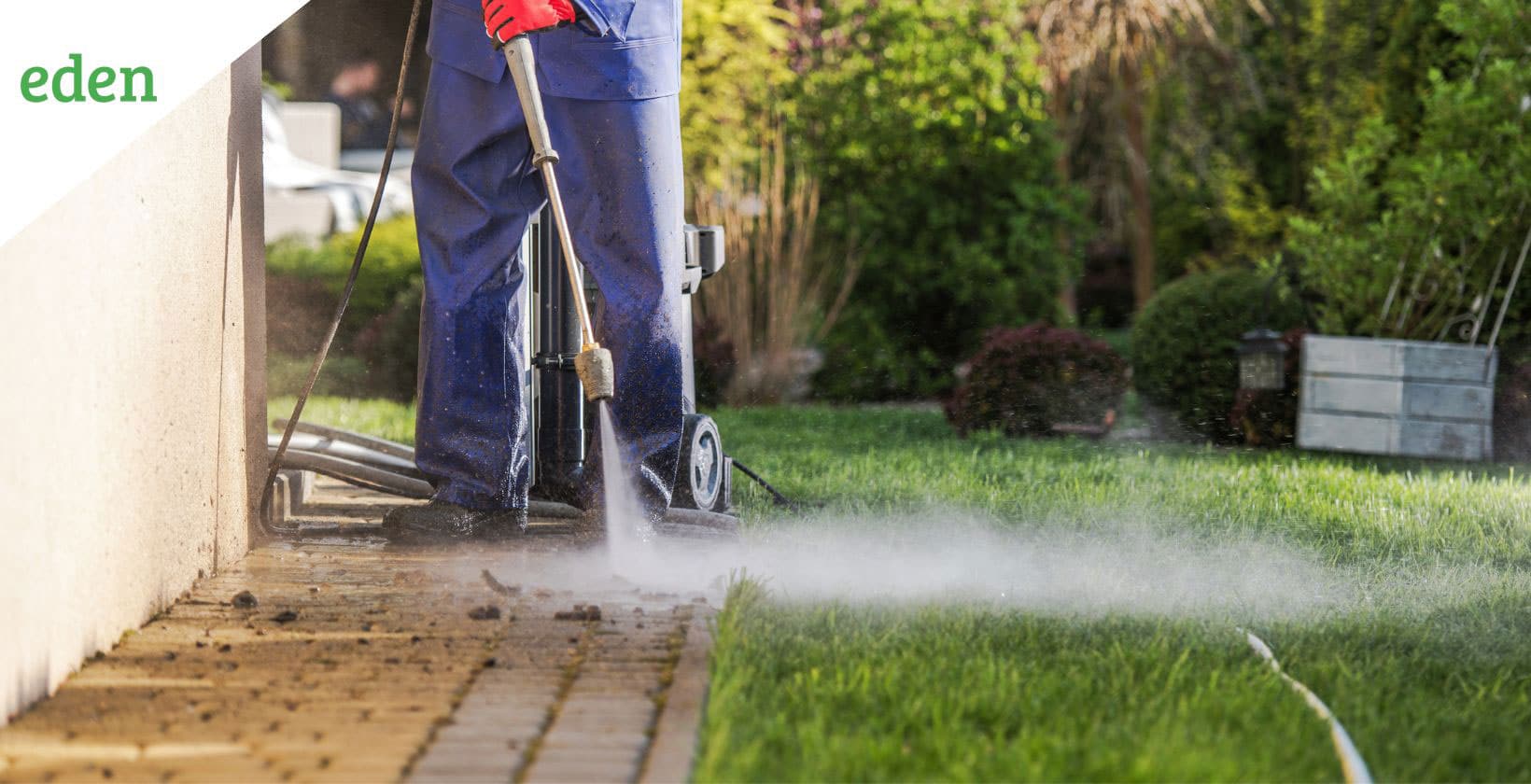 What is Power Washing for landscaping?
A power washer utilizes a high-pressure stream of very hot water to blow away materials and dirt from outdoor surfaces. The combination of the temperature of the water and the high pressure makes it ideal for removing all those immensely stuck materials from surfaces. This method is excellent for removing mildew, mold and salt residues from outdoor decks, patios, driveways, and more. The extra heat also makes it specifically ideal for removing sticky things like chewing gum from sidewalks. Power washing is also very helpful for removing grease stains on garage floors or driveways.
From selecting the right seasonal plants to installing an outdoor kitchen, our landscaping services can do it all for you. Contact us today for a stunning landscape!
Power washing is also useful for helping to control moss and weeds. The strong blast of hot water can kill them and eliminate them completely and prevent them from growing back. Edenapp discusses the reasons why you should power wash, what to power wash, do's and don'ts of power washing and benefits of power washing in this article. The difference between power washing and pressure washing are also explained here. Edenapp also answers some frequently asked questions like how often you should power wash, the best time to power wash, why you should hire a professional for the job and its effective cost.
Why Power Wash?
Power washing makes your landscaping or other surfaces look clean, new and shiny. It effectively helps to get rid of dirt, buildups and other impurities from the outer surfaces. It improves the overall appearance of the targeted surfaces by removing the accumulated grime over the years and keeps them maintained. Power washing is significantly helpful for the following purposes:
Enhancing the appearance of your landscape and home 

Removing mildew, mold, and other harmful buildups caused due to weather

Removing awful-looking dirt or debris that is stuck to surfaces

Offering a clean, polished and shiny appearance to things and maintaining them to keep them looking new
What Can You Power Wash?
Power washing is an all-round method of cleaning that can be used to clean various different surfaces outdoors. It is typically used to clean the following: 
Decks

Patios

Driveways/Asphalt

Fences

Concrete Surfaces

Masonry (stonework)

House Exteriors

Sidewalks/Pathways

Building Exteriors
Note that all surfaces cannot be power washed, and some may get damaged if the highly pressurized liquid is applied to them. Before you begin any power washing project, make sure to consult with a professional. Or, it is better to hire a professional to do the job for you and prevent any chance of damage to your property. Safe and mindful power washing is the key for receiving the best result.
Common Do's and Don'ts When Power Washing
Common do's and don'ts regarding power washing includes safety measures. It is essential to know how to handle a power washer prior to using it. Therefore, Edenapp has listed down the most common do's and don'ts for you to understand how to use it.
The "do's" are given below:
Make sure that all fittings and tubes are hot.

Avoid any leakage to make certain you will be able to achieve the right amount of pressure.

Don't forget to wear safety glasses as it is important for your protection. The high-pressure water can result in harmful flying debris.

Examine the area to be power washed before beginning the job.

Be sure there are no loose items that could prove harmful or easily get damaged.
The "don'ts" are given below:
Do not power wash different sections all at once. Rather, first wash large surfaces by concentrating on one section at a time. This ensures washing uniformly and gives you the best result.

For every job, don't use the same nozzle. There are a variety of nozzles available that can be attached to your power washer hose. Each nozzle provides a different spray pattern. Narrow nozzles provide more pressure, that means you can use a narrow one when you want to get rid of caked-on grime. You can use a larger nozzle when you want to complete a job that consists of less debris.

Do not use your power washer without testing it. Power washers are actually very powerful. If you are a newbie doing this job then use caution. You may end up damaging everything you spray when using it without any experience. 

It is best to test the washer first in an unnoticeable area. This will help you avoid ruining or damaging the surface of something that is to be looked at all the time.
Benefits of Power Washing
Now, one thing you already have understood is that power washing is superior to regular cleaning methods. Edenapp has listed the top benefits of power washing below:
Ease of Use

: The best advantage of power washing is that it does most of the job for you. It doesn't need rigorous scrubbing on your hands and knees. The high-pressure water stream can easily remove dirt that sticks to outdoor surfaces. And it is also time-efficient as it does the job in a few seconds. Other less-effective cleaning methods take considerably much more energy and time.

Effective Approach

: It doesn't matter how much effort and water you put into cleaning your landscape with the help of a hose, power washing will always give you much better results. Indeed, the results provided by the two have no comparison. It is like grooming your outdoor surfaces completely. Even the grimiest walls, fences, and walks will have a look that is years newer.

Prevents Decay

: The moss, rust, dirt particles and debris left behind on outdoor surfaces can accelerate the decaying process. Dirt buildup that contains organic content is a typical cause of mold growth. The debris left behind on surfaces can cause damage over time. Power washing is the best way to keep the sides of your home's exterior, and even the outdoor furniture looking its best for many years.

Eco-friendly Method

: You may know that it leads to a lot of water wastage, if you have ever cleaned an outdoor surface with a regular hose. However, power washers use comparatively much less water than a traditional hose when cleaning. In fact, a pressure washer uses only 30-35% water as compared to a traditional hose. Furthermore, power washing is an eco-friendly option as you often don't need to use cleaning products or chemicals. Even power washing with just plain water can make a huge difference! Although, using a cleaning product on the surfaces will help keep algae and mold away for a period of time. Biodegradable and environment-friendly options are available for homeowners who opt for cleaners. 

Home Value

: Power washing gives a boost to your curb appeal, makes your landscape attractive, and increases your home's value. It's pretty important if you are planning to sell your home. Even if you are not planning to sell, it's still an excellent way to maintain a clean and attractive landscape and home.
Power washing vs. Pressure Washing
You may have heard the terms power washing and pressure washing, which are used interchangeably. This creates confusion regarding whether they are the same or different. The short answer is that the basic function is the same for both; however, a few key differences determine when to use each service. 
If only the type of the machine is considered, one key aspect differentiates a power washer from a pressure washer and this is the heating element. Both machines release a strong stream of high-pressure water, but the difference is that a power washer also heats up the water. This may appear as a minor difference to you, but it actually makes a huge difference in the performance and results of each.
So now, when you know the difference between both, you should also know which one you require for your landscape. However, this also entirely depends on the job. Choose pressure washing for regular household use. It's less forceful on surfaces, which makes it an ideal choice for use on things such as brick, masonry, and concrete. This is what you will need when looking to give your patio or deck a quick clean.
Go with power washing for any larger jobs, such as a big driveway and patio space or a large commercial space. The job is usually done faster as the heat of the heated water helps to loosen up the dirt. However, for this same reason, you have to be mindful of which surfaces you use it on. It is best to use power washing for surfaces like concrete and other hard surfaces, as the force of the hot water can damage softer surfaces.
Keep in mind that it is always best to hire a professional to take care of your landscape or home for you, no matter which cleaning method you decide. If you are not adequately trained on how to use a power or pressure washer, it may result in damaging the surface you are working on. It's better to be safe than regret it later.
How Often Should You Power Wash?
Power washing is so effective that you don't need to do it often. Most homeowners have their outdoor surfaces washed once every year. Power washing too often only results in extra work and is unnecessary too. Power washing a clean surface would not be of any help.
What is the Best Time To Power Wash?
The best time to power wash your landscape or home varies depending on where you live. You may want to finish the process in favorable weather. In general, the change of seasons is a good time to power wash, as to both take advantage of the good weather and to remove the accumulation after extreme seasons (like winter).
Why Should You Hire a Professional to Power Wash?
It's always best to go with a professional. They know the right amount of pressure to use on the various materials found in your landscape. Professionals are trained and have the required skills to do the job efficiently but also safely. Once you have perceived the benefits of professional power washing, you will love to have it done every year. The results are too amazing to miss!
How Much Does Power Washing Cost?
Typically, power washing costs between $192 to $402 in the U.S., with the national average of about $296. Power washing a house costs between $150 to $750, depending on the home's size. Power washing a deck or patio costs about $250 to $400, while washing a driveway costs $100 to $500.
Keep your deck, patio, fence, walkways, home and other outdoor areas clean and brighten up your landscape with professional power washing services offered by Edenapp. Our experts use the best equipment to effectively clean and restore the beauty of your outdoor surfaces. Contact us today to learn more about Edenapp's landscaping services. 
From selecting the right seasonal plants to installing an outdoor kitchen, our landscaping services can do it all for you. Contact us today for a stunning landscape!