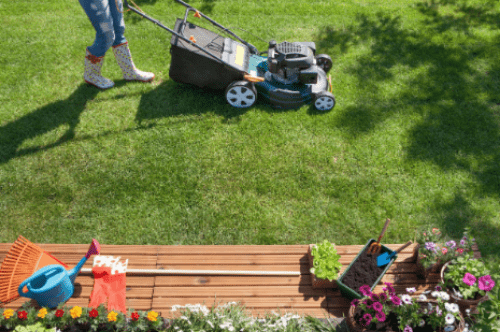 What Is the Difference Between Lawn Care and Lawn Maintenance?
What Is the Difference Between Lawn Care and Lawn Maintenance?
Lawn owners must nourish their lawns with adequate attention if they must maintain it's inviting appearance. Lawn routines such as watering, pest control, and soil testing, among others, are examples of activities needed to nurture new lawns or preserve an existing one. These activities are classified into two: lawn care and lawn maintenance. These terms are often used interchangeably by the layman, but to the landscaper, there's a clear difference. So, what is the difference between lawn care and lawn maintenance? Let's find out together.
What is Lawn Maintenance?
Lawn maintenance includes all the efforts invested in cleaning up your lawn and outdoor property throughout the year. It pays little attention to the bloom of garden plants. Instead, lawn maintenance routines concentrate on mechanical activities to decorate your outdoor area and to keep it spick and span, regardless of the season. Lawn maintenance routines include:
Routine watering and weed removal
Border edging for driveways and patio areas
Decorating outdoor walls for warm weather
Cleaning up lawns for summer
Pruning of trees and shrubs
Cleaning a concrete patio
Mulch your lawn
Lawn maintenance is crucial to establishing a relaxing outdoor space. Still, it isn't enough to take proper care of your lawn vegetation.
Lawn Maintenance: What to Expect
Lawn maintenance differs from grass care in that it focuses on the aesthetic of your lawn rather than its health. It comprises landscaping, which takes into account the lawn's form, flower bed maintenance, and overall aesthetic.
Lawn Maintenance Services by Eden
Our online site or mobile app can be used to order a one-time grass cut. This is a on demand service that is paid per visit.
Eden's bi-weekly grass cutting services are perfect if you need to mow your lawn frequently. Our professional contractor will provide you with the greatest possible outcome at a good price.
Mowing your lawn on a weekly basis ensures an even, clean cut and improve the overall health of your lawn. Lawns that are in good condition are more appealing.
What Is Lawn Care?
Lawn maintenance keeps your lawn neat and sparkling, but lawn care keeps it lush and green. Lawn care routines aim to improve the bloom and vitality of lawn vegetation through the years, from turf grasses and shrub hedges to pedaled ornaments and potted plants. Lawn care is sensitive to seasonal changes; therefore, it requires in-depth knowledge to do it effectively. Lawn care routines include:
Fertilizer application
Natural aeration
Irrigation systems
Lawn Care Services: What to Expect
Lawn care is concerned with the condition of your soil and turf. While the appearance of your lawn automatically falls into this category (since a healthy lawn always looks great! ), it differs from maintenance and landscaping in that it is not the major focus.
A lawn care professional is concerned with the soil and lawn quality, as well as soil health and grass disease management.
Lawn Care Services by Eden
Aeration promotes lawn growth while also reducing soil compaction. Eden's landscapers will dig small holes in the soil in your yard to allow air, water, and nutrients to reach the grass roots.
Eden has certified arborists on staff to handle all of your tree care needs. We will prune your trees using suitable techniques as well as provide advice on planting new ones to assist shape and maintain them healthy and growing. We can also help with illness prevention and treatment, as well as pest infestations.
Eden provides services that will guarantee your artificial turf lasts, from installation to upkeep. Through our on-demand, online ordering system, our certified professional landscape contractors may install, repair, clean, replace, or remove artificial grass.
For your grass to grow green and healthy, it needs high-quality fertilizer and regular feedings. A high-quality lawn fertilizer provides critical nutrients to turf that help it grow thick and resist environmental pressures, weeds, and pests when applied at the appropriate times. The time to fertilize depends on the type of grass.
Mulching is simply the process of covering your soil with a porous material to improve its quality. Depending on the benefits you want to accomplish, this material can be organic or inorganic.
A sod is made up of grass and a thin layer of soil beneath it, which is held together by the root of the grass or another thin layer of substance. It's a grassy bed that grows naturally in the area.
The term 'soil' refers to the top layer of the earth's crust that supports plant growth. The words "soil" and "sand" are sometimes used interchangeably.
Lawn Care and Lawn Maintenance
Although both lawn care and lawn maintenance aim to improve the appearance of your lawn, they are very different. A lawn care program is intended to promote the soil and lawn's general health. weed control and soil testing are included to ensure that your lawn's turf and soil are healthy and disease-free. This aids in the maintenance of a lush, green lawn without the use of harmful pesticides.
Lawn maintenance, on the other hand, entails clearing debris and leaves from the lawn, edging borders, cutting grass, and spring and fall cleanup.
Why Do You Need a Lawn Maintenance and Lawn Care Combination?
At Eden, we understand that lawn management and lawn care are intertwined, and that when one fails, the other often follows. The accumulation of garbage and leaves on your lawn can provide a healthy habitat for the growth of fungus and pests if you don't keep up with your lawn upkeep.
It's difficult to use skilled lawn maintenance specialists to maintain grass looking healthy without lawn care.
Our Eden lawn management and care experts combine these skills to ensure that we can keep beautiful outside landscaping for your house. It's also not tough to choose between professional lawn care and do-it-yourself lawn care when these services are reasonably priced and provided on a flexible basis.
Hiring Experts To Manage Your Lawn
Lawn maintenance and lawn care are delicate and demanding. Most homeowners tend to shy away from starting new lawns because they have a short supply of free time, working tools, and technical know-how. Keeping to a regular lawn schedule makes it even more challenging. But no worries, if your excuses are similar. Eden has the perfect solution. Learning from this blog will help you to decide how to hire a good lawn maintenance company.
Hiring a landscaping company to do all the work for you is one of the best things you can ever do to improve your home's landscape, and still have time to spare on other interests. Our main motive is to keep our customer happy. We can assist you with building a lawn from scratch, and introduce you to other fascinating ideas and designs to spice up the elegance of your entire outdoor area.