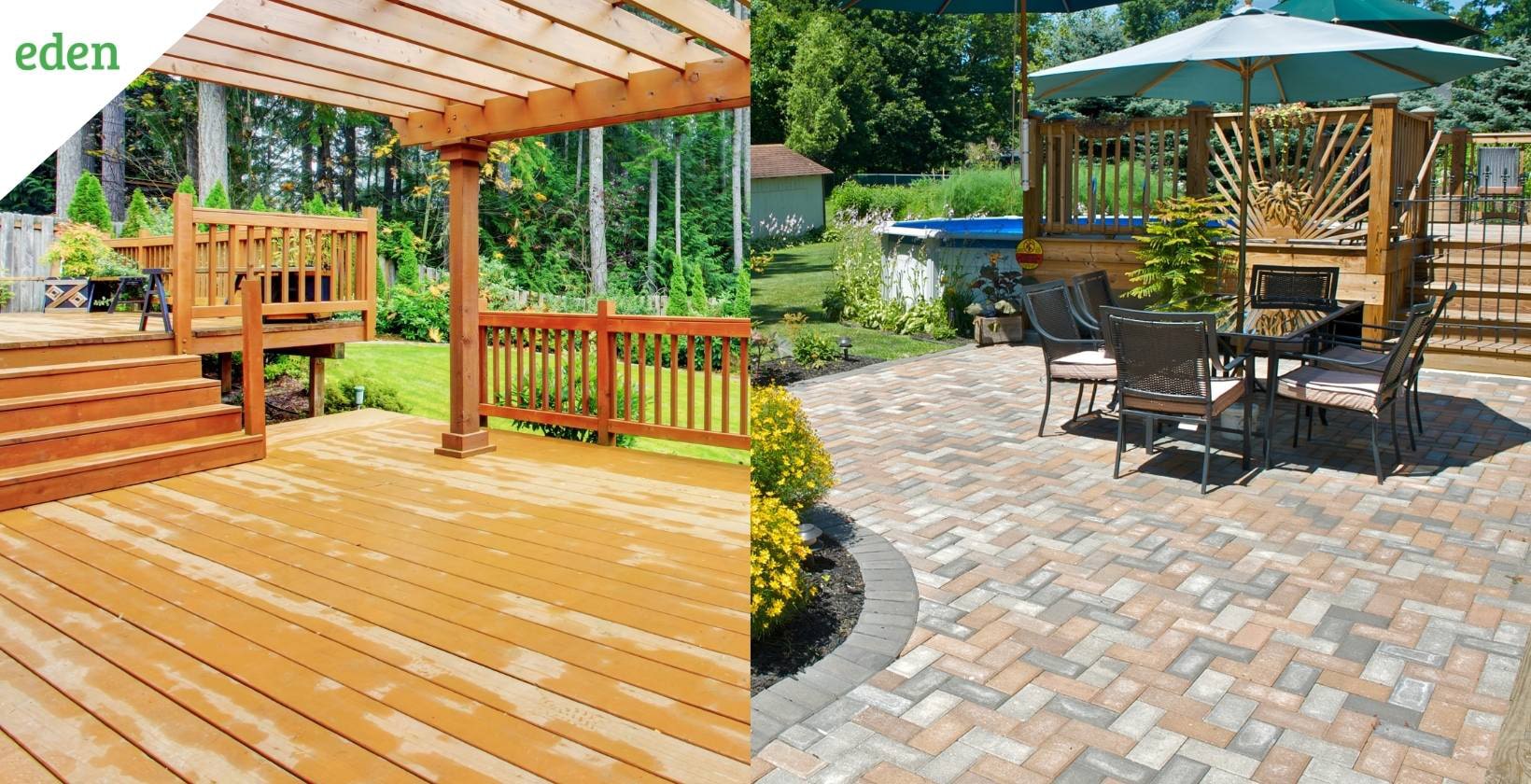 Deck vs. Patio: Which one is the right option for you?
"Should I install a deck or patio?" This is one difficult question every homeowner has to face while deciding between two worthy outdoor spaces. A deck is an open outdoor space that can be a platform or porch extending from a house. On the other hand, a patio is a paved outdoor space built directly on the ground, which is either attached or detached from a house. Both decks and patios are excellent choices for landscaping. These open-air outdoor spaces are perfect for entertaining and relaxing with family and friends while spending time outdoors.
Patios are generally less expensive to install than decks, but the return on investment on a new deck addition is greater than a patio. However, both spaces provide an amazing experience depending on what you expect from your outdoor space. There are also a few key differences in materials, construction, and cost of installation. If you are thinking of investing in your outdoor space, then carefully consider the key differences between a deck and a patio to help you decide which one is best suitable for your needs. Let's start with knowing in detail what a deck and patio are?
Defining Deck and Patio
Patio is a Spanish term meaning a courtyard of a house or building. Traditionally, a courtyard is an open outdoor space surrounded by walls or other structures or is an area of ground adjoining a building. A patio is different from a courtyard as walls do not necessarily surround it. However, it is like a courtyard as it is an open space installed directly on the ground.
Patios are attached or detached from a house. They are often designed and built keeping the landscape in mind. Patios are versatile in nature since they can take up any shape and can be built with various materials, such as pavers, concrete, stone, tile, pebbles, brick, pea gravel or rock. Most patios are set on a concrete slab or a sand and pebble base. Patios don't require any safety railings as they are built at or around ground level.
Decks are mainly built using wood, vinyl or composite wood material. Popular woods for building a deck include cedar, redwood, and pressure-treated pine. Decks offer beauty and warmth if you care for them. You can always relax on a deck without a cushion and still be very comfortable.
Like patios, decks can also be attached to a house or freestanding. Decks are usually built to enjoy the surrounding view. They can be of different levels and often require railings. Composite decking and certain types of wood are resistant to insects. Unlike natural wood, composite and vinyl decking don't usually warp or splinter.
Check with local zoning laws before starting a project. Some areas may need blueprints and official approval from the planning commission and regular inspections during the process of building. This might also determine whether your project results in a deck or a patio.  
Deck vs. Patio: Key differences
Decks offer a great view, while patios offer more privacy:

The views you will get from your deck or patio will depend on your home's surrounding environment and location. However, as desks are elevated, they usually offer better views than patios. A deck allows you to look out onto your backyard and further see the horizon. It is especially delightful if you live near water. On the other hand, with a patio, you might be stuck staring at the back of your neighbor's house. It also depends on what surrounds your property. Although patios that are built low to the ground and adjoining home can offer more privacy than a deck, especially if they are surrounded by

walls or a roof.

Before installing a deck you may require a building permit and inspections, while patios often do not:

When

building a deck

, permits and inspections are often required as they are attached to the home and affect its exterior structure and appearance. It is important to acquire the proper permits before initiating the installation of your deck. There might be periodic inspections during the process to ensure your deck complies with the code and be acceptable to your municipality. This will result in creating a safe outdoor space. If you do not follow these guidelines, you may end up paying a fine or have to remove your deck completely.

Patios mostly cost less to install than decks:

Make sure to consider the size, material, and location of your deck or patio, when creating a budget for this new addition as all these factors can affect the cost.
Considering various factors, building a patio is often the more cost-efficient option. Patios require more affordable materials to build, such as stone or stamped concrete, unlike bricks or wood which are common for decks. Moreover, patios need a little labor and less maintenance, which further helps to cut costs.
Patios can save you money since they typically don't need permits or inspections. The most affordable way is to build your own patio as a weekend DIY project.
Patios are unsuitable to build on uneven terrain, whereas decks can be built on it:

Although building a deck requires more labor and hiring a professional, decks are more suitable for uneven land. Patios require flat land below as they are directly built on the ground. Especially if you live in a hilly area, this may require extra preparation work. It is a good idea to examine the space where you are planning to build a deck or patio and measure the grade of the land to determine if it is flat or not to help you with the decision process.

Weight restrictions come with a deck:

For raised decks, weight is an important consideration factor. A well-built deck must have a strong foundation to support the weight of furniture and people. Still, there will be some restrictions due to its raised height. This is another point why it is so important to get the right permits and inspections for the building process.
Decide what things you want to place on your deck and make sure everything fits under the weight limits. Bulky items, such as hot tubs, might be more ideal for patios as they are flat to the ground and do not have similar weight restrictions as decks do.
Patios are lower-maintenance than natural wood decks:

Although natural wood decks are appealing, they require much maintenance. They usually need to be sealed, restrained or repainted and power-washed every few years to maintain the quality of the wood. You can go for a wood composite material for more durability and a similar look.
If you want an outdoor living space that is more easy to maintain and can put up with more wear and tear, then patios would prove a great alternative to decks. The upkeep required for patios is less time-consuming and inexpensive than the materials usually built of. Such stone and concrete don't require much maintenance as compared to wood. Whether you choose a deck or a patio, the material you choose will impact the time and money you will have to spend on maintenance.
Patios provide more durability than natural wood decks but are susceptible to stains and cracks: 
Patios last longer than natural wood decks, which is advantageous if you are looking for an easy to maintain, long-term solution. But they are susceptible to cracks and stains, which require little maintenance.
As natural wood decks are less durable, they won't last longer than patios, but it is possible with proper care. Regular maintenance can extend the life of both decks and patios.
Deck materials naturally absorb and retain less heat:

It is unpleasant to walk onto a deck on a hot summer day and burn your feet. This is why you must select a material that naturally absorbs and retains less heat, like Ipe, concrete and aluminum. These deck flooring options will help keep it cooler and will prove more comfortable to walk with bare feet.
Natural wood decks often remain cooler than synthetic wood decks. However, it also depends on the brand. Be mindful of dark-colored composite deck floors as they can get excessively hot. It doesn't matter which material you select for your new deck, and lighter colors help absorb less heat.
Decks give higher ROI than patios:

Decks need bigger investment but also have greater resale value than patios. These elevated structures can improve the desirability of your home that makes it an excellent choice for potential buyers, especially in regions having warmer climates where outdoor living is preferable.
Building a deck may be a smart way to maximize your return on investment (ROI), if you are looking to sell your house with an outdoor structure in the next few years. Make sure you make the most of your new deck before putting your house for sale.
As patios are cheaper to build, they have a lower resale value. Before deciding between deck vs. patio, consider when you are planning to sell your home. This will cater in balancing the probable cost with the potential ROI.
Similarities Between Patios and Decks
Both patios and decks for landscaping are outdoor spaces that provide an area for activity, entertainment and relaxation. Other similarities the two share are:
A pergola or cover can be built over both for privacy or shade.

An outdoor kitchen can be built on a deck or patio.

Both can integrate a fire pit, however a fire feature placed on a deck will require a fireproof material making it look different from the wood deck, such as ceramic, concrete, porcelain, etc.

Both a patio and deck can be surrounded by a spa or pool.
Caring for Patios and Decks
To preserve the beauty of a wooden deck, you have to maintain them annually, unlike a brick or concrete patio. This may need sanding and scrubbing. Your deck might need to be renovated or painted if it has gone too long without routine care. Both a deck and patio will require a check to ensure there aren't any loose screws, nails, or boards. It must also be renovated or sanded to ensure there are no peeling pieces of wood that could result in splinters. Based on the scope of the repair project, a variety of deck products are available.
Although a patio doesn't need the same level of attention as a deck, it has to be maintained depending on the material. This includes pea gravel should be raked and cleaned, bricks might require replacement, and concrete might need to be cleaned to remove mildew or mold.
Which is better: a concrete patio or wood deck?
If you are planning to live in your current home for a long time, the lifespan of your outdoor floor should be your top priority. Generally, a concrete patio provides a lifespan of 30 years or more that is sure to outlive most natural wood decks.
How long does a deck last?
A deck that is built of traditional wood will typically last 10 to 15 years. Capped composite, as Industry experts say, can last 25 to 30+ years. Due to its superior material composition, the best capped polymer can last much longer, potentially 50 years or more.
What is the cheapest way to build a deck?
The cheapest way to build a deck is using natural wood. Since it is the most affordable, it has become the primary choice of many homeowners. However, wood deckings require high maintenance, making them more expensive with time. 
Why is decking so popular?
One of the reasons decking is popular is that it can be quickly transformed into a garden without much effort. Garden decking is relatively simple to install as compared to building a patio. However, be sure to understand and know what it takes to build one or consider hiring a professional contractor like Edenapp to install your deck.
Contact Edenapp today to guide you and decide what is best for your outdoor space. Edenapp's professionals will choose the right materials, and design for your backyard deck or patio and successfully add a new dimension to your landscape. This will result in increasing the aesthetic as well as the resale value of your house.