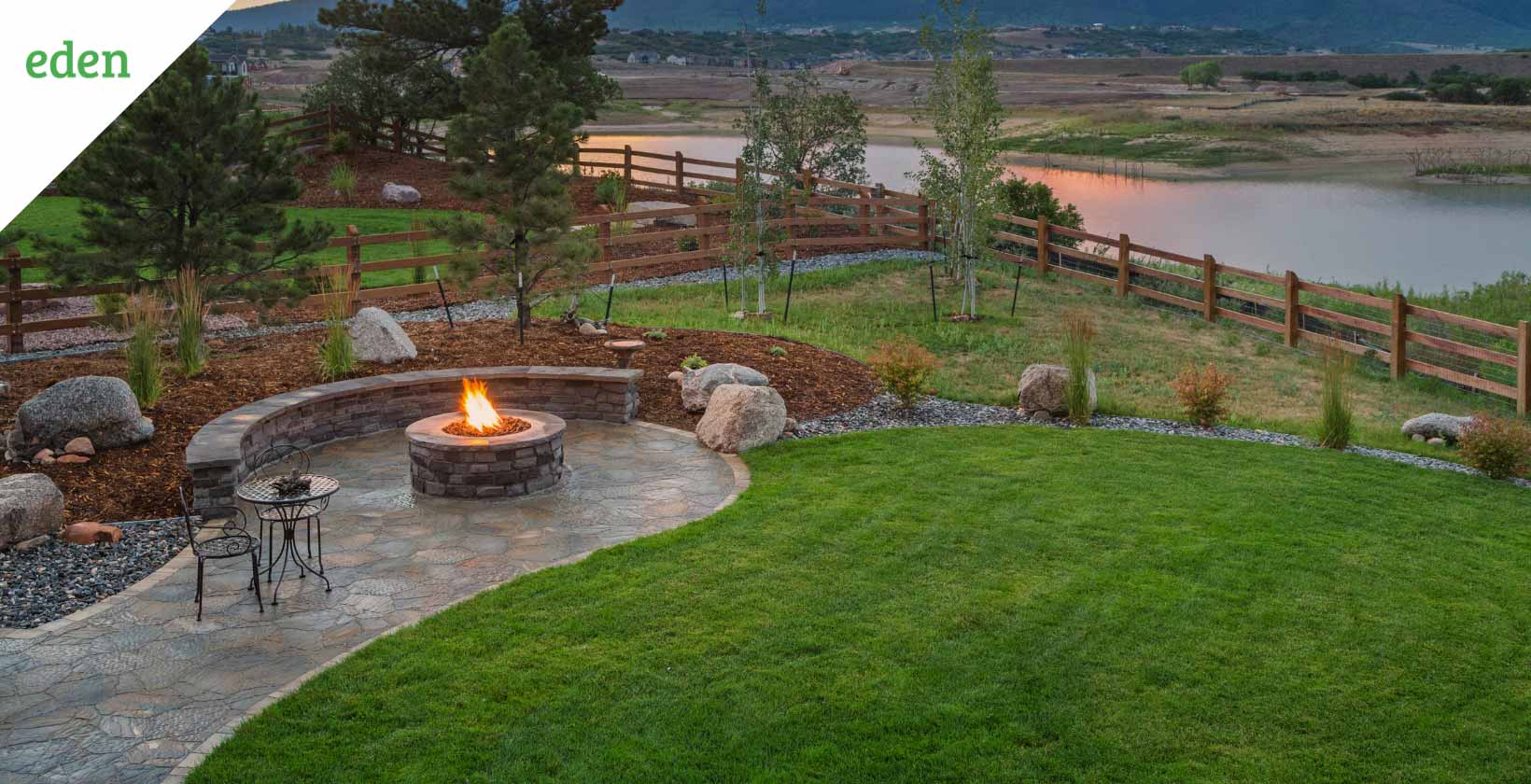 Fire Pits For Landscaping
A fire pit is a gas burning structure made up of brick, stone and metal in a lawn. It is developed to have fire and prevent it from spreading.  These are of three types – natural gas fire pit, wood burning fire pit and propane fire pit. It is often difficult to see much about the landscaping, but the fire pit can set out to be the center of attraction in your landscape design. 
From selecting the right seasonal plants to installing an outdoor kitchen, our landscaping services can do it all for you. Contact us today for a stunning landscape!
In this article, Eden will explore the types of fire pit and their designs, the various fire pit material options to build it, fire pit as a landscape idea, its uses and maintainance, and lastly will answer questions, which type of fire pit is the best and which one produces the most heat.

What Are The Types Of Fire Pit?
Fire pits are generally grouped into three categories depending on the fuel it consumes. Each has its own characteristics and uses.
Natural Gas Fire Pit

Wood Burning Fire Pit

Propane Fire Pit
Let's have a look at these types of fire pits:
Natural Gas Fire Pit: If you can install a natural gas line in your backyard, then you can consider a natural gas fire pit. This type is an upgrade on the propane ones. You need to permanently fix it in your backyard. The advantage of it is that it never runs out of fuel. Here are different options to design it:
Sunken Design: A sunken natural gas fire pit is created into the ground or patio. It is required to be cautious around this design, as the flames are close.
Square, Round, or Tabletop Design: If you prefer a raised fire pit, then you can design it above the patio with stone, brick, or copper designs to raise the flames. It is a beautiful alternative to your landscape. The major benefit of this type is that its maintenance is fairly inexpensive in the long run.
Wood Burning Fire Pit: A wood burning fire pit appears as a replica of a campfire in your own backyard. They provide a calming experience with the crackle of wood burning, smoke and needed warmth. There are three different types of wood burning fire pit as follows:
Wood Burning Grill: This fire pit comes with a grill gate that attaches above the hot flames. It is specially used for cooking and grilling.

Outdoor Fireplace

:

An outdoor fireplace, similar to an indoor fireplace, can be a portable one or have a built-in design. They significantly add to the aesthetic appeal of your patio.
Brick or Stone Fire Pit

:

This is a cost-effective option, and you can easily build it yourself. They are built using stones, cinder-blocks, or bricks that are available in any local hardware store.
Propane Fire Pit:

Propane fire pits allow beautiful, quality flames without needing to refill wood or gel. Most of them are large in size and hence appear very eye-catching on the patio. They are usually designed using faux wood, or glass, or rock pebbles. Let's see the different types of propane fire pits.

Portable Propane Fire Pit: As the name suggests, a portable fire pit is designed to conveniently move anywhere in your yard. It offers warmth, cooking capabilities and a beautiful ambiance around it. They are lightweight and easy to carry.

Copper Bowl Fire Pit

:

Propane copper design is considered one of the fanciest and more expensive options when it comes to outdoor fire pits. It is extremely durable and long-lasting, as copper has a very high melting point.
Fire Pit Table: Some propane fire pits are built like a table. The large ledge of the fire pit provides safety to children from the flames, and the surface becomes handy to keep your drink or food plate while sitting around it.
What Are The Types Of Fire Pit Design?
A fire pit's design gives it the aesthetic look and is important when you want it to be the focal point of your backyard. There are mainly two types of designs you can choose from:
In-ground Fire Pit

Portable Fire Pit
Let's explore the types of fire pits designs for landscaping:
1. In-ground Fire Pit: In-ground fire pits are built below the surface of the ground. They are smaller in diameter than the fire pits which are above ground, therefore the fire will be smaller as well. In-ground fire pits have fewer risks as out-of-control fire is less likely to increase. However, they can be more dangerous for children and pets as they can easily stumble into a fire pit. Therefore, they should be watched carefully during and after the fire pit is lit.
2. Portable Fire pits: They are so designed to move easily anywhere in your backyard. Some of the designs come with wheels to conveniently move it from one place to another. It is usually lightweight and easy to carry. A portable fire pit is the best investment you can make. To use it safely, place the fire pit on a fire-resistant surface such as pavers, metal or bricks.
What Are The Types Of Fire Pit Material Options?
The most important element to consider when deciding about your fire pit is the material used to build it. The materials not only provide durability but also give it a certain style. There are two types of fire pits based on the material.
Stone Fire pits

Brick Fire pits
Let's have a look at these in detail:
1. Stone Fire pits: Stone fire pits are usually very creative and unique. They are constructed with a solid steel frame and mesh body with rocks then applied to the mesh body using typical masonry techniques. y.
2. Brick fire pits: Brick fire pits are durable. They are long-lasting and require little maintenance. Moreover, the non-combustible bricks are efficient at holding the stray flames or embers that may cause fire outside the pit. A brick fire pit is expensive to install. Since brick is not easy to lay properly, you may need to hire a professional to build your fire pit.
What Are The Landscaping Ideas For Fire Pits Recommended By Professionals?
According to Heather Hilliard of Heather Hilliard Design and Judy Kameon of Elysian Landscapes, location is the most important thing to consider when planning to build or shop for a fire pit.
Keep your fire pit a minimum of 12 feet away from a structure – "further if you have the room".

Avoid trees with low-hanging branches – "there should be nothing overhead".

Establish a clearing for your fire pit position – "ideally one out of the wind, and located on non-flammable surfaces."
Seating is another factor to consider when deciding a fire pit and its location. Kameon likes to choose a place where you can have seating all around the fire pit while still having much space to move around.
What Are The Uses Of The Fire Pits?
Not only does a fire pit in your backyard give you a place to relax, but it also has many other benefits. Some of the uses of fire pits are listed below:
Can Be Used To Cook

Acts as a Mosquito Repellant

Take it camping

Reuse the ash
1. Can be used to cook: A fire pit can be used to cook your favorite food while you have a good time with your family and friends. Specially, food cooked over wood leads to delicious results. You can cook meat, sausages, toast marshmallows, roast hot dogs and much more.
2. Act as a mosquito repellant: Fire pit can be a powerful tool to keep mosquitoes away. You can burn herbs in the fire to ward off the unwanted insects.
3. Can be used a campfire: You can carry a portable fire pit to use as a campfire when you go camping. Use your own pit in the wild and don't worry about the condition of your particular campsite.
4. Reuse the ash: Do you know fire pit ash is a perfect fertilizer? The ash contains potassium and other trace elements. A sprinkle of wood ash is beneficial to plant health. A fire pit can primarily be used just like a conventional campfire to make a barbeque or cook anything over an open fire, or just have a warm, cozy and ambient source of light that enables you to spend evenings outdoors with your loved ones.
How To Build A Fire Pit?
A fire pit can be built with four easy steps. You need to first outline, then dig, fill and build your fire pit. Let's learn the process of building a fire pit with stone step by step in detail:
Outline your fire pit: Make an outline of your fire pit with the help of stones where you want your fire pit to be. If you are going to use a metal ring, then keep a few stones around to make a circle.

Dig your fire pit: Use a shovel or other digging tool to dig out your circle 6 inches deep. Depending on the area where you live, this will be an easier or more difficult task. You may need professional help as well.

Fill your fire pit: After digging, pour gravel into your hole until the gravel is level with the ground. The gravel will provide an important drainage area when it rains.

Build Your Fire Pit: Keep your first ring of stones around the edge of the gravel circle you made, and utilize a rubber mallet to pack the stones evenly with each other.
Place some masonry adhesive on the bottom of each stone when placing the second row of stones and stumble the placement of the second row. Use the rubber mallet to tighten the stone placement. Repeat the process with the third row.
How To Maintain Your Fire Pits?
Maintenance is important to keep your backyard and the structures in it like fire pits, beautiful looking and functioning well all year long. Here are some tips to maintain your fire pit:
To prevent the fire from spreading, nearby low-hanging trees should be pruned regularly for safety. Keep an area of minimum 10 feet in diameter clean of any yard debris or structure around your fire pit.

A hot fire pit in cooler climate conditions can cause pit stress. When building masonry fire pits in cold regions, its base should be expanded to the frostline or built on a tough concrete base to lessen the risk of cracking. Usually cracking issues happen, but severe cracks should be repaired before continued use.

Burning trash or pressure treated wood in your fire pit can release harmful toxins that can damage pit surfaces and is unhealthy to breathe. Dry, split wood is recommended for fire pits.

In masonry fire pits, residue buildup can be an issue over time, they can be cleaned using a solution of muriatic acid and water in the ratio of 1:9 respectively to scrub the interior. After cleaning, rinse with water and allow it to dry for 2-3 days before use.
Which Type Of Fire Pit Is Best?
A natural gas fire pit is the best to choose. The absence of smoke generated by a gas fire pit makes it more energy-efficient than burning wood. Propane burns cleaner than wood, but not cleanly as natural gas. Also, using a gas fire pit is eco-friendly as you are not polluting the atmosphere and reducing trees from being cut down to produce firewood.
Eden hopes that now you have a broad picture about fire pits and will consider it to make the center of attraction of your landscaping. To install a fire pit in your backyard or patio, contact Eden today
From selecting the right seasonal plants to installing an outdoor kitchen, our landscaping services can do it all for you. Contact us today for a stunning landscape!