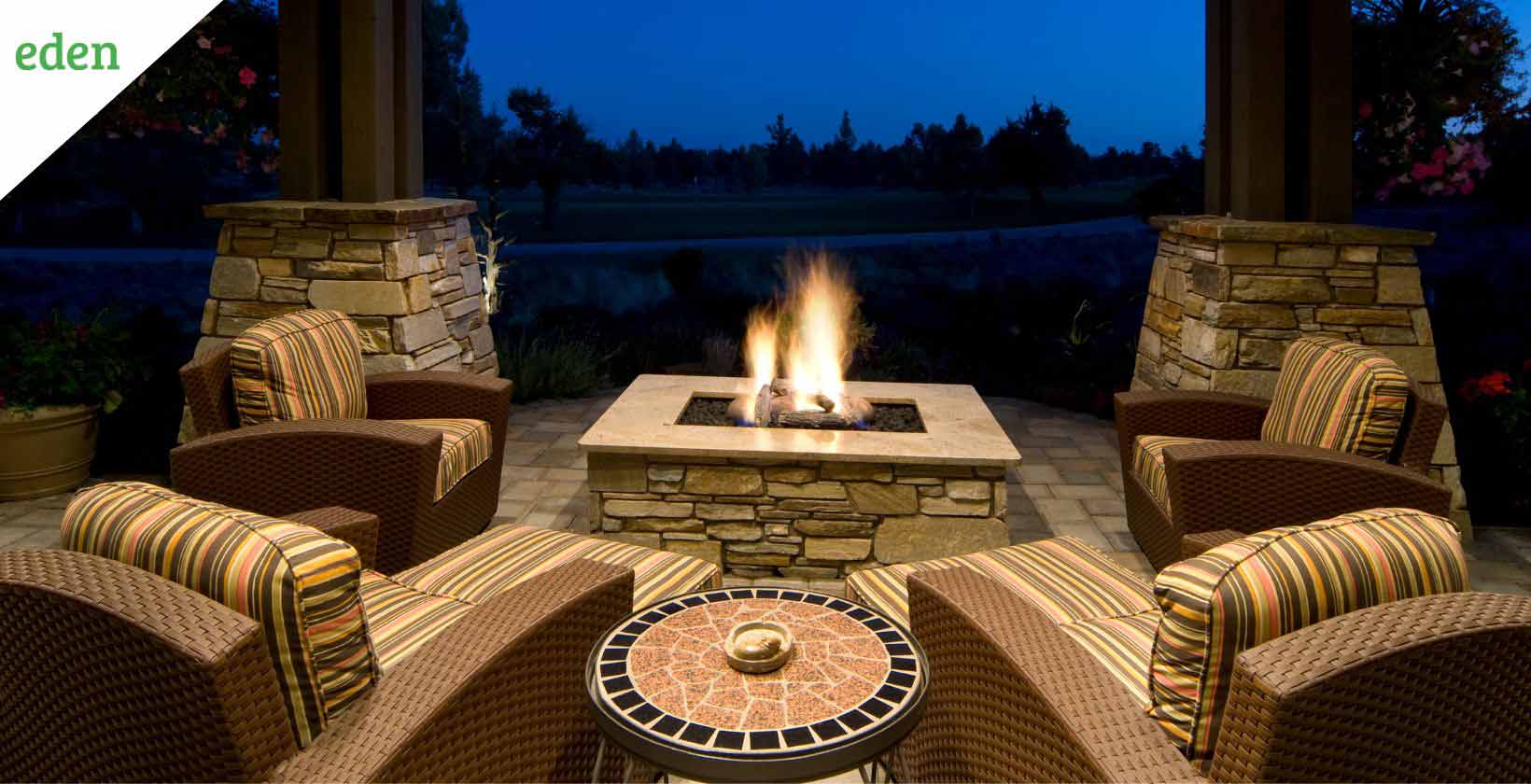 Fun Activities To Do Around A Fire Pit
Fire pits are the best places in your yard to have several fun activities like playing card games, enjoying music, playing word games, making popcorn and watching the sunset. If you are sitting outside around the fire pit with your family or friends on a beautiful night, all you need is fun activities. You can make your evening memorable with the magic of a fire pit. In this article, Eden has highlighted some fun activities you can do around a fire pit. Let's check them out right away:
1. Play Music
You can play music around your fire pit with acoustic instruments like mandolins, guitars, and banjos. The cello, horn, flute and percussion instrument will also work fine with zero amplification.
Make sure your neighborhood allows for backyard sound amplification. Then, plan out where you want speakers, mics, amp, and a drum set to be arranged. You may have a covered deck, pergola, or gazebo in your yard to set up for the band, with a fire pit area on the lawn near the bandstand.
If you have a small yard, you don't need much more than a few bluetooth speakers for recorded music when your musicians are taking a break. It's fun to have speakers set up with outdoor ambient lights.
2. Play Card Games
Make your evenings fun and memorable around your fire pit with your friends or family by playing card games. UNO is a popular card game that can be enjoyed for hours around your fire pit even on chilly nights.
3. Play Word Games
You can also play word games with your beloved ones. One of them is "two truths and a lie". The player who is nominated shares three 'facts' about himself – two of which are true, and one which is false.
4. Make Popcorn
Popping popcorn over a fire pit is just as simple as making it on the stove and way more fun. Have your favorite snack with an easy summer cocktail and watch a movie outside in your yard. You will need the following ingredients to make popcorn: 1/4 c. popcorn kernels, 1 tbsp. vegetable oil, 1/4 tsp. garlic powder and kosher salt.
Toss popcorn kernels and vegetable oil in pie tin. Cover tightly with foil, keep enough room for the kernels to pop and place it on the fire pit. Using tongs, gently shake pie tin until popping stops. Season it with garlic powder and salt.
5. Write a Journal
In the evening, when you are unwinding and relaxing after the day's work, sitting around the fire pit and writing your journal about the daily events sounds so peaceful! You can even make a sketch sitting around it and spend your leisure time.
6. Watch The Sunset
Watch the sky turn orange in the sunset while sipping your evening tea around your fire pit. You can just cozy up around the fire pit and enjoy the evening's beautiful display.
7. Play Yard Games
Even though the health benefits of playing outdoors are well established, sometimes it's hard to get the kids out of the house to play and even the adults hardly get time. You can have fun in your backyard with your children by playing some outdoor games while feeling cozy around your fire pit.
You can play games like water balloon catch. We have all played catch before. You can make this game more exciting by playing with different balls, water balloons or bean bags. Toss the ball at a short distance and, with each catch, take a step back and continue tossing to see how far you can get before missing..
8. Camp in Your Backyard
Camping even in the backyard calls for a fire. A fire pit will successfully perform the task of a campfire in your backyard. It can keep the family warm and cozy all night long while you enjoy several games and have a good time with them.
How To Clean The Ash And Debris From the Fire Pit?
No matter what type of fire pit you have, it will require cleaning regularly to keep it attractive, safe, and in good working order. Follow these steps for fire pit maintenance:
Empty Ashes –

Always make sure that the charcoal is fully cold before trying to remove ashes from a fire pit. Use a shovel or trowel to bring out the ashes and place them in a metal bucket or ash can for disposal.

Mix a Cleaning Solution –

In a plastic bucket, make a solution of one part muriatic acid and nine parts water.

Scrub The Masonry-

Wear rubber gloves and eye protection. Then dip a scrub brush in the solution and scrub the rock, brick, or cement blocks with the solution. Make sure to clean both the inside and outside of the pit. This will remove discoloration from creosote stains.

Rinse Well –

Use a garden hose to spray down the firepit to rinse away the dirt and cleaning solution. Allow the fire pit to air-dry completely for about 48 to 72 hours before using.
Does Eden Offer Fire Pit Landscaping?
Yes, Eden offers various landscaping services that include fire pit landscaping as well. Eden can install various types of outdoor fire pits, including wood burning, gas or electric. Eden will work with you on deciding the best fire pit and also identify the best location in your landscape for optimal use.
A fire pit adds warmth, both literally and aesthetically, to your outdoor space or yard. Contact Eden today and hire our professional team to help you install a fire pit in your yard.
From selecting the right seasonal plants to installing an outdoor kitchen, our landscaping services can do it all for you. Contact us today for a stunning landscape!