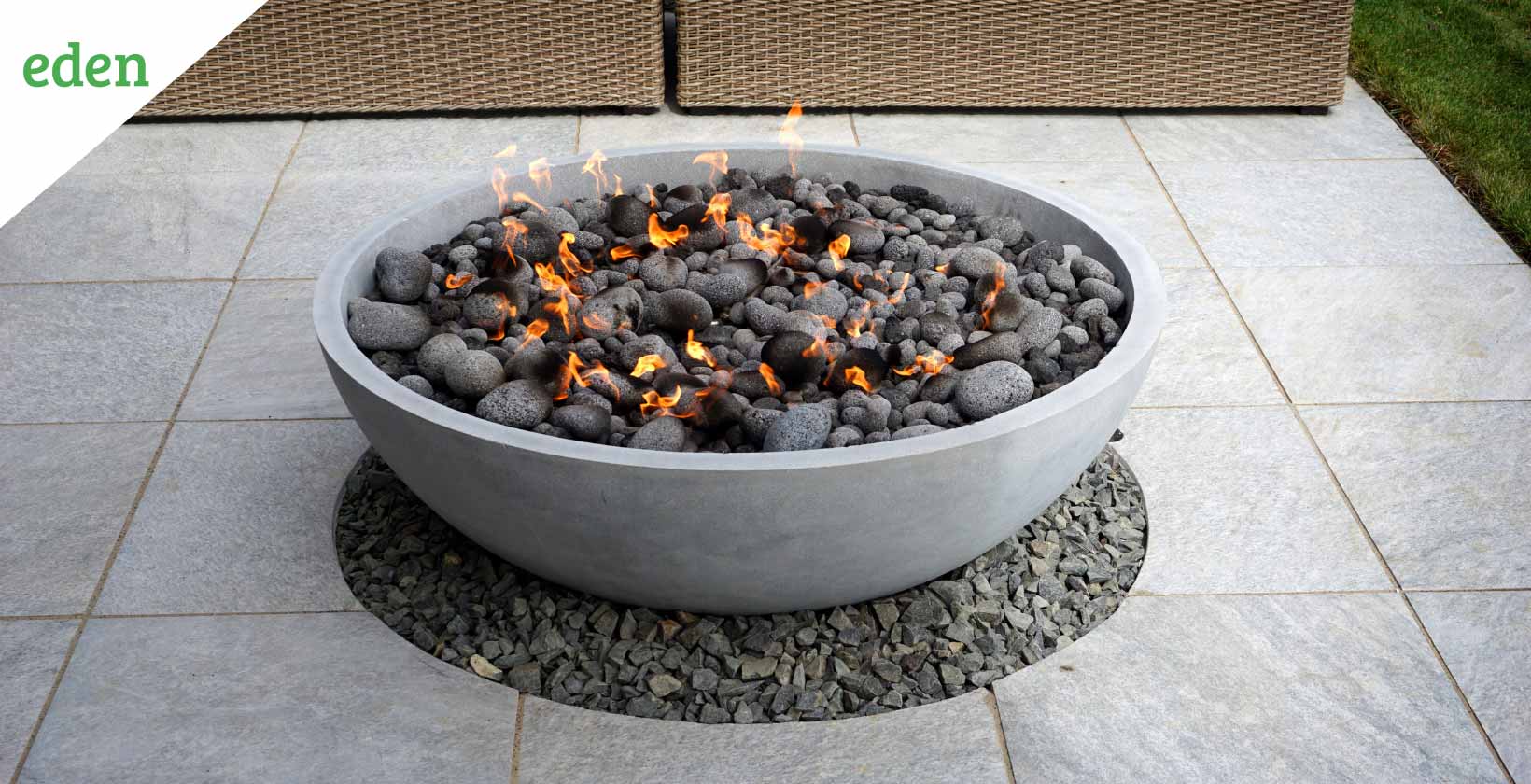 Types of Fire Pits: What's best for your yard?
The four main types of fire pits are ‒ propane fire pits, wood-burning fire pits, natural gas fire pits, and gel fuel fire pits, and these are categorized by the type of fuel used in them. Eden explains the features of these four fire pits along with their pros and cons in this article.
1. Wood Burning Fire Pits
Wood-burning fire pits depict a realistic replica of campfires. With warmth, the crackle of wood, and a smoky ambiance, these wood-burning fire pits come in several varieties.
Stone or Brick Fire Pit

– A classic option that offers a simple design and includes materials such as stones, bricks, or cinder blocks.

Wood Burning Grill

– Unlike the stone fire pit, this wood-burning grill offers a contemporary design and features grilling and cooking gear for delighted outdoor dinners.
Pros of Wood Burning Fire Pits
It comes in a variety of styles and sizes.

These pits can be placed anywhere due to their versatile sizes that range from compact to oversized.

A wood-burning fire pit gives an authentic aura of a traditional campfire.

Unlike other fire pits, a wood-burning fire pit allows you to cook over its fire.

These fire pits do not cost you anything beyond the price of the structure itself. You won't even require extra equipment, whereas gas-powered fire pits must acquire a few components to work efficiently.
Cons of Wood Burning Fire Pits
You cannot regulate the fire rapidly. It is easy to increase the size of the flames by throwing in more woods. But, it becomes challenging to promptly control or regulate the fire.

Unlike gas-burning fire pits, you cannot extinguish a wood-burning fire pit.

It produces large amounts of smoke that irritates your eyes, nose, and throat.

This smoke and ash also discolor the pit, thus requiring more maintenance.
2. Propane Fire Pits
Propane fire pits are trending, given their convenience in your backyard without the use of refilling gel or wood. This fire pit can become the focal point of your patio due to its impressive design, which also depicts a contemporary vibe.
The propane fire pit has an ignition switch, making it easy to regulate the flames. It also requires a 20-pound(approximate) propane tank. You must pre-check any leaks before using the pit for extra precautions.
Three kinds of propane fire pits are:
Copper Bowl Fire Pit

Propane Portable Fire Pit

Fire Pit Table
Pros of Propane Fire Pits
These fire pits are portable and versatile enough to be placed anywhere.

Unlike a wood-burning fire pit, you won't notice messy ashes in or around the propane fire pit.

Even if the weather gets hot, you can use a fire pit table version during the hot months without using the fire pit.
Cons of Propane Fire Pits
The maintenance and usage of these fire pits become expensive due to tank refills.

They do not provide as much warmth as a wood-burning fire pit can.
If you require contemporary and sophisticated designs for your backyard or patio, propane fire pits can be a great choice.
3. Gel Fuel Fire Pits
These gel fuel fire pits can be a great addition to your backyard if you desire a fireplace that does not give off any smoke. Therefore, these fire pits are ideal for indoor and outdoor spaces.
A gel fuel fire pit employs a special alcohol-based gel to ignite a fire which renders an exquisite environment. To light this pit, you have to pour the gel fuel into the pit and then set the gel fuel on fire using a gas grill lighter. The fire puts itself out when the fuel is consumed completely.
Two mainstream designs of gel fuel fire pits:
Tabletop Fireplace

Gel Fueled Logs
Pros of Gel Fuel Fire Pits
It is easy to use.

You can use this fire pit inside as well as outside your home.

It offers an aesthetically pleasing vibe.

It is an inexpensive choice.

It does not provide any smoke.

The gel helps the fire burn for a couple of hours without hassle.
Cons of Gel Fuel Fire Pits
The heat output is much less than a wood-burning fire pit.

You cannot regulate the flame levels.

The fuel or construction of this fire pit may not cost you much, but refueling can cost you about $3 per hour if you are running a 3-can model with a gel fuel can.

You must refuel it more than once for the fire to keep burning for a long evening or entire night.
4. Natural Gas Fire Pits
An upgrade to propane fire pits, natural gas fire pits also run on gas but never run out of it. A permanent connection to a natural gas line allows you to use it for an elevated time frame without the risk of the supply getting interrupted. The convenient supply, clean fire, reduced risk of fire accidents and easy maintenance makes it a common choice among homeowners.
You can opt for any of the two primary designs –
Sunken design

Table-top, round or square design
Pros of Natural Gas Fire Pits
It is an inexpensive choice where the operating cost is also lower.

It requires less maintenance.

These fire pits will add value to your property.

These fire pits are also expected to live for a few decades with little maintenance, given their durability and robustness.

There is no mess to clean up.
Cons of Natural Gas Fire Pits
The fire pit is not ideal for cooking.

It is not portable and cannot be shifted once installed.

Natural gas may be cheaper than propane, but installing a natural gas fire pit is costly.

The BTU for natural gas is lower than propane.
According to Eden, if you wish to increase your home's value, installing a natural gas fire pit as a landscaping enhancement is an incredible idea.
Which is the best fire pit for cooking?
Wood-burning fire pits are the most popular and best fit for cooking, be it a Sunday dinner or a barbecue party. Before starting with the cooking sessions, choose your firewood carefully. Please refrain from using softwoods such as pine since they render a resinous smoke which might spoil the flavor of your food.
Grill rack, skewers, cooking tongs, and flame-resistant pot are some of the equipment you must use to begin the cooking process. You can cook, roast or boil many things, such as bread, eggs, bacon, meat, vegetables, mini sandwiches, and hot dogs, among others.
What are the activities you can do with your fire pits?
Fire pits are installed to enjoy your winter evenings and spend more time with family and friends. Eden brings you a few fun activities to do around a fire pit when you have friends and families around.
Play card, word and board games.

Play some musical instruments and sing.

Tell spooky campfire stories.

Share memories.

Truth and dare.

Charades

Karaoke night

Watch a movie.
If you are out alone enjoying the fire, then you could,
Write journals.

Stargaze

Watch the sunset or the sunrise.

Enjoy a cup of hot chocolate or coffee and listen to music.

Write a poem or a story if the weather inspires you.
To conclude, the four main types of fire pits you can choose to install are ‒ propane fire pits, wood-burning fire pits, natural gas fire pits, and gel fuel fire pits. Consider the safety, purpose and impact of each on the environment when choosing a fire pit for your landscape.
If you found this article helpful, then contact Eden today for more information and professional installation of a fire pit.
From selecting the right seasonal plants to installing an outdoor kitchen, our landscaping services can do it all for you. Contact us today for a stunning landscape!