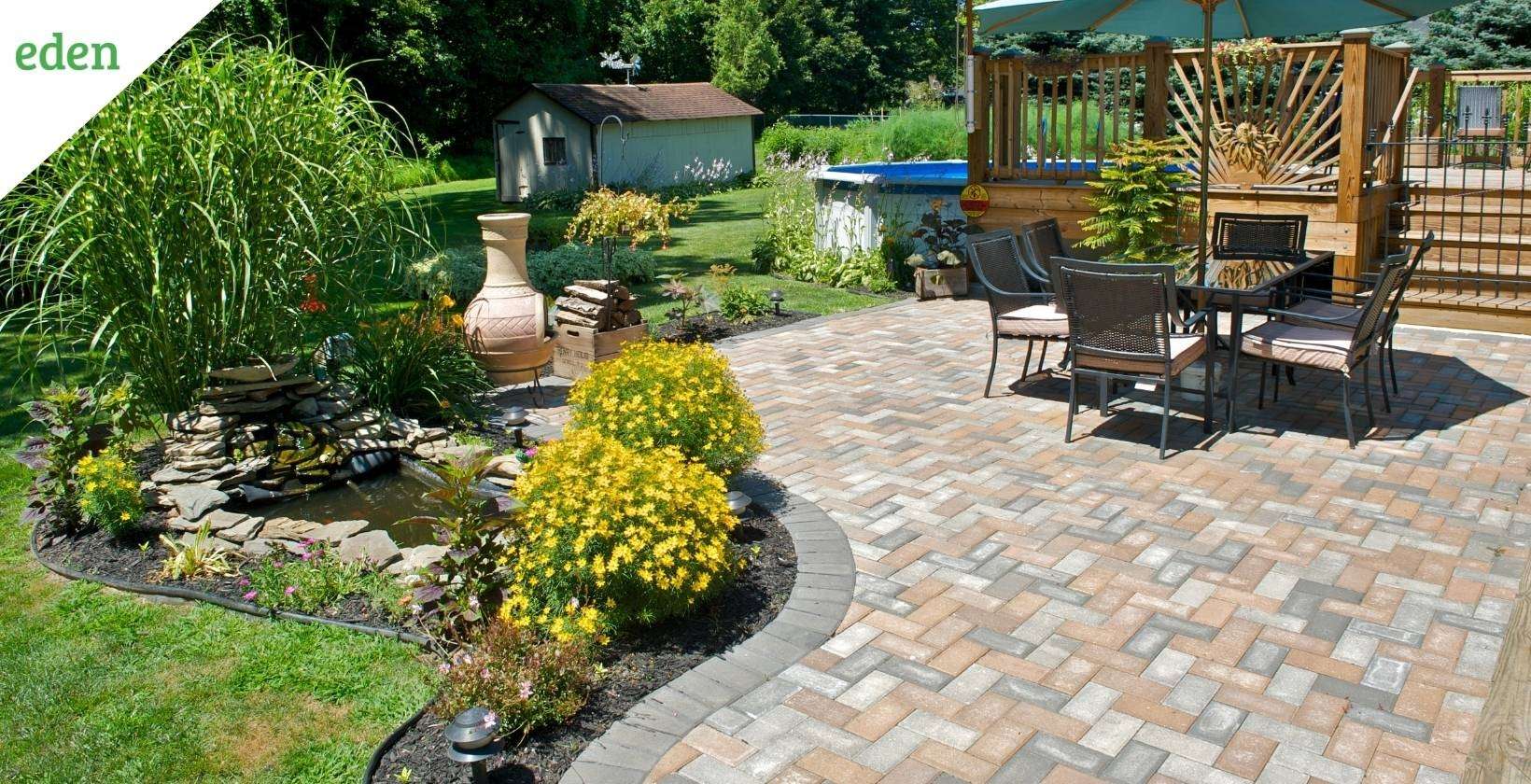 What Are Patios For Landscaping
A patio is an outdoor area or courtyard, which is partly planted, largely paved and usually surrounded by buildings. The word "patio" originates from the Spanish word patio, meaning back garden or backyard. Generally, it is used to describe any outdoor living space usually adjacent to a residence, used for entertaining, dining, or relaxation. The patio space is a major part of your landscaping and can become the focal point of attraction if designed and decorated properly. Several options are always available for you, to help you design your patio according to your budget.
In this article we are going to discuss the various types of materials available, the considerations to build a patio for landscaping, and some patio landscaping ideas. Also, know the cheapest way to build a patio, which one is more expensive between a deck and a patio, and if adding a patio increases the value of your home.
Things To Consider When Planning A Patio
A patio is the centerpiece for your landscape design and can be constructed in various ways. It is a major part of your outdoor living area and is used for a variety of activities, including dining, sunbathing, and socializing. It's significant that your patio's design complements your home and your lifestyle. Listed below are the things to consider when planning your patio.
Layout:

 You must plan your patio in a way you can benefit from your surrounding view while being in the interior of your home. The patio layouts where people sit with their backs to the house are not always the best.

An impressive, well-landscaped back exterior can be achieved and it can be more aesthetically appealing if your house is surrounded by a natural view, such as a lake, mountain, or sunset. These natural settings should be focused on when planning the positioning of your patio. If this isn't attainable and you have an undesirable view, consider a fence to position the patio and reduce undesired sights.
Material Trends:

Most patios are built using one or more of the material choices listed below. Some of these materials are highly changeable, providing many options, while others are more constant.

Concrete

: The most popular trend for patio designs is textured, tinted, and decorative concrete that offers a durable, safe, and slip-resistant surface. It helps to create stunning designs that are functional, unique, and affordable.

Pavers

:

Quality pavers are available in an array of sizes, shapes, and colors. They are appreciated as they are inexpensive, and provide long term durability and permeability. They also have the ability to move with the ground to prevent cracking. A significant advantage of cemented pavers is that they are small enough to be moved manually without special equipment and can stand alone on gravel or sand without any mortar. There are various types of pavers that can be utilized for building a patio. Some designs are suitable for porous paving that follow the no runoff building codes.
Listed below are types of pavers:
1. Natural Stone
2. Concrete
3. Interlocking
4. Brick
5. Flagstone
6. Permeable
Wood

: Most wood types are best used for decks, but they can also be used for a patio, only if it is pressure treated for outdoor use. If you want a noteworthy look, you may like to consider tropical hardwoods such as Teak or Ipe. 

Specifically, Teak is popular due to its elaborate design, durability and capacity to hold natural oils. Therefore, it is resistant to mold and repels bugs. However, wood needs proper care regularly, which makes it more high maintenance than some other materials.
Patio Landscaping Ideas
Your outdoor living area should look attractive, while being functional. Safety, privacy, comfort, and low-maintenance are four aspects of functionality in this case. We are going to consider all four here, while accentuating on ideas for improving the appearance of your patio. So, let's start.
Patio Plants

: Patios don't look inviting if not enhanced with plants and accessories. Plants complement the hardscape features, breathing life into them and making an inviting place to sit down and relax.
Even though there are other ways to do it, like patio planter pockets, the simplest way to place plants into a patio set is to use container gardens. As containers are portable, Northerners can easily grow tropical flowers during the summer season in them. Afterward, simply move them indoors when winter arrives.
Moreover, you can grow almost anything in a container. The idea of placing plants on your patio can even help you save by avoiding constructing a new patio, as plants are capable of hiding several eyesores.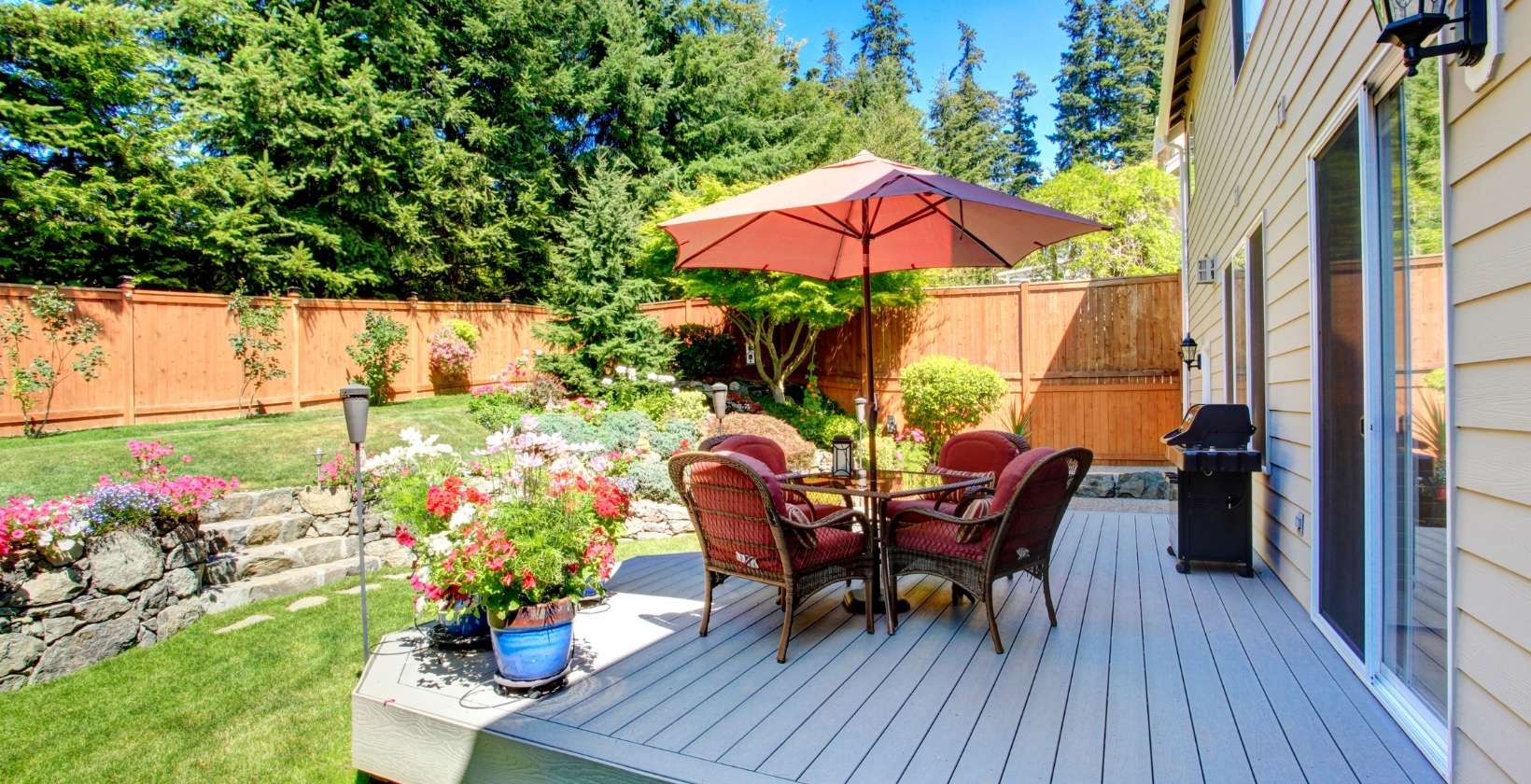 Consider safety. If you are allergic to bee stings, avoid patio landscaping with only flowers because they attract bees. Instead, opt for foliage plants such as those with variegated leaves.
Selection of right trees for your patio:

Large plants can cause significant issues. Trees are the largest class of landscape plants; therefore you definitely need to focus on tree selection for your patio landscaping.

Select a tree that will be of intermediate height at maturity, if you would like a shade tree for your patio. 

Avoid planting trees with dynamic root systems.

Select trees that don't create mess to reduce maintenance.
Japanese maples provide good options for trees having intermediate height.
Some plants are better or worse than others for growing around septic tanks, depending on the nature of their root systems. These plants are either good or bad choices for patio landscaping. 
Another point to consider is whether a tree is messy or not. For example, Eastern white pines are one of the messiest trees. On the other hand, Sunburst honey locust is relatively mess-free.
Privacy: Most people like to have at least a little privacy along their property lines. There are three ways to do it:
1. Fences
2. Informal hedges
3. Formal hedges
Non-gardeners may prefer to install fences to get privacy, while gardeners usually like to achieve it using plant material. A row of arborvitae bushes used to help prevent unwanted attention from the neighboring house is a leading example of an informal hedge.
Formal Hedges for privacy: Some people prefer a cleaner look in screening, attained by trimming the shrubs into a rectangular shape. Therefore formal hedges are more popular, which allows privacy to a greater extent. Privet is a popular choice among formal hedges. Other options include:
1. Boxwood
2. Holly
3.Barberry
Keep in mind the vertical element:

When considering your choices for patio landscaping, sometimes it's simple to focus on the two-dimensional design. However, adding verticality to our designs opens up a whole new possibility, making the outdoor living area much more fascinating. One way to incorporate a vertical element is to build an arbor adjoining your patio.

Arbors are the best options for easier DIY projects. Gardeners would love to grow flowering vines on their arbors.
Add shade with pergolas:

You can include

the vertical element in a number of ways. The option with the highest functionality and greatest impact is the pergola. Since pergolas can be covered to provide shade, it increases your comfort level outdoors. By covering your pergola, you have created it into a room that isn't relatively "inside", and neither fully "outside."

Use plants to soften hardscape structures

:

Landscaping your patio with plants is the best way to add a soft touch to your existing hardscape. The most popular choice for this job are perennials among the smaller plants. By placing a mix of small shrubs and long-blooming perennials, you can have something growing for the entire season.

Consider adding annuals too

:

Don't forget annuals to spice up your patio landscaping. These plants may have a short lifespan, however they offer a powerful way of adding instant color. 
The gardening snobs are sure to look down on annuals. Always keep in mind that this is your own outdoor space to relax and enjoy. You should be free to make your own aesthetic decisions according to your taste rather than considering what know-it-alls think.
Enjoy in the pool

: One more fantastic element you can add to your patio is a swimming pool.

There's nothing like comforting yourself on the patio and then jumping off into the pool. However, you will have to decide if this luxury is worth the extra maintenance you will require. In addition, there is a safety issue involved here if you have small children.
Other options you can consider are:
Outdoor kitchens 
Outdoor fireplaces
Water features: Small, decorative water features are also a great option as they are more manageable. Although you can't swim in these water features, the gurgling sound made by its waters is so relaxing.
Choices for fountains include:
Ceramic fountains
Granite fountains
Clay pot fountains
Bring out the color of your patio with landscaping: If you really like to be creative, you can synchronize the color of your patio and your plants. For instance, Blue Star juniper would bring out the blue in some flagstone or bluestone pavers. Try blue fescue grass if you would like to place smaller plants.
Contrarily, plants that may complement a brick patio, depending on the color of the bricks include:
Castor bean (keep safety in mind as this is a poisonous plant)

Chocolate Drop sedum

A dark-leaved ninebark

Create plant borders

: Add beauty and ambiance to your patio space by creating a border of plants around your patio. They are relaxing and pleasing to the eyes. You can fill the border with any plants that work best in your area, including rose bushes, lavender, other flowers, or shrubs. 

Just make sure you are not burdening yourself with extra maintenance when placing these plants unless you like to spend a lot of time in the yard. To help choose the type of border plants that will work best for your patio border, you need to ask some questions yourself, including if it needs shade or full sun, how tall the plant is going to get, the type of soil required for it to grow best and lastly, what colors you prefer. 
Consider decorating with a vertical garden:

A vertical garden is a wonderful way to dress up your patio area, if you have an outside wall located in your patio. By planting herbs that you can use for cooking, such as basil, rosemary, and thyme, you also make your garden both attractive and functional. 

If you would like to decorate more, you can consider planting some small philodendrons or ferns for trailing-type plants or some succulents for less watering maintenance. First, you need to check what plants will work best based on your hardiness zone. The vertical wall planter must have a flat back and be sturdy to hang on the wall properly. 
Creating a lush green lawn

:

Imagine when you look out into your backyard from your patio, the lushness of a thick, bright, and green lawn will look so beautiful! It's not only aesthetically appealing but keeps the dirt away from your patio too. The proper amount of water, mowing to the appropriate height and pest control, will help achieve a desirable lawn that you not only want to look at but walk in, too.
Make your patio gorgeous with the element of rock

:

Make a border

around the flower beds with a rock border or put rocks or boulders into them to add character and depth to the landscaping around your patio. They are low-maintenance and also provide a visual element. You can scatter some boulders amid your shrubbery and plants and use smaller rocks in place of mulch as the ground cover. Large stepping stones stretching out from your patio as a walkway to your yard are another way to create an amazing area of attention. From colorful to relaxing lush gardens, there are several ways through which rocks can enhance and become an attractive element for your backyard and patio area. Be as creative as you can!
Comfortable Seating

:: Particularly your patio must be comfortable, functional, and inviting. It is essential to have an appropriate ambiance and outdoor seating to have you, your family and guests attracted to this amazing space. Make sure you have comfortable seating with soft cushions to throw some pillows and have fun with your family and friends. 
This is your small piece of paradise, so design it with the furniture you like. It will be a place you will often visit to drink your coffee in the morning while listening to the chirping birds, read a book on a quiet afternoon, or eat dinner while enjoying the fresh outside air. Others will also like to join you, too.
What is the cheapest way to make a patio?
Concrete is the cheapest way and one of the most popular materials that is used to build a hard-surface patio. The concrete mixture can be gravel, stone, sand, or shells, which are combined with water to form a paste that dries when left to settle and results in a hard surface.
Is a deck or patio more expensive?
When comparing the cost of deck vs. patio, patios are usually cheaper than decks. However, the cost of your project will depend upon several factors. These include:
Materials used (wood, vinyl, concrete)

Features, such as a railings, seating, built in barbecue

Location of deck or patio (on the ground without supports, on the house with a door already leading out or in an area in which a door addition must be made, above ground)

Size of deck or patio
Does a patio add value to your home?
Estimation shows that well-designed patios add up to 8-10% of home value and receive an ROI of about 80%. However, a better option for most homeowners would be to renovate or repair an existing patio since repair estimates average around $1,400. This results in an ROI of approximately 500%.
Selecting the suitable materials, ideas or design and hiring a trusted professional like Edenapp for constructing or renovating your backyard patio can make it the center of attraction of your landscape. Let Edenapp's landscape professionals guide you through the process and create an outdoor living space for you to add value to your home.