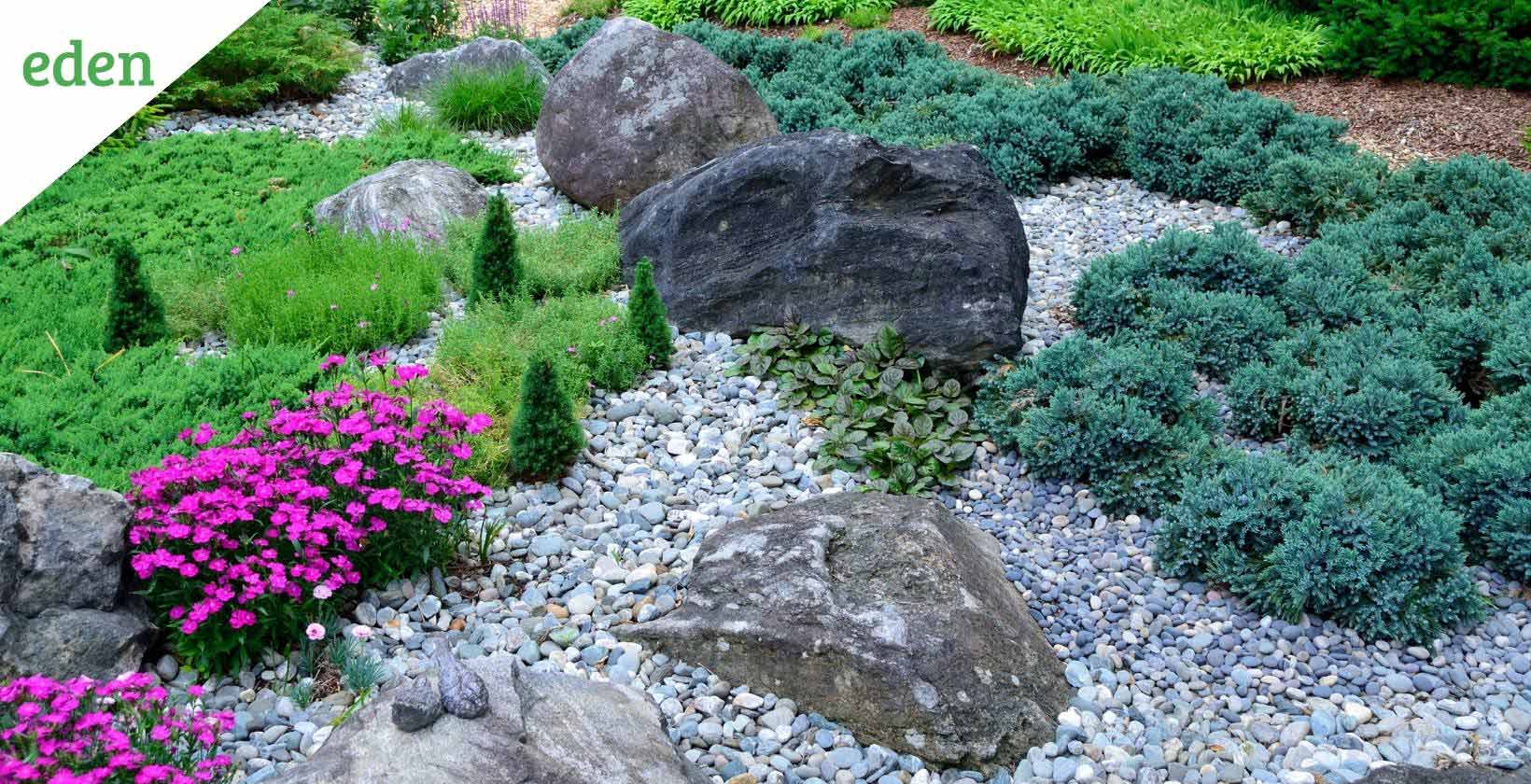 10 Types of Rocks for Rock Landscaping
There is so much more to consider than just plants and turfgrass when it comes to enhancing landscapes naturally. Rock landscaping is becoming one of the most gorgeous and popular additions to any landscape, especially for varied styles and shapes. 
Rock landscaping involves forming and polishing landscaping rocks that offer a unique look to your lawn or yard while providing varied options, from pea gravel to polished pebbles, to render different aesthetics. Before determining the best rock for rock landscaping and factors that might affect your choice, let's look into the ten types of rocks available for rock landscaping.
1. Gold Path Decomposed Granite
Identical to its name, decomposed granite is granite rock that has decayed and is being quarried and processed through screening equipment which is later produced as ground cover, athletic field surfaces, pathways, and driving surfaces.
The particle sizes for the decomposed granite can range from 3/8″ to very fine rock dust particles. On top of this, decomposed granite is also available in numerous shades, which shows the all-natural color of the stone and nothing from coloring agents or dyes. Gold has become most homeowners' choice when it comes to decomposed granite paths that add depth and interest to your landscape. Gold path decomposed granite is also in demand due to its fine sand texture that renders a natural look. 
Apart from its varied attributes, this rock type is in much demand since it is pretty inexpensive and is available at around $40 to $50 per cubic yard. It is a low-maintenance type of rock and is also durable, making it an ideal choice for homeowners and commercial landscapes.
2. Gray Pea Gravel
Pea gravel is a smooth pea-sized stone formed due to natural weathering, comes in vibrant pinks and blues, and is often seen intermingling with grays and earthy browns. These types of rocks are majorly used for gardens or flower beds, complimenting the exteriors of landscapes. Pea gravel is also commonly used in driveways, patios, and walkways, among other foot traffic areas, due to its smooth finish.
It is also vital to understand that the small size of pea gravel can make it move easily from its place if not edged properly. Concrete blocks or landscape trim setup should be done for effective edging to prevent any movement, which is why Edenapp suggests taking assistance from a professional.  
Durability also plays a part here since gray pea gravel retains moisture and heat and makes an ideal drainage system. 
You can expect around $25 to $69 per cubic yard for gray pea gravel; however, the price can vary depending on how much pea gravel you would require and the space you wish to amplify. Coming to maintenance, gray pea gravel is relatively easy to maintain. You might have to use a rake to even the rocks every now and then, but the real difficulty you would face is during snow removal. 
3. Rainforest River Rocks
Naturally created and tumbled for smooth texture and round shape, rainforest river rocks are found near water bodies. The varied sizes and easy handling characteristics make this rock type great for indoor accents and outdoor landscaping. While the cost of these rocks may range from $0.05 to $0.35 per pound, the price can vary from vendor to vendor, depending on their shapes and durable color.
4. Rainforest Mexican Beach Pebbles
Pebbles are often used as ground cover in water features, mulch, and even direct drainage due to their smooth texture, small size, and the fact that they come in a variety of colors. Rainforest Mexican beach pebbles found their natural finish from the waves tumbling the rocks until it attained a smooth texture. From the colors to their functionality, rainforest Mexican beach pebbles are consistent and durable. The cost of rainforest Mexican beach pebbles can vary on various online platforms, but the price range probably commences from $23.99. 
5. Flagstone Stepping Stones
To achieve a walkaway that displays charm, unique surroundings, and attractive design, you can always turn to flagstone stepping stones, and it will never disappoint you. Let's not forget that stepping stones also scream fun. 
Flagstone is a sedimentary rock that breaks up into layers that can be used for rock landscaping. Since flagstone is available in varied shapes and designs, it allows you to select from a plethora of options, from sandstone and quartzite to paver stones and irregular, roundish stones. When it comes to inducing flagstone stepping stones to your walkways, the size, color, and finish of the rock depend on the customization options. The flagstone alone costs $15 to $20 per square foot, but it can vary depending on its specific type. 
Apart from being this versatile, flagstone is also durable, which is why it can be used as stepping stones for your walkways plus, its rough texture makes the stepping stones slip-resistant. For the upkeep of the flagstone, you must keep water off it, not because it can damage the flagstone, but the excess water for a long period of time can discolor the stone. Clean the stones using stone cleaner and treat stains using bleach or white vinegar. 
6. San Marcos Beach Cobble
Available in varied colors, such as light tans, gray, and white multi-colored stone, the San Marcos beach cobble is best suited for pathways, accents, streambeds, and gardens. The San Marcos beach cobble can be 2.5 to 10 inches and is usually made from granite or basalt. When it comes to the upkeep of these rocks, a good wash twice a year would do. Before washing the rocks, you should also remove all the debris and dust using a broom. 
7. Southwest Boulder & Stone Decorative Rock
If you have a large landscape, then boulders are the largest landscaping rock that can help you fill in any space. Boulders are also a great choice if one wishes to make rocks the primary attraction of their landscapes. While boulders can help in supporting large plants as they grow, they also look unique and distinguished in extensive rock gardens. A property owner can incorporate these large rocks into their water features. 
Larger than 16″ in diameter, boulders are available in two basic shapes – round and angular where round boulders are equipped with smooth edges and curves, the angular boulders come with jagged, blasted edges and flat faces. It is also worth noting that boulders are available in a plethora of colors that most people don't know of, like pink, brown, gray, gold, tan, green and many more combinations. 
Boulders can cost you as low as $43, but the range can also go as high as $200. And they are a great choice for homeowners or property owners who are looking for low-maintenance landscaping rocks.
8. River Rocks
River rocks are much more polished than pea gravels. They are also bigger than the latter. The size and shape of river rocks make them ideal for building a retaining wall, filling in around shrubs, using them to edge a flower bed or even filling in some empty surfaces to bring out the space. 
These types of rocks have been eroded by sediments, water, or silt. It is also somewhat exciting to know that the current speed determines how quickly the river rocks are formed. While these river rocks can be used to cover the grounds, they portray an enticing environment when used as part of a water feature. Due to their versatility, and incredible shapes and size, river rocks are a bit pricey and can cost you anywhere from $45 to $270 a ton.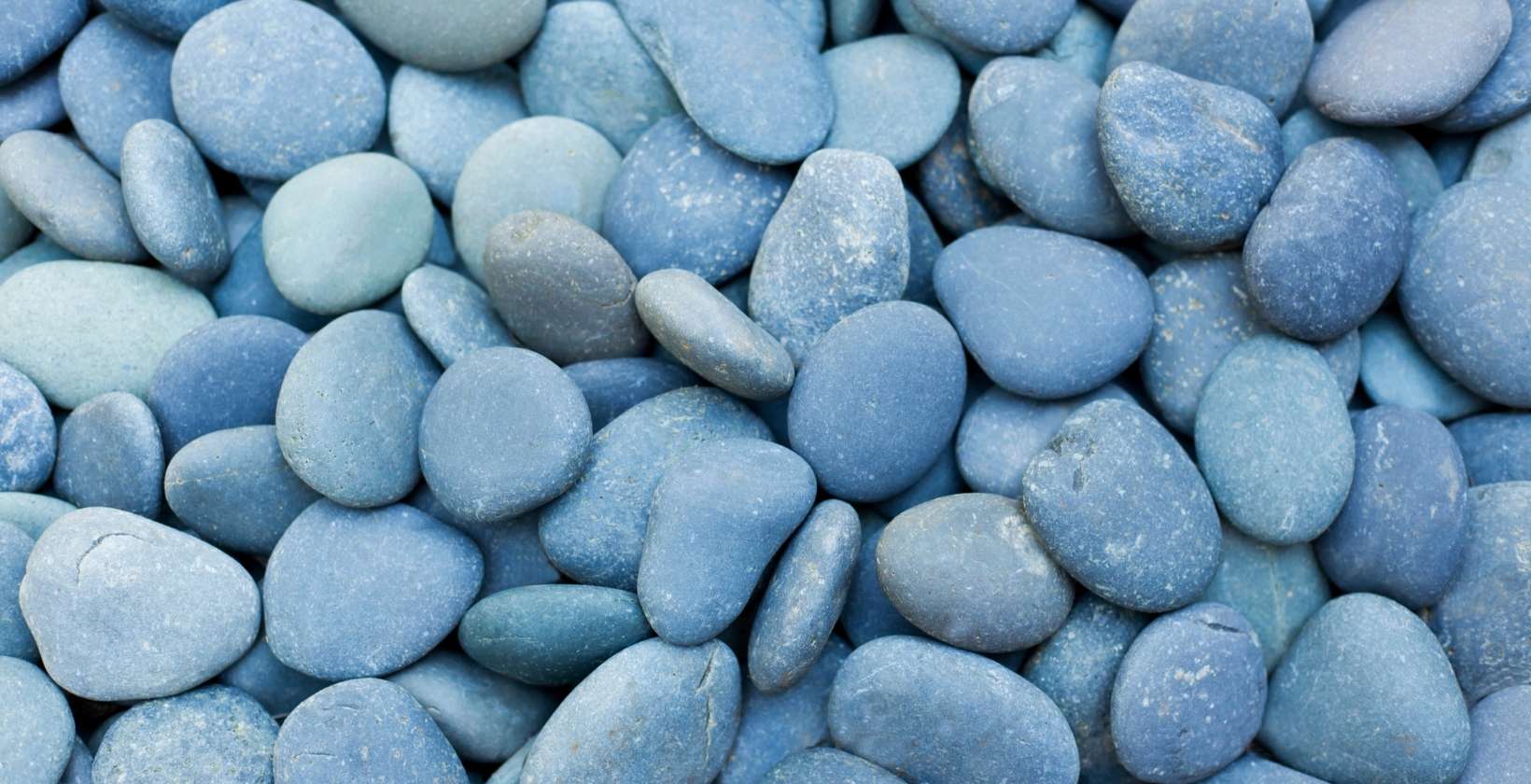 But it is worth it when it comes to any of your yard projects. Usually, there is no need to clean the river rocks; however, if you feel the need to clean the rocks, you can use a spray or a water hose to clean them. 
9. Natural Sandstone Landscape Rock
Extremely hard and tough material, natural sandstones are sedimentary rocks that come with small grains cemented by feldspathic, siliceous, or calcareous cementing material. They are called natural sandstones since these rocks are formed through a natural process. Natural sandstones are available in varied colors, which also depends on the amount and type of minerals present in the sand. Along with the appealing colors, these rocks also contain streaks of color.
Due to its durability and rough, granular texture, sandstone can be used to create raised garden beds and also adds an extra dimension to the garden design. 
The cost of these natural sandstones can commence anywhere from $10.50 to $13. Maintaining natural sandstone is simple and straightforward but not easy. If you want to protect your natural sandstone from staining, Edenapp suggests sealing it regularly. Also, consider cleaning any spills immediately to prevent any liquid from getting into the pores of the stone. 
10. Exotic Pebbles Polished Gravel
Mostly used as mulch in the interior or exterior garden beds, these polished pebbles are also perfect for walkways & driveways. They are available in mixed colors to provide and make a unique and attractive appearance. Because of their size, the Exotic Pebbles Polished Gravel are also portable. These are available in 1/2″ to 2-1/2″ sizes, and these glossy smooth pebbles offer an elegant look. To maintain these durable pebbles, hose them down to remove any dirt, debris, or grass clippings.
What are the best rocks for rock landscaping?
It is somewhat difficult to come on board with choosing the best landscaping rocks, even with a list of different types of stones in front of us. However, Edenapp has shortlisted the rocks from the extensive list mentioned above to help you out. 
Gold Path Decomposed Granite – It is quite inexpensive and can be used for varied functions. 

Rainforest River Rocks – A great choice for enhancing the water features. 

Boulders – They are an excellent addition to large landscapes. 

Exotic Pebbles Polished Gravel – Add these rocks to your garden to achieve an elegant view. 
What factors should be considered before choosing rocks for landscaping?
Choosing the right rocks for your landscape, yard, or garden can be challenging but also tricky, given the different attributes, uses, cost ranges, varied textures, and the specific types. Edenapp has made the selection easy for you through the list optimized below, which can make the selection hassle-free. 
Weight – Weight can play a significant role while selecting rocks since it affects their placement. Lightweight rocks are ideal for filling small areas that require sculpting. They are also best suited for patios since they are portable and can be easily moved around. On the other hand, medium-weight rocks offer good coverage and are better for less re-sculpting projects. At the same time, heavyweight landscape rocks are great for covering large areas. However, one should also take into account that these heavyweight rocks are not usually used on elevated surfaces. 

Texture – The texture of a rock matters when the primary and central attraction of your landscape are rocks. Rocks come with varied textures, including smooth and rough or irregular. Smooth textured rocks are usually used for walkways, entryways, near water features, or in high-traffic areas. The smooth texture gives a comfortable feeling, but it also represents a uniform look. On the contrary, rough rocks offer a natural and rustic look that compliments the gardens. 

Size – The size of the rocks is directly proportional to the functions you desire from the rocks. The size is determined depending on how much coverage and detail you wish to add to your landscape. And the coverage depends on the function. Small rocks can do the job if you have a small garden, but if you have a large space to fill, then large rocks can do the magic..

Function – Since the function is being discussed here, it is important to note that varied uses of a rock matter when it comes to intensifying one's landscape or rock landscaping. While some landscaping rocks can slow down soil erosion, there are rocks that provide good drainage, suppress weeds, and even can withstand wear and tear. 

Color – Colors of rocks can be easily selected, given your existing landscape designs and features. While you can choose the same color of rocks to intensify your garden, contrast colors can also do the magic if you like to mix and match. While few colors can help you retain sunlight, rocks in black color retain moisture which can also lead to algae build-up in certain climates.
Which type of rock for landscaping is budget-friendly?
Gold path decomposed granite, gray pea gravel, and river rocks are some of the types of rocks for landscaping that are quite inexpensive since their price range commences from $20 to $40. At the same time, good and best quality Mexican beach pebbles and boulders are quite expensive. While the Mexican beach pebbles are expensive due to their appearance and texture, boulders are pricey, given their size and functions.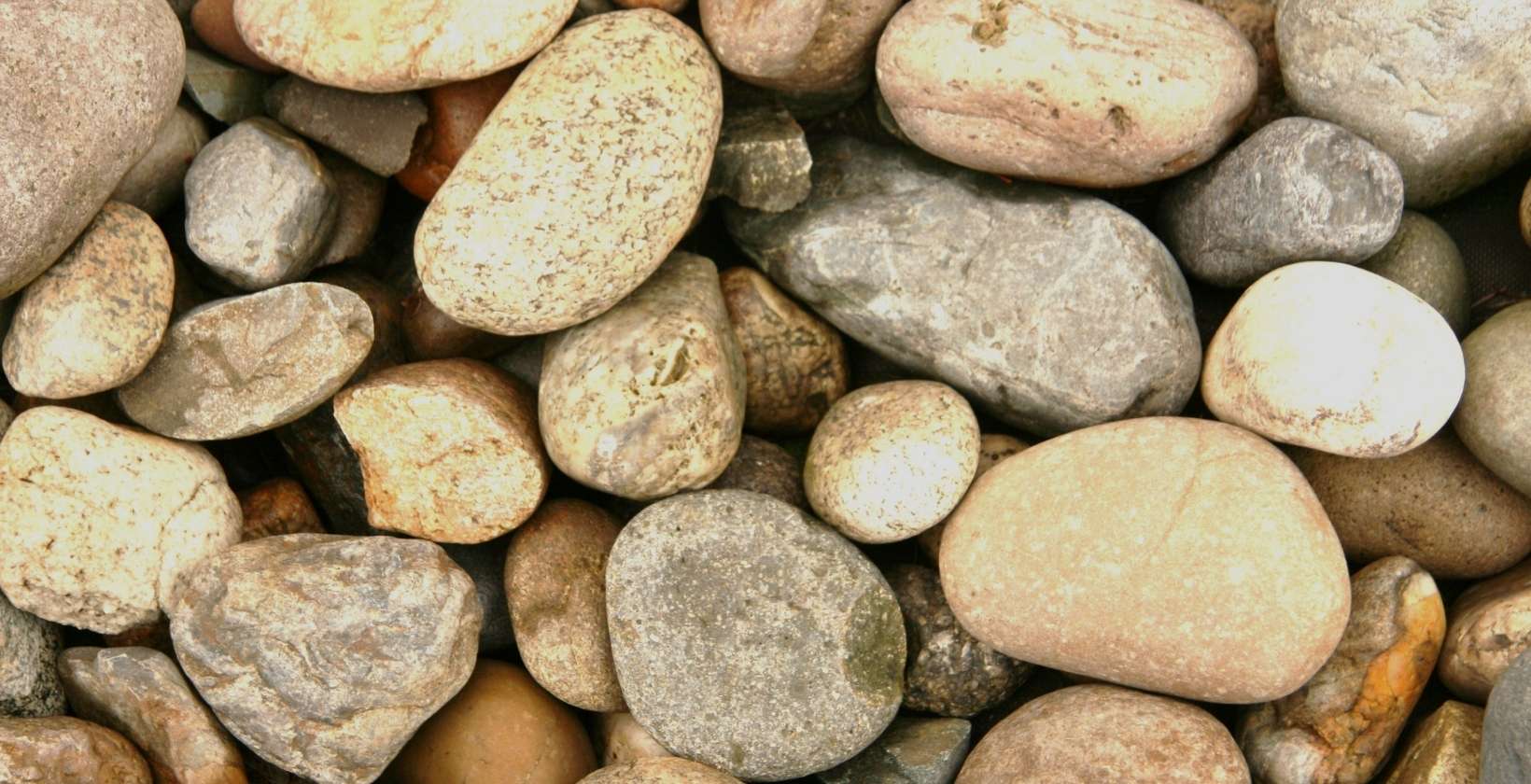 How to use landscaping rocks?
As a newbie or novice landscaper, you might be unaware of the vital instructions that should be followed for the effective use of landscaping rocks. To understand the necessary steps, take a look at the list mentioned below. 
Inspect the site or area where you intend to set the landscaping rocks. Access other features and aspects, such as water features or drainage systems, to understand which type of landscaping rocks will offer the most value in both money and aesthetics. 

Prepare the site by removing weeds and grass clippings. Ensure that you pull out the weeds with their roots. If not done properly, you will end up with mulch growing under the rocks. This is done so that your decorative rocks are leveled with the surrounding surface.

Make sure that the surface or soil that will be holding your landscaping rocks isn't too soft. In case the soil is too soft, consider digging down a bit further. Or, you can also add a layer of new, higher-quality soil if you feel digging too much can uneven your decorative rocks with the surface. 

Consider putting down a layer of landscape fabric to create an effective obstacle against weed regrowth below your selected landscaping rocks. However, ensure that the fabric allows water to seep through to avoid any drainage issues. 

You may as well install a strip of rubber or plastic landscape edging to minimize the issue of your decorative rocks being shifted from their place, especially during heavy rains or severe storms.
Now you can plant wisely and put down your landscaping rocks as per your requirements and desired areas. 
Where can we purchase landscaping rocks?
Home improvement stores are a great place to purchase landscaping rocks. However, when it comes to large decorative rocks such as boulders, you must contact a stone supplier. Or you may as well visit local rock companies or online platforms that deliver varied landscaping rocks from decomposed granite products to pebbles and boulders. 
For more information or landscaping services, contact us today or visit us at https://edenapp.com/.
From selecting the right seasonal plants to installing an outdoor kitchen, our landscaping services can do it all for you. Contact us today for a stunning landscape!