What Are Backyard Oasis For Landscaping
A backyard oasis consists of a perfect yard that must have plants, outdoor furniture, shade, some aesthetic appeal, and a cozy spot that provides comfort. It should feel like a resort in some remote tourist destination where you can relax and be peaceful. 
The backyard is a place for relaxation, play, and to have a good time with family and friends. It's that one place that belongs to you to escape to. No matter what features you choose to add to your backyard oasis, it must have the power to draw you outside closer to nature and your most relaxed self. This article discusses things to consider when creating a backyard oasis, its benefits and the average cost to create one.
1. Focus On Privacy
The most important thing to a relaxing backyard is privacy. There are many ways to add privacy to your backyard or patio, such as building high fences, green hedges, large planters and outdoor screens. If the only outdoor space you have is a porch, you can add curtains around the openings for privacy. If you live in an urban area with a patio, you will need to consider adding large plants, a privacy screen or a trellis to the space.
2. Control any bug problems
From creepy crawlers to flying insects, bugs can indeed put an obstacle on your backyard oasis plans. Mosquitoes and disease-carrying lizards are too annoying and ruin your time outside. While completely eliminating bugs from a patio or backyard may be impossible, rather trying to control them is perfectly doable. Including citronella candles in the entire area will help keep off pests. Furthermore, eliminate any stagnant water which attracts mosquitoes and prevent bugs from breeding. You have the option to hire a pest control company to spray the yard for living pests or bugs.
3. Plan a conversational area
When setting up furniture on a deck or patio, keep in mind to place it in a way that makes a conversational area. You can place four chairs in a circle to create a conversation circle or place a sofa and chairs beside or across from one another. Ensure that the furniture is closely placed to encourage conversation. 
4. Construct a deck or patio space
Does your backyard contain only grass? Consider building a deck or patio space to place furniture. Having a private hardscape area makes a great space for gathering, grilling, and relaxing outdoors. Adding an outdoor deck is  a smart investment as it adds resale value to your house. 
5. Add an outdoor rug to ground the space
Consider adding an outdoor rug to ground the space if the space has a deck or patio. Placing a rug below a dining or conversational area helps to create distinct spaces in your backyard. Also, outdoor rugs add the elements of color, warmth and coziness to a space in the backyard.
6. Place a dining table and chairs 
During the summer season, you would like to eat outdoors the most. Consider adding a weatherproof dining table and comfortable chairs to create a perfect al-fresco dining scenario. Consider finding a weather-proof bistro set for smaller spaces. For larger patios, you may want to place an outdoor table that seats at least six people.
7. Make sure to use weather-proof materials
Keep in mind that outdoor furniture has to go through a lot over time. Snow, ice, rain, wind, heat, etc are sure to interact with outdoor furnishings. Therefore, make sure to invest in good-quality items made of weather-proof materials so that your furniture stands as long as possible. 
This includes aluminum, teak, metal and wicker furniture. Be sure to buy furniture that is particularly made for the outdoors. The same is applicable for cushions and pillows. Find a weather-proof fabric. For example, one that is made from water-proof canvas materials.
8. Add minimum one piece of furniture to relax
Relaxing in the backyard in the lazy days of summer is best done in an outdoor daybed, hammock, weather-proof swing or outdoor sofa. So, make sure to add a piece of furniture that particularly serves the purpose of lounging to your outdoor space. Enhancing the comfort of your backyard is your ultimate goal.
9. Choose a space for your grill and meal preparation
Having an outdoor oasis without an appropriate grill and meal preparation area sounds incomplete. Whether you choose a stand-alone grill or an inbuilt grill, make sure to have a workable backyard outdoor kitchen set-up for enjoying outdoors. Of course, it will also help to invest in some important grilling tools, such as tongs, spatula, and kabob sticks. With the right grilling components, you will be barbecuing in no time.
10. Add lighting in your backyard
Make sure to add the right lights to help easily transition from day to evening in your patio space. Feasible outdoor lighting alternatives, such as tiki torches along the perimeter, string lights on your fence, outdoor arc lights put up to your home's exterior, candles kept on the table, solar-powered landscape lighting and fixed lighting under trees always prove helpful.
11. Pot climate-appropriate and seasonal plants and herbs
Whether you choose to add some potted plants or various raised garden beds, adding them to the backyard oasis is one of the simplest and excellent ways to personalize your outdoor space. While adding a decorative and aesthetic touch to a patio, potted plants also help create privacy and eliminate sound created by nearby neighbors. Also, make sure whatsoever plants you choose are climate-appropriate for your location.
12. Consider adding at least one fun feature
Adding at least one feature will make your backyard all the more enjoyable and comfortable. This can include a playset for the kids, hot tub for the adults, a game area, a hammock for relaxing, or a fire pit for roasting s'mores. Including one of these fun features to the backyard will make it feel like your personal customized backyard oasis.
Benefits of having a backyard oasis
1. Ease Stress
It's good to have a nice place to relax after a long day at work. It's also good to take out time for yourself and spend your days off from work. You obtain many health benefits from turning off your technology and having some time to ease stress with yourself and nature. Reading a good book with a cup of tea would make you feel relaxed.
Spending time in your backyard oasis will slow you down and ground you which is good for your mind as well as heart health.
2. Boost Immune System
Use nature to help you heal so you don't have to go through the unpleasantries of going to a doctor. The exposure to trees can help keep asthma away.
Grass repels any airborne pollutants that you may come into contact with. If you do somehow get sick, you will be able to fight it off and recover very soon. Therefore, give yourself a bit of fresh air in your outdoor oasis and you will be happier as well as much healthier.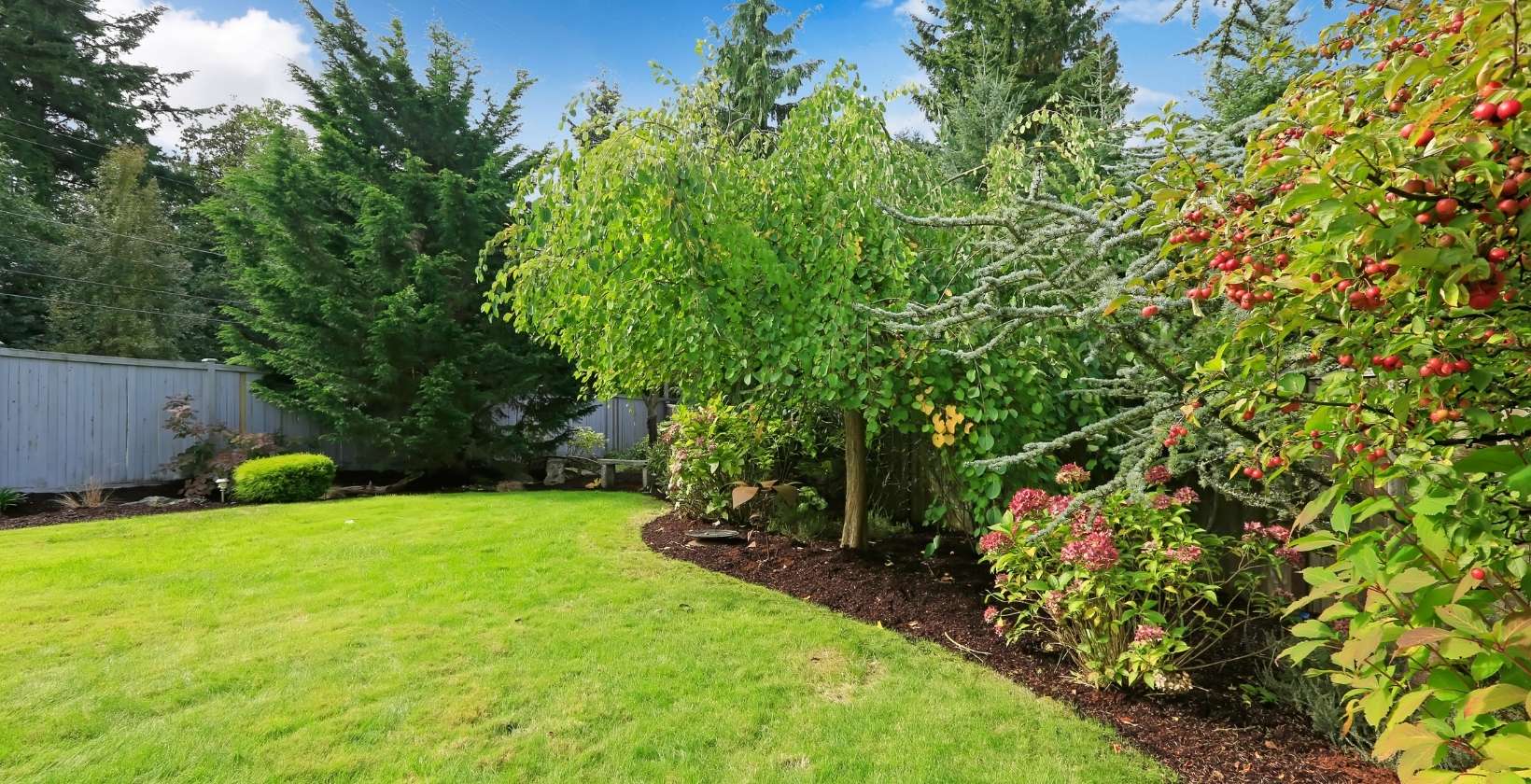 3. Rest Your Eyes
Nowadays we tend to look at screens a lot over the day. If it's not at work it's from playing games or watching TV when we get back from work. Whether you realize it or not, it causes strain on your eyes.
This eye strain will further cause eye problems as you get older and if you experience frequent headaches then eye strain is the potential reason. By spending time in your outdoor oasis for at least a few hours a day with the screens switched off will provide your eyes a much-needed break.
4. Spending family time 
Socializing is important for human beings. This is true for even the most introverted people. If you keep yourself alone all the time you may experience isolation.
This isolation will have an adverse effect on your mental health which will result in depression. Spending family time can also boost your children's mood and make them more confident.
All of this is more possible if you have an outdoor area. It creates infinite entertainment possibilities for you.
You can spend time by arranging outdoor family BBQs and while they wait, they can enjoy in the pool if you have included one in your oasis. Provide a playset to the kids to keep them occupied and have fun.
5. Easier meal preparation
Outdoor areas make cooking fun and a lot easier. Most people think a grill is only for meat but you can put anything on them. Grilled fruits are astonishingly delicious.
After you finish cooking, just wait for the grill to cool down and then wipe it off. There are no grease-covered stovetops or dirty counters to worry about.
The only thing with which you may face difficulty is having a patio constructed to put your grill on. You can explore the internet for a lot of great patio ideas though.
Cooking outdoors provides a chance for you to eat more healthy food while being less stressful. In the first place, grilled food is healthier. Furthermore, if you have a wide outdoor area, why not consider growing your own fruits and vegetables in place of going to the supermarket?
6. Obtain Vitamin D 
Vitamin D is essential in your diet. It supports your immune system, lung and heart health, makes your bones and teeth strong, helps in diabetes management, and can even keep cancer away.
You can get vitamin D by taking in sun's rays through your skin which is where your outdoor oasis is helpful. It can become your personal source of vitamin D to a certain extent.
You have to stay outside everyday for an extended time to absorb the amount that your body requires. Although, every bit is helpful.
7. Improve Your Home's Value
If you are planning to sell your home in the near future, an outdoor living area can boost the resale value. Many people value the things that we have mentioned above. You will get more money when you sell your house and it will sell faster.
How much does it cost to build a backyard oasis?
Expect to pay anywhere between $300 to $2,500 for most of the detailed landscape designs. Also, it depends on the size of your property. Expect to pay about $6,000 to $16,000 for larger spaces and if you are hiring a big-name designer.
Moreover, a total backyard renovation will cost between $15,000 to $50,000 on average. For a simple renovation that includes plants, bushes and new sod, it may cost around $5,000. On the higher end, you can easily expect $100,000 that includes a pool, outdoor kitchen, patio, and lounge area.