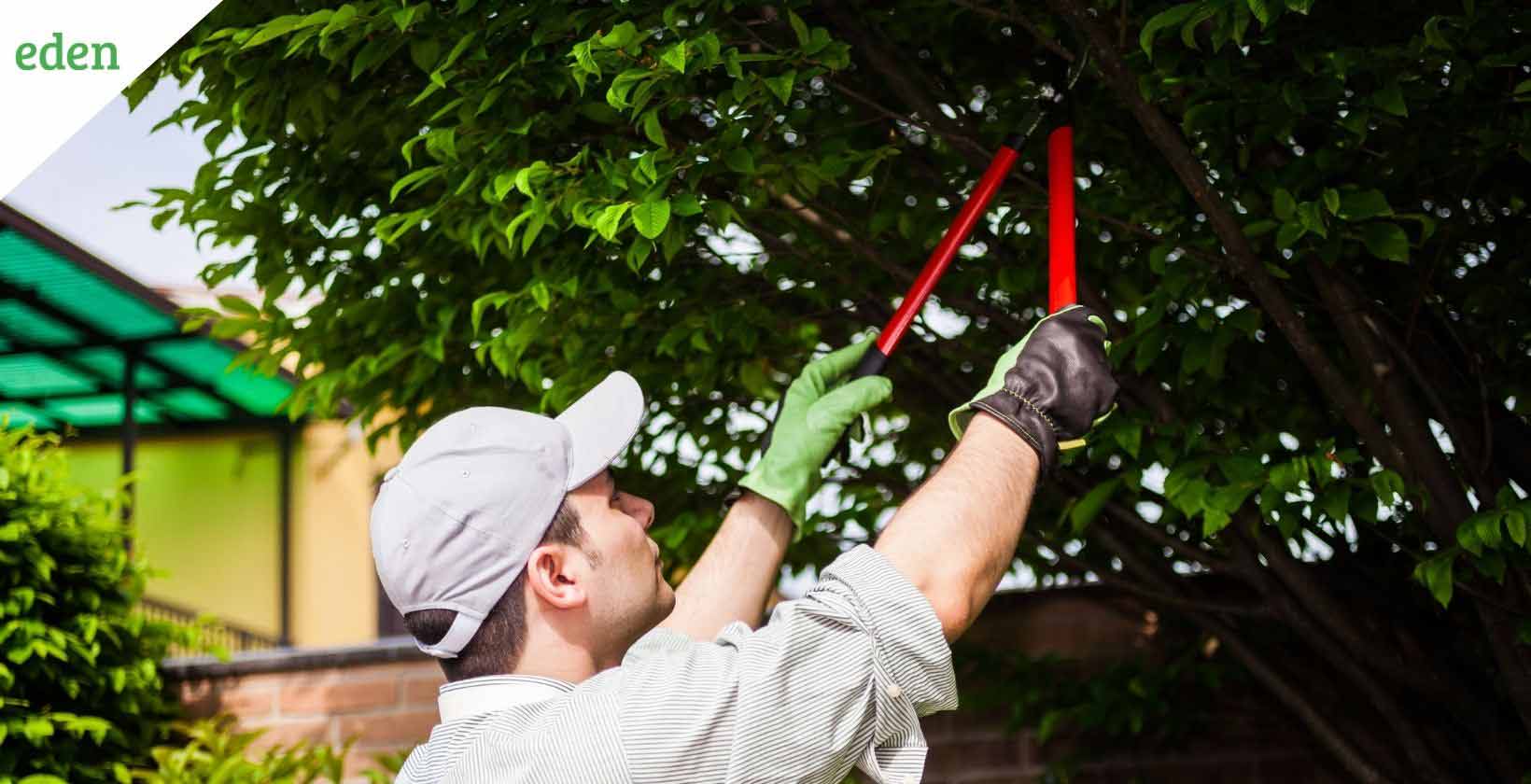 Best Long Reach Pruners 2022
A long reach pruner is a hand tool consisting of pruning blades that are attached to a long tube (5 feet or more); used to cut hard-to-reach branches. Some of the best ones include Expert tel/tree pruner, Swansoft Pol runner, ARS LA-180ZR203 4-to-7-Feet Long Reach Pruner and Zenport ZL615 Telescopic Long Reach Pruner to name a few.
Enjoy a beautifully manicured lawn with our timely yard work services that care for your yard according to the season. Call us today!
This tool provides a long reach to let you cut those infected parts or dry branches that are situated high above with a simple click.In this article, you will learn about various branded long reach pruners available in the market. You will also know the benefits of using a long reach pruner in detail. So let's start.
1. Expert Tel/tree Pruner 2500mm
Expert Tel/tree Pruner 2500mm consists of four position lock telescopic aluminum profile pole extending from 1.5M to 2.5M. It comes with heavy duty hand grip, detachable curved pruning saw blade 355mm long and nylon cord-operated cutting blade. It is priced between $50 to $60.
2. SWANSOFT Pole Pruner, Tree Pruner Extendable, Long Reach
Swansoft Pole Pruner has a 4.3ft length before stretching and a total 7ft length after stretching. It is made of aluminum and has a 1.5 inch cutting diameter. It is priced between $109 to $129.
3. ARS LA-180ZR203 4-to-7-Feet Long Reach Pruner
ARS Telescoping Long Reach Pruner comes with Razor Edge. The blades are drop cast slim design for more durability and cutting support. The blade is hard chrome plated for prevention from sap and rust resistance. The telescoping pole can be adjusted from 4-to-7-Feet in 3 stops with a single lever operation enabled by a single pin. 
The ergonomically designed grip is created with a light and strong aluminum die-cast which has a non-slip plastic coating for handling comfortably. There is also a swing neck that enables the head to rotate +/- 30 degrees.
It is sharp and works better on fresh wood up to 1/2″. Dead wood is more of a challenge and is more likely to jam the blades. It works best on rose hedges and large bushes, protecting you from the thorns and bees. It is priced between $120 to $180.
4. Zenport ZL615 Telescopic Long Reach Pruner
The Zenport ZL615 60-inch telescopic, long reach cut and hold pruner provides light and easy single handed operation for greater reach and flexibility. Telescopic poles elongate from 40 to 60-inches. Pruner can cut up to 3/8-inch thick green wood. It is commonly used for cutting succor and other new growth. It is priced between $55 to $70.
5. LS-Series Hollow Core Landscaping Tree Trimming Kit
This landscape kit is a versatile 3-pole system, best for trimming and pruning at a variety of heights. Pole ferrules enable any combination of poles with the pole saw to achieve different lengths, depending on the job. Pole saw has a tri-cut edge for a cleaner and more efficient cut. The saw head is permanently mounted on a six-foot pole. It also features a fiber-glass handle material. It is priced between $95 to $135.
6. Milliard 6-16 Foot Extendable Tree Pruner/Pole Saw with 3-Sided Blade
Manicuring your lawn is often a ground-level task, but when your trees are overgrown and reaching for your neighbor's yard, pruning them back can be a job that's out of reach. If you want to make your task easier of pruning trees, a Milliard Telescoping Pole Saw and Tree Pruning Tool will help you to do that with ease. It is priced between $85 to $130.
Milliard 6-16 Foot Extendable Tree Pruner/Pole Saw with 3-Sided Blade has the following advantages:
Extra Long Extension – the pole extends upto 16 feet, so you can effectively reach all those branches that are too high up to take care of.

Smooth Cutting – the pruning head can trim branches up to 1.25" thick. The 14" long saw blade is made from 1.2mm thick high-carbon SK5 steel and sharpened on 3 sides for crisp cuts.

Comfortable Use – pole is made from high grade fiberglass that makes it lightweight and easy to handle, yet strong and durable to last for years to use. 

Pulley System – the double tackle compound pulley system assists you to cut through thick branches with least effort required.

Real Service – when you purchase Milliard, you also get a dedicated team of people ready to help you with any questions or queries you may have.
7. Mesoga 4.6-10 Foot Extendable Tree Pruner
Pole saw and pruner provide 3 sections telescoping to high-cut small tree branches and fruit picking. It makes low cuts, extending from 4.6-10 feet reaching into dense weeds, roses or prickly shrubs. It is priced between $95 to $150. 
Advantages:
The precision-ground high carbon steel cutter blades are fully heat treated with sharp razor edge and durable anvil lopper has 1/2 inch cutting capacity that helps to trim thin stems or limbs. 

The 12 inch stainless steel saw blade can cut through thick branches and lightweight aluminum tube comes with a comfortable spring handle grip for fast pruning or harvesting.

It is a rope-free, chain-free extendable tree pruner. It's manual, portable and long reach is designed for easy reaching of high twigs. It allows two-handed control and eliminates snags and tangles. 

This pruner features reduced gumming, low friction coating, and enhanced rust resistance. The tree trimmers should be cleaned with mild detergent for maintenance and oil pivot points for smooth bypass working.

Two options enable you to control the cut direction; the ergonomic load fits the natural shape of your hand, releases wrist fatigue, and a unique safety button locks in place for the holder on "plug in" holes. 
Disadvantages:
Not advertised much in the market.

8. ARS LA-180LR18 Heavy Duty Long Reach Pruner
LA-180LR18 heavy duty long reach pruner is specifically designed to cut even thicker branches. The 6 ft. arm gives you greater reach up high while your feet stay firmly on the ground. These pruners feature razor sharp drop forged blades that are Marquench hardened to retain their edge for a long time. The blades are hard chrome plated to provide sap and rust resistance. The arm rotates within the handle for easy cuts from any angle. A new stronger inner rod at the drum extends the life of the pruner. It is priced between $115 to $140.
Listed below are some advantages of ARS LA-180LR18 Heavy Duty Long Reach Pruner:
6 ft. pruner with a 3/4″ cutting capacity

Heavy duty drop forged razor edge blade 

Lightweight aluminum arm is durable and strong (2 lbs. total weight)

The handle rotates which enables the pruner head to reach cuts at any angle

You get extended reach with your feet on the ground
9. Fiskars 7.9-12 Foot Extendable Tree Pruning Stik Pruner
Fiskars innovative 9240 telescoping pruning stik tree pruner makes it easy to cut high or low with an extent of control that regular pruners with exterior ropes can't match. You can cut high branches without the risks of using a ladder. Moreover, it allows you to make low cuts without getting sore knees from kneeling.
The rope-free design enables you to utilize both your hands to maximize accuracy and power, and an easy-to-hold sliding handle makes your pruning task simple and smooth. The Fiskars 9240 telescoping version includes a 15-inch saw blade to cut down thicker branches. The 9240 tree pruner elongates to a full 12-foot. It also includes a lifetime warranty. It is priced between $90 to $135. 
Listed below are some advantages of Fiskars 7.9-12 Foot Extendable Tree Pruning Stik Pruner:
Multiway cutting head makes it easy to prune at virtually any angle.

Pruning low is possible without back strain from bending or sore knees from kneeling.

Rope-free design maximizes control and power.

Quick-release thumb lock enables easy alteration of the cutting head angle.
10. Fiskars 14 Foot Power-Lever Extendable Tree Pruner
You can get to high branches with the Power-Lever Extendable Pole Saw and Pruner. It includes two varying cutting options and elongates up to 14 feet. Unique Power-Lever technology raises leverage to give you up to 2X more power than regular designs. 
A unique double locking system makes sure the pole remains extended for superior control. You can trim branches as thick as 1-1/8 inch with the sharp, durable steel pruner that has a special low-friction coating for smooth cuts. It provides enhanced rust resistance and reduced gumming. For thicker branches, call on the power of the well built 15 inch WoodZig saw. It is priced between $50 to $95.
Advantages
Suitable for cutting top branches without using a ladder

Power-Lever technology increases leverage providing up to 2X added cutting power

Fits the natural shape of your hand for improved comfort

Secure double locking system ensures elongated pole remains put

Fiberglass pole is lightweight yet strong

Full lifetime warranty
11. KSEIBI 143015 Long Reach Cut and Hold Bypass Pruner Max Cutting 5/16 inch
This Cut and Hold long reach pruner is a dependable and high quality pruner. The Razor Edge pruner has large sharp blades that cut swiftly and easily through thick branches. It has a lightweight aluminum arm. The non-stick coated black finish provides resistance from corrosion and rusting.
It provides comfortable hand grip and prevents fatigue. It is designed for one-handed operation. It is priced between $35 to $60.
Advantages
Long reach pruner

Super lightweight

Designed for one-handed operation

Perfect balance and ergonomic operation

Blades provide long-lasting sharpness

The cut-n-hold head is best for roses and other thorny plants
What Are The Benefits Of Using Long Reach Pruners?
There are many benefits of using long reach pruners. It helps to easily prune twigs, branches, and leaves that are located above your reach. They provide a long reach to let you cut those dry branches that are located high above and far from your reach. It is an easy to use tool with which you can prune the branches and twigs conveniently to keep your garden attractive. 
Eden has provided you with a list of best long reach pruners in the market. Choose the one that is most suitable for you and your garden. You can also contact Eden for professional pruning services for your garden and reclaim your free time.
Enjoy a beautifully manicured lawn with our timely yard work services that care for your yard according to the season. Call us today!