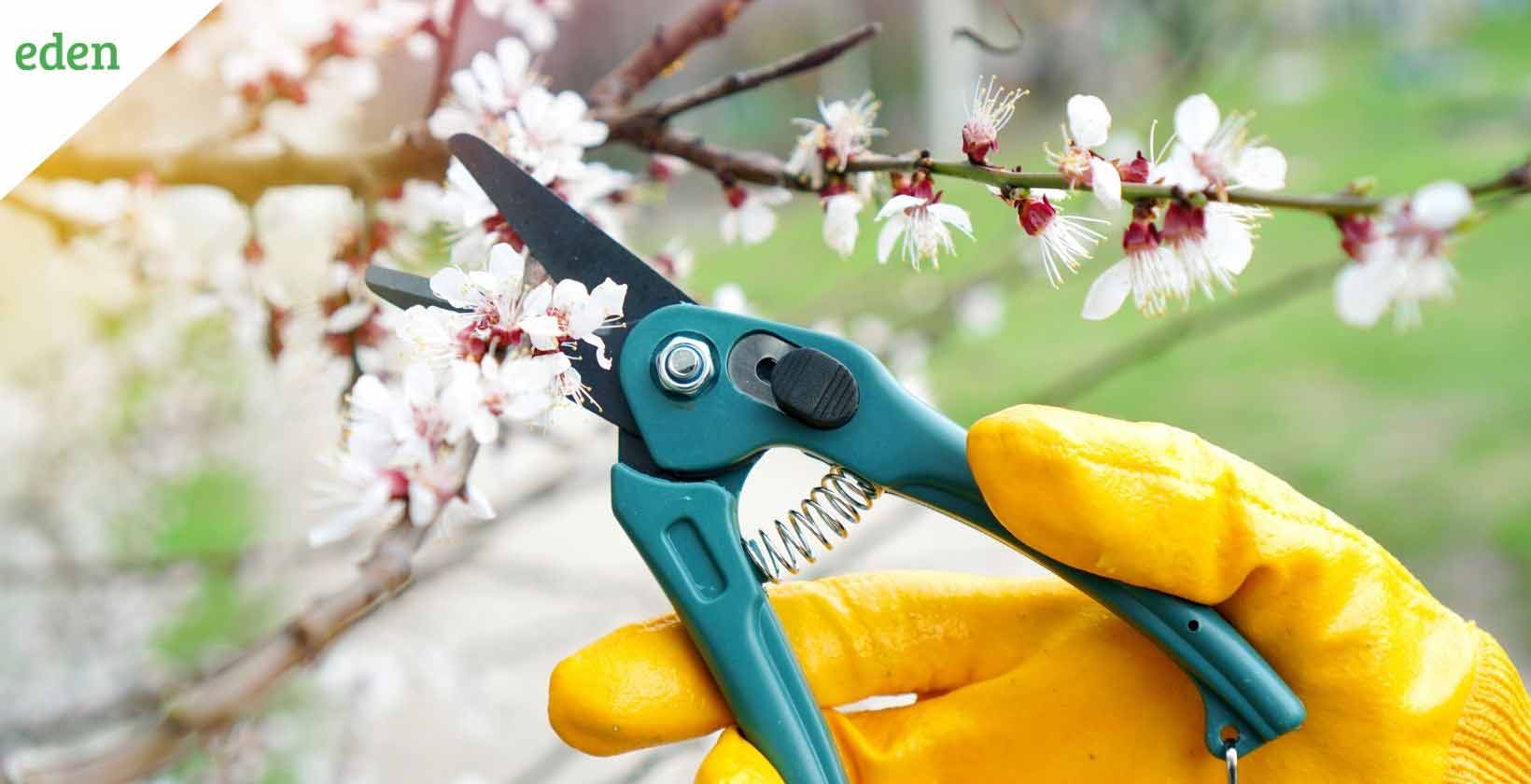 Best Secateurs for Pruning Your Garden in 2022
The best secateurs for pruning your garden in 2022 are ‒ Opinel Secateurs, Sophie Conran Secateurs, Corona Ratchet Cut Comfort, and Stihl pg25 Anvil Secateurs, among others.
Don't stress over selecting the right product or completing the application. Eden has professionals on stand-by to complete.
Buying the suitable secateurs for pruning can give you more than you think until you realize there are different styles of Secateurs available in the market. These simple hand-held tools help you prune and get rid of dead flowers, fruits, and other things.

1. Opinel Secateurs
This list will be incomplete without adding this Secateur as it is voted the best tool for the gardener. The Secateur is known to have a streamlined and straightforward design with few parts or gimmicks. These also have strong marks allowing the cutting to be quick and straightforward. These remain good for pruning jobs like heavy-duty jobs and consistent cutting. These are suitable for home gardeners and even professionals.
It remains hard to lose in your garden with its red and white handle. Its advantages include the sharp and strong blade that is simple and remains a long-lasting tool. Less cushion on the handle gives you a clean, precise and direct result. The only downside with Opinel Secateurs is that these are a little expensive compared to others. The cost of Opinel Secateurs is 90 USD.
2. Sophie Conran Secateurs
These are simple Secateurs designed in the traditional Japanese style. These are rust-proof stainless steel with an easy brass catch at the base. These have brass safety, having handles with a brass safety catch. It is engaged with flicking it over your thigh. You can feel it light and comfortable while using it in your hand.
There are no replaceable parts; however, they are simple to sharpen. The product holds good value for money. It has decent reviews for cutting, handling, the value of money and maintenance. The pros include simple structure, simple to clean and sharpen, while the cons include a cold metal handle, slippery to hold and no replaceable parts. Its cost is around 35 USD, while useful for people handling the garden.
3. Corona Ratchet Cut Comfort Gel Anvil Secateurs
This secateur is a non-stick coated, high carbon steel blade with a metal anvil. It works on a 4-gear heavy-duty ratchet system that further helps add the toughest wood quickly and cleanly using a series of cuts that allow adding pressure until we see the blades cutting the stem. It is pushed with the right hand when you hold it. You can feel some weight with this tool, but at the same time, it remains sturdy and robust in design.
These last long and have a 10-year warranty as you can find them to be a good value. It is helpful for right-handed gardeners who want to cut tough and thick wood. Some pros include comfortable handles, gives you a strong and efficient cut, and four gear ratchet. The cons involve feeling weighty while the safety catch requires hands. Corona Ratchet Cut Comfort Gel Anvil Secateurs costs around 35 USD.
4. Stihl pg25 Anvil Secateurs
Stihl pg25 Anvil Secateurs is the best tool for gardeners looking for robust and compact secateurs. The award-winning tool is known for its ease of use. Thanks to the option of replacing the blade that can move smoothly in cutting the grasses. The vibrant orange handles can help in gaining it. These come with a non-stick coating with an orange plastic that helps quickly find.
These are known for their strength and ease in cutting, while they are mostly used for cutting hardwood with its strength. This is helpful for people who are looking for rough and tough use. Some pros of this tool include that it can easily sharpen the blades and has a central safety catch that is easy to handle. The cons include that it is hard to handle, makes the cutting uncomfortable, and needs to get rid of several screws for adjustment or maintenance. The cost is around 40 USD.
5. Felco Model 32 Pruning Shears
It has remained an award-winning secateurs, a known robust tool allowing you to get a quick and clean cutting. We can find it to have a wide cutting width, and the parts remain replaceable. The brand offers a lifetime warranty for this tool. With adjustable screws, you can easily adjust it as and when needed.
It gives heavy cuts up to 25mm, thus allowing even the thick and tough stems to get rid of the same. The metal handle is made of plastic, giving you a non-slip grip. These are ideal for right-handed users and helpful for people who do not want strength. The advantages include clean, robust and straightforward cuts, while it is known for its wide cutting width. The disadvantages are that these are expensive and cost around 80 USD, apart from having the safety catch stiff.
6. Niwaki GR Pro
These secateurs are among the best buy for gardeners looking for some excellent cutting performance tools. These are known to have simple designs apart from being simple to spot, having yellow handles. These come with a two-year warranty. This tool gives good value for money. Also, you can find left-handed models in different sizes – large and medium.
Some key pros include strong, simple to use and clean appearance. The cons include safety catches, and stiffness, which remain too expensive. Despite being expensive, they love its quality, simplicity and high performance. They are developed to last and have good value for money. The cost of Niwaki GR Pro is 110 USD.
7. Burgon and Ball Left-Handed Bypass
These left-handed secateurs are known for their excellent design, simple safety catch and strong blades. So, if you are left-handed, you can find it the best tool for your garden. It has replacement parts available in the market for ten years of warranty. The blades are made of high carbon steel, giving a strong cut. Its 25 mm cutting diameter helps handle difficult pruning jobs without hassle. The handle is an ergonomic handle that adds an excellent orange plastic grip allowing you to hunt via different piles of pruning them together.
They are simple to sharpen and thus prove to be a long-term tool. In other words, the value of money for these tools is on the higher side. Some pros of using Burgon and Ball Left Handed Bypass include simple safety catch, available replacement parts, extended warranty, and comfortable use. The cons involve struggling with large cuts, which is best for bigger hands. The price of this tool is 25 USD.
8. Okatsune 103 Bypass Secateurs
These Secateurs remain deceptively simple and the preferred choice of any professional gardener. The award-winning tool has gained popularity with features like sharpness and strength, apart from being user-friendly and highly durable. Using this tool, you can easily accomplish some heavy-duty jobs. You need to apply pressure using both hands.
It gives a higher value for money since these remain inexpensive compared with others. It is helpful for both novice and professional users in a garden. These are available in three different types – small, medium and large, allowing you to choose as per your suitability. The pros include being well-balanced, comfortable and highly robust. The con consists of a chunky safety catch that engages both your hands and is tough to dismantle for its maintenance.
9. Felco 8 Bypass Secateurs
These Secateurs come from a reputed Swiss brand known as Felco. They remain robust and easy to cut for a wide range of jobs. The brand offers a lifetime guarantee and maintenance at a very affordable cost. It has a light, ergonomically designed handle that secures your hand and wrist. In a nutshell, these are neatly designed and robust that can be long-lasting.
It has a few pros like having a non-slip handle, easy-to-reach and use safety catch, and life-long service by the company. The cons include different screens that require handling for adjustment, a wide grip, and it is expensive. The cost is 60 USD.
10. Draper Deluxe Anvil Secateurs
The secateurs is an effective anvil tool and highly comfortable to use and well-balanced. You can use it as a well balanced and comfortable option. It has a comprehensive and robust cut, giving higher value to users with larger hands. The SK5 high carbon steel blade allows these secateurs to cut thick and handle complex stems and, at times, even branches. Metal handles and a rubber grip can help you get a good and comfortable grip.
The robust secateurs remain the most inexpensive. Also, there are no available replacement parts, but it comes with a lifetime warranty. Right-handed gardeners with large hands are the ideal users of this tool. The pros include wide cutting width, cuts well with greater strength, sturdy, powerful, and excellent value. While the cons include being too big and heavy, no replacement parts and a safety catch requires two hands. The cost of Draper Deluxe Anvil Secateurs is 16 USD.
What Type of Secateurs Should You Buy?
Secateurs are of two types – bypass and anvil. The former encompasses a wide range and remains the most popular choice among the said tool. The anvil prunes work like a knife where we push the blade inside the two blades to pass by each other. However, bypass secateurs work like a scissor having two sharp edges that bypass each other.
They produce a very neat and precise cut. So, when it comes to choosing any of the two, it depends upon your use and how it remains useful to you. You can further explore the Difference between bypass and anvil secateurs here and have a fair understanding of the two.
How Should You Maintain Secateurs?
Maintaining Secateurs is easy. Trying the following steps can help you in maintaining this tool:
Pour one tablespoon of dishwashing liquid inside your small bucket

Now, scour the blades with the help of an abrasive pad to remove any stuck-on sap, which is difficult to remove.

Rinse the tool using warm water thoroughly.

Run the blades using oil to prevent rust
Using the above steps can help in maintaining your gardening tool. You can further explore the topic – Garden tools maintenance for a better insight.
The best secateurs for pruning your garden in 2022 are ‒ Opinel Secateurs, Sophie Conran Secateurs, Corona Ratchet Cut Comfort, and Stihl pg25 Anvil Secateurs, among others. You can choose the one best for you depending on the availability, cost and ease of use.
Contact Eden to hire professionals having the expertise to do the pruning job for you using the best quality tools.
Don't stress over selecting the right product or completing the application. Eden has professionals on stand-by to complete.