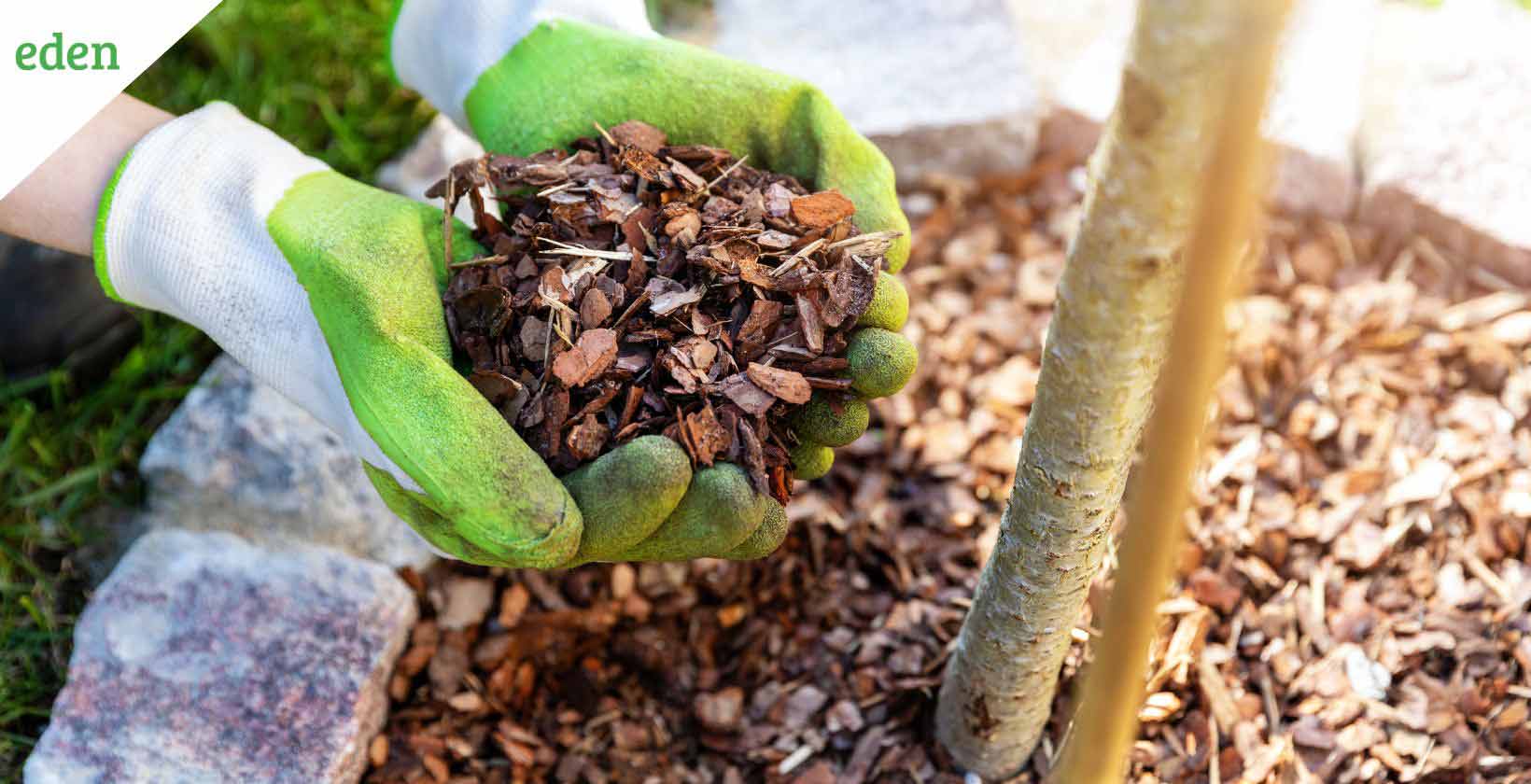 Where to Buy Mulching Tools
Buying mulching tools for gardening and landscaping hobby becomes simple at reputed online stores like Amazon, Ace Hardware, The Home Depot, Lee Valley Tools and Gardener's Supply. Gardening has always been one of the more popular hobbies but interest in these has truly exploded during the pandemic which saw a lot of people who have never tried gardening before take it up as a hobby and invest a lot of their time and effort.
From selecting the right seasonal plants to installing an outdoor kitchen, our landscaping services can do it all for you. Contact us today for a stunning landscape!
There are many kinds of gardening tools and in this article, Eden will be focusing on websites where you can find mulching tools online. Some of these stores are garden supply companies while others are general online marketplaces. Some of the tools required for mulching are a wheelbarrow, a scoop shovel, a landscape rake or a bow rake, and a garden fork or pitchfork; a landscape fabric is optional. 
1. Amazon
Amazon is an American multinational company which started as an online marketplace for books in 1994 and then expanded to various sectors like cloud computing, artificial intelligence, digital streaming, and e-commerce. Due to the number of product categories it has in its e-commerce store, it is also called 'The Everything Store'.
The pros of buying mulching tools from Amazon are that you can find products from multiple brands under one roof, including some independent sellers that do not have their own online store. This gives you the opportunity to compare products made of a variety of materials, by various brands and sellers and in different price ranges to choose the one that is best for you. 
Another advantage of buying a product from Amazon is that it has real customer reviews that will help you understand the quality of the product and how well it functions to serve its purpose. With this information you can filter out the products that do not function the way you need to and choose the better option for you.
2. Ace Hardware
Ace Hardware Corporation is a cooperative of American hardware merchants established in Oak Brook, Illinois. It is the world's largest hardware retailer and the largest non-grocery retailer in the United States. It was founded as 'Ace Stores' in 1924 and then its name was changed to 'Ace Hardware Corporation' in 1931. The growth of the company increased exponentially after World War II, its sales almost tripling in number. As of 2019, Ace Hardware Corporation is operating in over 5,200 offices in 60 countries.
The pros of buying from Ace Hardware is that they provide an option to compare tools from various manufacturers on their online store. This allows you to compare the features of each tool and choose the one that will suit your needs the best. Another advantage is that since Ace Hardware has local brick and mortar stores, customers also have the option to place the order online in the store closest to their location and then pick it up from the store.
The cons of buying from Ace Hardware are the limited options for each product and the poor customer service. Ace Hardware only features products for each category which can limit your browsing and research.
3. The Home Depot
The Home Depot, Inc., or simply Home Depot, is America's largest home improvement retailer, selling tools, building materials, appliances, and services. The corporation was cofounded in 1978 and is based in incorporated Cobb County, Georgia. It has a large number of big-box stores throughout the United States (including Guam, the District of Columbia, the US Virgin Islands, and Puerto Rico), Canada's 10 provinces, and Mexico's 32 states and Mexico City.
The pros of buying mulching tools from Home Depot are that they have a lot of high-quality products from trusted brands, they have helpful tips and guides on their product pages which can guide people who are new to landscaping in understanding how to use the products efficiently. 
The Home Depot has generally favorable reviews from customers who are satisfied with the quality of the product and the customer service. Some customers have faced issues with the shipment time and location of the products but these are on a customer to customer basis.
4. Lee Valley Tools
Lee Valley Tools Ltd. is a Canadian company that specializes in woodworking and gardening tools and gifts. It is a family-owned business. Leonard Lee, the company's founder, was awarded the Order of Canada. In 1978, he launched the corporation in Ottawa, Ontario. Over the next ten years, the firm expanded its retail network (Toronto, Vancouver) and began producing its own tool line. 
The pros of buying a Lee Valley tool is that you can be assured of the quality they provide. They make all their tools with the same level of attention to detail and precision and therefore you are guaranteed a high-quality tool that will serve the purpose you have bought it for for a long time. Since one of their specialties is gardening you can find every mulching tool you require. This specialty also allows you to find certain gardening tools that you might not find anywhere else.
5. Gardener's Supply
Gardener's Supply Company was founded in 1983 and is based out of Burlington, Vermont. It is an employee owned company which means that the majority of the company's shares are owned by the employees. It began as a main-in catalog that helped teach gardeners efficient gardening techniques and now has evolved into one of the largest online stores for gardening supplies today.
The Gardener's Supply Company specializes in supplying sustainable and ethical products that can meet all types of gardening requirements. Whether you are undertaking a small project or a large one you will find everything you need here at price ranges that fit all budgets. 
Therefore the pros of buying mulching tools from Gardener's Supply Company are that you will be able to find various innovative kinds of products along with becoming a part of a good cause. Another advantage of buying products from this company is that they allow customer reviews on their website which will allow you to judge the quality of the product before buying.
What are the things to consider in buying a Mulching Tool?
There are various options available for mulching tools. So, how do you select the right one for you? Eden brings you the factors you need to consider when buying a mulching tool based on the type of mulching tool.
Wheelbarrow:

There are a few factors to consider when buying a wheelbarrow; the first is the material. These days, wheelbarrows are primarily made of two materials – steel and plastic. The steel wheelbarrow is sturdy and can handle heavy loads but it will involve more strength to use while the plastic wheelbarrow is lighter and cheaper and easy to use for people with slender builds.

The second thing to consider is the handle type – double straight handles or a single closed one. Straight handles make it easier to tolt, flip and dumb the load but they need more arm strength to maneuver. Single bars with closed handles, on the other hand, are more ergonomic and therefore make pulling the wheelbarrow easier and therefore are easier to handle for people with narrow shoulders.


Scoop Shovel:

When buying a scoop shovel you need to consider the material of the shovel, the material of the handle and the length of the handle. The shovel can be made of aluminum, polypropylene or metal. While aluminum shovels are lighter than metal shovels, they might not last as long as the latter as they tend to break easier.

The handle of the shovel comes in various materials, lengths and 2 different shapes. The material can be wood, fiberglass, aluminum, polypropylene, etc. Aluminum shovels with handles of the same material are light but they might not be as durable as a fiberglass handle with a metal blade. Therefore you'll need to choose according to the type of use – light or heavy.


Landscape Rake/ Bow Rake/ Garden Rake:

Things to consider when buying a landscape rake are head, handle, weight, durability and the ease of assembly.

The width of the landscape or bow rake should be considered; a wider head will rake more material at one time. The material of the tines should also be considered; metal times are stronger and more durable. You should also pay attention to the number of tines and the space between them. If there is a lot of gap between the twines then a lot of material will pass through it and if the tines are placed too close, debris might get stuck and make it difficult to clean the rake. In regard to the handle of the rake the material and length need to be considered. A fiberglass or metal handle will be the most durable while wooden handles though they are lighter and eco-friendly, it may be difficult to maintain them as they are susceptible to rot if not kept dry. Plastic handles are lighter and cheaper but they cannot handle heavy loads. The average weight range of a landscaping or garden rake is between one pound to ten pounds, which implies that there are some pretty heavy garden rakes on the market. The weight you choose will depend on the work you will be doing as to handle heavy loads you will need a heavier rake but also make sure you can use it without hurting yourself.


Garden Fork/ Pitchfork:

The factors to consider when buying a garden fork are similar to that of a landscape rake – material, handle length and grip, weight, and number and shape of tines.

Metal blades are more durable than other materials and therefore should be preferred over other types for heavy-duty gardening. Stainless steel blades are also available but they are more expensive than regular metal blades. The handles of garden forks come in two materials – wood and fiberglass. Wood handle pitchforks are less expensive than fiberglass ones and if the wood handle breaks. You should choose the handle length of the pitchfork according to your height; pitchforks with long handles can be inconvenient to use for people with shorter heights. There are two kinds of handle groups – a single straight bar and D-shaped handles. Straight handles are commonly used for full-length tools for if you are going to use a shorter handle you can choose a D-shaped handle as it is ergonomically superior.


Landscape Fabric (Optional):

There are three main factors to consider when buying a landscape fabric – the length, the material and the thickness.

Be careful in measuring the area you need to cover so that you don't estimate wrong and end up overbuying. Also, factor in the 8-inch overlap that is recommended for larger areas that require more than one piece of fabric. Landscape fabric comes in 3 types of materials – woven, non-woven and perforated. Woven landscape fabric is good for flower beds and the area under trees and round shrubs as the small holes in the fabric make the penetration of water, air and nutrients in the soil easier.
Thicker landscape fabrics are best suited for hardscapes while the thinner ones are good for vegetable gardens, herb gardens and flower beds with annuals.Check more on – what is mulching? 
When is the best time to buy a Mulching Tool?
The best time to buy mulching tools is before you need to put down mulch in your landscape so that you have everything you need to start and finish the process without any hassle. If you are mulching your landscape in spring, then you need to start researching and buy the right tools before mid-spring. If you are mulching during fall, then you need to buy the mulching tools you need by early fall.
If you require professional mulching tools with qualified landscape contractors who use high-quality mulch and equipment, you can consult Eden. We offer a variety of mulch materials and colors to choose from along with delivery and installation services.
From selecting the right seasonal plants to installing an outdoor kitchen, our landscaping services can do it all for you. Contact us today for a stunning landscape!