Lawn care, landscaping and snow removal in
Chicago, IL made simple
Services We Offer in Chicago, IL
Dwelling in Chicago, known to be located in the gardens, you ought to embellish your habitat with beautifully orchestrated yards.
Here at EDEN, we ensure year long services owing to the constantly changing city weather. As Springs and Summers would clutter the beauty of your yard, EDEN will make certain of the yard or fall clean up along with the leaf raking. We would also provide lawn mowing, weed removal and installation of irrigation systems for unaltered watering in the lawns. Complete landscaping with 30+ attributes would be taken care off during the Fall with fertilisation and aeration as well. We all know that when it snows in Chicago it really snows heavily. But don't you worry, as EDEN provides prompt snow removal services too.
So, just contact EDEN and we will never disappoint you with your garden!
We handle everything for you!
Services I need this month in Chicago, IL
December, January, February
Services Recommended : Snow Removal
With no contracts or seasonal fees, Eden only charges for snow removal when you need it.
March, April, May
Services Recommended : Lawn Mowing, Weed Removal, Yard Cleanup, Fall Cleanup, Leaf Raking
With several lawn mowing packages to choose from, Eden helps eliminate your outdoor chores.
June, July, August
Services Recommended : Lawn Mowing, Weed Removal, Water Features, Irrigation Systems
We specialize in landscaping services that fit your personal style and the aesthetic of your home.
September, October, November
Services Recommended : Lawn Mowing, Weed Removal, Fertilization, Aeration, Leaf Removal
Our easy, on-demand services cover all of your outdoor yard maintenance and lawn care.
Successfully Completed Projects in Chicago, IL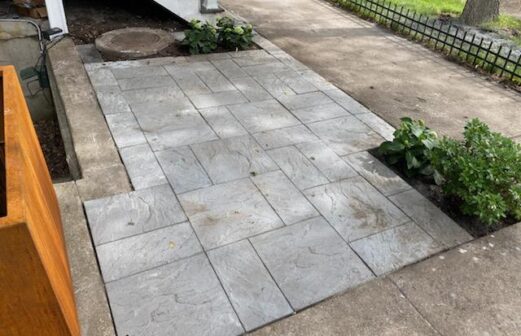 Great job! I am extremely happy with the result. The efforts of team Eden is much appreciated!
Finally, a snow removal service I can count on! Thank you Eden for such wonderful service. I highly recommend Eden snow removal services. 
These guys are amazing. Fair pricing, quick response, and great finishing beside the lawn look great. Highly recommend it.
Snow Removal FAQs for Chicago, Illinois
Landscaping FAQs in Chicago, Illinois
You must find out the grass type good for lawns in Chicago. Check the USDA Plant Hardiness Map, where Chicago falls under zone 5. However, below are the grass types that work best for that zone:
• Tall Fescue
• Buffalo Grass
• Bluegrass
• Perennial Ryegrass
• Creeping Red Fescue
• Bent Grass
To properly care for your lawn or maintain its luxuriant look during summer in Chicago, here are the practices you've got to cultivate:
• Adequate measures aimed at keeping weed, pests, and insects at bay
• Frequent watering of your lawn
• Proper mowing of your lawn
• Avoidance of fertilizer use –wait until fall before fertilizing your lawn
Yes, there are laws for landscape development, including weeding, grass height length, mowing, and others. Use the resources below:
• Guide to Chicago Landscape Ordinance
That said, if you aim for a healthy, lush lawn, below are the best conditions that guarantee a such in Chicago, IL.
• Climate Type: Humid Continental
• Growth Season: April – October
• Spring Cut Height: 2.5"
• Summer Cut Height: 3"
• Fall Cut Height: 2.5"
• Best Grass Seed: Kentucky Bluegrass
• Best Water Pattern: Water every day during early spring or fall
• Soil Type: Slightly alkaline
• When to Fertilize: Fall
We are proud to serve in Chicago, IL
Chicago is a beautiful city in Illinois and the United States. It was first developed as a passage for steamboats going across the Mississippi and has the bluest waters outside the Caribbean. Popularly called the windy city; it gifts visitors an unforgettable experience because of its bridges, art, infrastructure, and neighborhoods to tour. It is widely admired for its architecture, food, culture, music, museums, sports, colleges, shopping, and dining experience. It has a vast collection of impressionist paintings displayed in numerous facilities across the city. Here are more interesting facts about Chicago's history, heritage, traditions, and people.
Chicago's Landscaper, Snow Removal and Fall Cleanup Master
Hello Chicago Dweller, the 'Windy City' as we all know it to be, is undoubtedly a great place to settle down. Located on the shores of Lake Michigan, our chilly city crackles our nerves in winters but lets us enjoy the warmth of the summers.
The city filled with gardens and parks has a great deal when it comes to the neighbourhood and the habitat of your dear dwelling. Residential landscapes and lawns with aesthetically pleasing patios, pathways made up of colourful interlocking stones, pergolas and many more is what adds up to the beauty of your home. That is where we come in.
We at EDEN are known for Experienced Professionals, Field Experts, Outstanding Landscapers, happily catering to the customised prized lawn and garden needs of Chicagoans. Our team boasts years of experience in the field and on the field as well. Attending to the needs of the weather changes with respect to the lawn care and landscaping is our forte.
When it's time for the new buds to bloom and the whole greenery in Chicago to change it's colour into magnificent reds, browns and ocres the entire view is mesmerising. Although, its also a fact that all our yards get shambled up due to the Fall season. To maintain the prettiness of your yards EDEN will do complete yard clean ups, weed removals and power washing. As this season is the best for sowing and lawn mowing, we will also give you a full-service landscape design and installation with impressive versatility. To quench the thirst of your garden shrubs and to maintain the natural greenery of your grass, EDEN will install sprinkler systems along with irrigation systems. To retain the moisture in the hot summers of Chicago we will also provide water features like, fountains, ponds, waterfalls etc.
As 'The Hawk' the mighty cold wind chills take over the city with dense snowfall, the complete city gets under the velvet coat of white snow. This is when our prompt 'on call' or 'scheduled snow removal' services will come handy to clear your pathways, yards and nearby vicinity as well. You can also opt for an Automated Snow Removal service where we will automatically come down for snow clearing if the accumulated snow is up to 5 centimetre or 2 inches.
Be it Landscaping, Yard Cleaning or Snow Removal in Chicago, EDEN has got you covered!
Neighborhoods We Service in Chicago, IL