Lawn care, landscaping and snow removal in
Toronto, ON made simple
Services We Offer in Toronto, ON
Are you looking out for an unmatched experience in landscaping in Toronto?
Well, EDEN is the answer to your quest. We have a strong experience of a decade and a half of transforming the commercial and residential landscape from sober and dull outlook to mind-blowing outdoor oasis. All across Toronto we EDEN go far further than regular service and routine care by providing weather sensitive services.
From Spring to Winter and again back to Spring, EDEN will cater to all your yard needs exceeding your expectations and adding impeccable aesthetic value to your dwelling or office. Lawn Cares, Yard Works, Landscaping and Snow Removal services are what we expertise on.
Try our services at Toronto and you will never leave us for sure!
We handle everything for you!
Services I need this month in Toronto, ON
December, January, February
Services Recommended : Snow Removal, lawn mowing
With no contracts or seasonal fees, Eden only charges for snow removal when you need it.
March, April, May
Services Recommended : Aeration, Fertilization, Detatching, Leaf Raking, Overseeding, Weed Control, Lawn Mowing
With several lawn mowing packages to choose from, Eden helps eliminate your outdoor chores.
June, July, August
Services Recommended : Lawn Fertilization, Weed Control, Lawn Mowing
We specialize in landscaping services that fit your personal style and the aesthetic of your home.
September, October, November
Services Recommended : Intial Cleanup, Fall cleanup, Leaf cleanup/removal, Weed Control, Shrub maintenance, Mulching, Aeration, Lawn Mowing
Our easy, on-demand services cover all of your outdoor yard maintenance and lawn care.
Successfully Completed Projects in Toronto, ON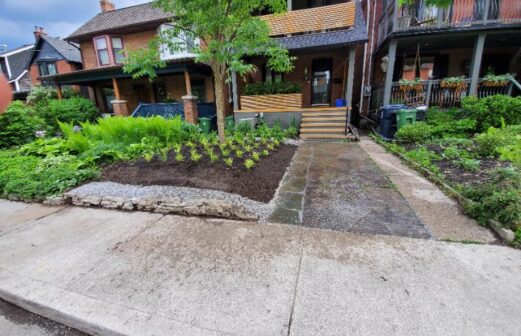 Very timely and efficient. They do a nice job and are reasonably priced. Eden's landscaping services are the best in Toronto. I would definitely work with them again.
We hired Eden landscaping services in the last month and they have performed an amazing job at my backyard. Eden has a team of friendly, hardworking, and professional landscapers. Extremely pleased with the job and Highly recommend!
Excellent work. The best snow removal company. I am pretty satisfied with the work done. I highly recommend it and would use again.
Katie Carlson
November 21, 2020.
The Eden crew did a great job! I appreciated all the leaves that were removed! The grass looks amazing too! Thank you Eden
Armando Clark
October 29, 2020.
Our grass had become overgrown and our yard looked terrible due to us being out of town. The guys showed up on our scheduled day and got right to work. By the time they got done, our yard looked terrific! We are so thankful to have found this wonderful company. From now on, they will work on our yard weekly. We can't wait to see how wonderful our yard will look after a few weeks of being taken care of by these guys!
Katty Whills
October 9, 2020.
My experience with Eden has been fantastic. The crew shows up on time and my lawn has never looked better. I don't even have to think about it!
Matt Spruill
September 28, 2020.
Eden's professionals are best at landscaping. Now, I have a beautiful backyard and I can finally let my son play outside on the lawn. Thank you eden!
Rick Carlson
September 4, 2020.
Professional workers that were willing to work all day to ensure the lawn care job was done right and correctly. Very very nice people. Wish the best for this company.
Lucifer George
May 22, 2020.
I loved all of the Eden's creative ideas that they suggested. I would highly recommend Edenapp's Landscaping to anyone looking for a high quality service at a fair price.
Edward B Moore
March 17, 2020.
The service was excellent. They make sure that the service was done right. Great Job!!
Dana C Thomas
March 11, 2020.
This is the 2nd year I have used this company and will continue to use them. They do a great job, way better than I could or would do. Very professional, fair price.
Leah L Whitbeck
March 5, 2020.
Very happy!!!They do a wonderful job. Looking forward to the next project with them!
David Jones
January 23, 2020.
This was my first experience with Eden and it was very positive. The crew arrived on time and did exactly what I asked for. Already started suggesting their services to my family and friends.
Landscaping FAQs in Toronto, ON
For Toronto and most parts of Ontario, there is an ample amount of snowfall every year, leading to ice-covered lawns for an extended period.
The truth is, as long as your lawn remains well maintained before winter sets in, you have absolutely nothing to worry about. You can expect your turf to survive the long winter with very little or no damage at all. All you have to do is prepare your lawn adequately for winter.
Organic fertilizers are highly recommended for landscaping in Toronto as they help increase soil fertility, grass growth, and vigor.
Summer comes with heat, disease, dryness, and insects. It is one of the toughest seasons for your lawn. Keeping your lawn healthy during summer involves some practices which include:
• Watering: During summer, observe the reaction of your grasses to the higher heat and increase your frequency of watering a little. Also, try to water before 10 am to reduce water loss through evaporation.
• Mowing: Endeavour to increase your mower height to reduce the amount of leaf blade cut, and also mow less frequently in summer.
In addition, here's the type of climate and a list of conditions you can consider fulfilling to attain the best lawn care in Toronto, ON.
• Climate Type: Humid Continental
• Growth Season: Mid-April – September
• Spring Cut Height: 2.5"
• Summer Cut Height: 3"
• Fall Cut Height: 2.5"
• Best Grass Seed: Kentucky Bluegrass or Perennial Ryegrass
• Best Water Pattern: every other day during June – Early September
• Soil Type: Slightly Acidic
• When to Fertilize: Early Spring and Fall.
Snow removal FAQs in Toronto, Ontario
We are proud to serve in Toronto, ON
One of the most multicultural cities in the world, Toronto is a wonderful city. the capital of Ontario, this city is proudly home to a wide range of cultures, arts, food and languages. Listed by Forbes as one of the top ten most economically powerful cities in the world, Toronto has a diverse and very vibrant industrial sector. The city has plenty of entertainment centers, restaurants, parks and theaters. Here are more details about Toronto.
EDEN's Tereffic Landscaping Services Throughout Toronto
Sitting on the beautiful shores of Lake Ontario, this North America's one of the biggest cities is undoubtedly an amazing place to be. Am I right or am I right my fellow Toronto dweller?
Being located on this mesmerising lake, it gives Toronto the extensively 4 distinctive seasons to its residents. Dipping from -35 degree Celsius in winters to rising upto 35+ degree Celsius in summers the city is a roller coaster ride when it comes to weather, but it is exciting. This huge notorious city is proudly known as the 'city of neighbourhoods'. Any guesses why?
Well, you would feel like switching countries when you walk from one street to another with its amazing landscapes, outdoor architecture and mesmerising spread of greens and colours all through the residential and commercial properties. Now, these kinds of aesthetic beauties are EDEN's babies as we expertise in them while we keep the climatic conditions in mind.
All through the Spring from March to May when the new buds are springing up on every branch, it serves to be the best period for Aeration and Fertilisation of the outdoor oasis as this will help nurturing the lawns and shrubs along with overseeding. To let the air, water and required nutrients along with the fertilisers to pass through the soil, EDEN also provides Dethatching services. When the summers hit Toronto, Lawn Fertilisation becomes a mandatory procedure to be performed with Weed Control and Lawn Mowing.
As the fall commences, so does the clutter of leaves leaving your yard all messy. That is when EDEN's Fall Clean up and Leaf Removal services can be opted to maintain the beauty of your yard. All the pre planted shrubs of your outdoor space would require trimming and grooming in this season. Then, just to add up to the pleasing aesthetic view of your outdoor oasis, you can get Mulching done by us.
Starting from December till March which are known as the feisty winter months of Toronto, the downpour of white gold (snow) makes commuting a tad difficult. That is when our snow cleaning services come handy as the snow tends to carpet the city all through November till April.
Why Choose Us in the Whole of Toronto?
✔ We know the Toronto field and we are in the field for more than 1 and a half decade
✔ We cater to all kind of landscaping services – One for all and all for one in Toronto
✔ We are Toronto Climate Sensitive – Available 365 days a year and 24 hours a day
✔ We offer 30+ Landscaping Services, 6+ Yard Work Services
✔ We also offer Interval based Grass Cutting Services, On-Demand/ Automated Snow Removal Services
So, get a quote from us today itself.
Neighborhoods We Service in Toronto, ON