What our customers are saying about us
Pamela Wolowitz
October 9, 2020.
Always on time, and very responsive about any schedule changes on either their end or mine. Lawn always looks good, and I appreciate them taking care of it for me.
Matt Spruill
September 29, 2020.
Very timely and efficient. They do a nice job and are reasonably priced. Eden's landscaping services are the best in Toronto. I would definitely work with them again.
Antionette Rabago
August 12, 2020.
I would just like to say a GREAT WORK Eden for the work they did in creating my patio this fall. They were very helpful and knowledgeable in helping me design it and did a BEAUTIFUL job of executing it. I have wanted a patio for years, and I am so happy with the results. It's gorgeous!!!
Matthew Alvarez
August 7, 2020.
The project was on schedule as promised. The work was very professional and the interface with the owner was pleasant and responsive. To date the project has met my expectations. Eden landscaping service are professional, considerate, polite, and definitely have a considerably superior work ethic.
John Caster
July 31, 2020.
It was amazing watching them maneuver that skid steer. Eden was prompt, friendly, hardworking, and professional young men. Extremely pleased with the job and Highly recommend!
Gima Weild
July 23, 2020.
Found an excellent garden keeper in Eden. Even when one of the contractor was not able to mow the lawn, they provided an alternative very promptly. I am very happy with the service I have in my rental property
What a transformation, from crabgrass and weeds to a beautiful lawn. They are dependable and provide excellent service.
Shane Wringler
July 9, 2020.
Amazing job! No excuses, just thorough professionalism is what you can expect from Eden app. Finally found landscaping and lawn care providers I can count on!
This team came right out and did one of the most impressive jobs Ive ever seen. Not only does my Lawn look good they went out if there way to pick up the palms in my lawn as well as bring my trash cans up. Thank you Eden and team!
Paul Kornatz
June 27, 2020.
I work in landscaping, have owned and operated since 2011. From maintenance to Construction I have overseen many projects to fruition. But I don't always have time to meet requirements, I don't always have the available personnel. A contractor friend of mine introduced me to Eden and ever since then, I don't have issues filling short-term requirements that I can't meet and all of my customers are much more satisfied since they are able to get their work done without having to adhere to my busy schedule. I used to lose jobs and customers because of time restraints but with Eden, I am able to maintain my relationships by having an extra option to meet time requirements. Whether you are a homeowner or a contractor, this is a great way to get the job done both sooner and better. Highly recommend, especially for homeowners looking for efficiency and quality.
Some Of Our Landscaping Projects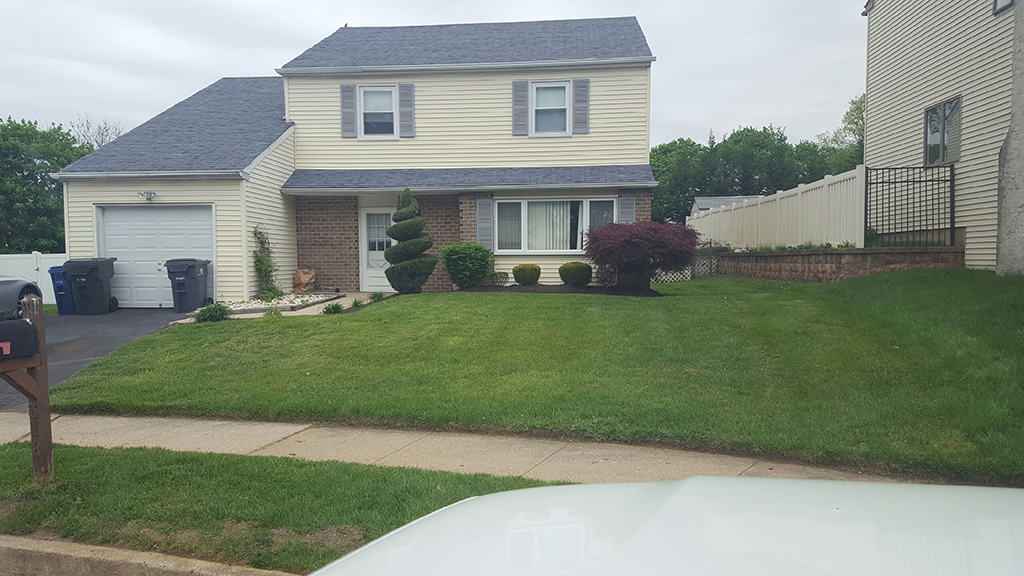 Hired Eden's landscaping services two months back and my house truly has curb appeal now. Eden's experts were very professional, easy to deal with. Thank you Eden!
Finally, I have my dream yard!! Thank you, Eden for transforming my yard to the dreamy place. Excellent services at a reasonable price.
We hired Eden's landscaping service last year to do some landscaping in our backyard. They were very professional, easy to deal with. The cost is lower than if I tried to do it myself. Thank You, Eden!
Eden Landscaping Services
Eden specializes in landscaping services that fit your personal style and the aesthetic of your home. Order any of the following online, on-demand landscaping services
Aeration helps promote lawn growth and alleviate soil compaction. Eden's landscape professionals will perforate the soil in your yard with small holes to allow air, water and nutrients to penetrate the grass roots.
Eden staffs certified arborists to manage your tree care needs. To help shape and keep them healthy and thriving, we will prune your trees using the proper techniques and advise on planting new ones. We also will assist in preventing and treating disease and pest infestations.!
From installation to maintenance, Eden provides services that will make your artificial turf last. Our certified professional landscape contractors can install, repair, clean and replace or remove artificial grass through our on-demand, online ordering system.
From installing a new asphalt surface to adding an overlay or sealing and patching, Eden's trained technicians can handle any asphalt paving project with superior quality and attention to detail.
Driveways, walkways, custom patios or any other hardscape anchors your outdoor living space and adds to the flow of your landscape. Eden's contractors can install any concrete, decorative feature for your yard.
Choosing the right materials, design and a trusted contractor like Eden for your backyard deck can add another dimension to a landscape. Let Eden's landscape contractors walk you through the process that will add an outdoor living space and value to your home.
Dethatching is done to allow air, water, nutrients and fertilizer to enter the soil. It also helps your lawn to drain more effectively. Eden's lawn care specialists will complete this service by removing the thick layer of decaying plant material that build up on your lawn.
Keeping in mind your landscaping goals and needs, Eden will deliver a custom design plan that includes concept, plant palette, planting plan, lighting, drainage, hardscapes, decks, fences, water features – anything that will fit within your budget. The possibilities are endless
Fences can add a decorative look and enhance your landscape. Eden can design and build a unique fence for your yard utilizing the design and high-quality materials you desire.
To grow green and healthy, your lawn depends on high-quality fertilizer and regular feedings. When applied at the right times, a high-quality lawn fertilizer gives turf essential nutrients that help it grow thick and resist environmental stresses, weeds and pests. Grass type determines when to fertilize.
Fire features add warmth, both literally and aesthetically, to an outdoor space or yard. Eden's professionals can install, clean and maintain any gas or wood-burning fire pit, table, outdoor chimney or fireplace.
Installing a fireplace in your yard adds a cozy element to your landscape. Eden is equipped to install various types of outdoor fireplaces, including those that are wood burning, gas or electric. We will work with you on fireplace selection and identify a great location in your landscape for optimum use.
With a variety of colors to choose from, flagstone can enhance your yard and be incorporated into the overall design of your landscape. Eden's technicians can install this durable material as a walkway, patio, or any other hardscape feature.
Make your landscape even more relaxing with the addition of a hot tub. Eden's certified contractors can walk you through the process — from inserting the hot tub into your landscape design to installing and maintaining it. We have your relaxation needs covered.
Versatile interlocking stone and pavers offer unique outdoor hardscapes that come in many textures, shapes and sizes. Because of their durability, interlocking stones and pavers are best for high-traffic outdoor spaces. Have Eden install and maintain your today.
No need to worry about lugging a hose around your yard to water your lawn and plants. Eden can provide quality irrigation system installation, design and maintenance services that keep your landscape lush and healthy.
Did you decide to tackle your landscape maintenance yourself and now don't know what to do with the waste? Or are you cleaning out your garage or a room in your home and need the junk removed. Eden can do it for you! Our professional contractors can haul away trash to keep your landscape free of debris.
Eden is a full-service landscaping provider, designing and constructing unique landscaping projects with features that complement the aesthetic of your property, enhance your outdoor living space and add value and curb appeal to your home.
Illuminating your outdoor space the proper way allows you to enjoy your yard after the sun sets with an added sense of security. Eden can install an exterior lighting system to benefit your property with selections including solar-panel powered, low voltage, LED and spotlights.
Get creative in your landscape design by utilizing rock. Landscape rockery adds texture and definition to any yard, with little to no maintenance. Eden can design and install a patio, walkway, retaining wall, or waster feature using durable landscape rockery to fit your yard's needs.
Mulching is the simple act of improving the quality of your soil by covering it with a porous material. This material can either be organic or inorganic – depending on the benefits you wish to acquire. 
To protect your loved ones and pets using your outdoor living space, Eden offers natural, non-chemically based weed control products and herbicides that eliminate weeds and other unwanted vegetation from your lawn and garden.
Expanding your living space can add value and enjoyment to your home. An outdoor kitchen is a great way to make the most of your landscape. Eden's certified contractors can design and build anything from an upgraded grill with counter space to a full-service outdoor kitchen with plumbing and gas lines.
From installing a new asphalt surface to adding an overlay or sealing and patching, Eden's trained technicians can handle any asphalt paving project with superior quality and attention to detail.
Looking to add a shaded walkway or seating area to your yard? Let Eden's professional contractors build or install the perfect pergola to extend your outdoor living area.
Nothing completes an outdoor space like the addition of a decorative pond. Spend hours of tranquility in your yard when you have Eden design and install this water feature to enhance your landscape.
Removing dirt and debris on your patio, deck, walkways, fence, home and other outdoor areas can brighten up your landscape and reduce wear and tear. Eden can quickly eliminate this build-up with our power washing services.
A well-placed retaining wall helps protect your landscape from erosion and runoff. Eden's certified professionals can design and install a different types of retaining walls made with various materials that will help hold soil and rocks.
Seasonal Planters and Urns
Fresh seasonal planters can quickly and affordably enhance your landscape and add a pop of color to your home. Let Eden's professionals design and create the perfect seasonal planter or urns that can be updated throughout the year.
A sod consists of grass and a little layer of soil beneath it held together by its root or another thin layer of material. It's a natural bed of grass which is grown locally
The word 'soil' is a common term used broadly to denote the uppermost layer of the earth's crust, which supports the growth of plants. Sometimes, the term 'soil' is used interchangeably with the word 'sand.'
No need to worry about lugging a hose around your yard to water your lawn and plants. Eden can provide quality sprinkler system installation, design and maintenance services that keep your landscape lush and healthy.
In addition to aeration, top dressing your lawn helps promote lawn growth and alleviate soil compaction. Eden's landscape contractors will apply sand or a prepared soil mix to the surface of the lawn.
Water features, like fountains, waterfalls and ponds, serve as focal points for many landscapes, with their soothing sounds and reflective qualities. Eden can design, install and maintain the most tranquil water feature that fits organically into your landscape design.
Why You Should Hire Professionals For Landscaping Services?
Attractive landscaping boosts the curb appeal of your property and also offers a pleasant and comfortable space to relax. There are several landscaping elements and ideas you can opt to add value to your property. However, due to lack of tools and busy schedule, many homeowners are not able to invest enough time to take care of their landscape and yard. By hiring professional landscaping services, you can achieve the garden of your dreams. Skilled hands of Eden's Landscaping experts can transform your ideas into reality and help you maintain the beauty of your home landscape and yard. Our professional Team offers a variety of landscaping plan and its maintenance routine at a cost-effective rate. 
Give us a call today to hire our experienced and professional landscaping experts
What can Eden do you for you?