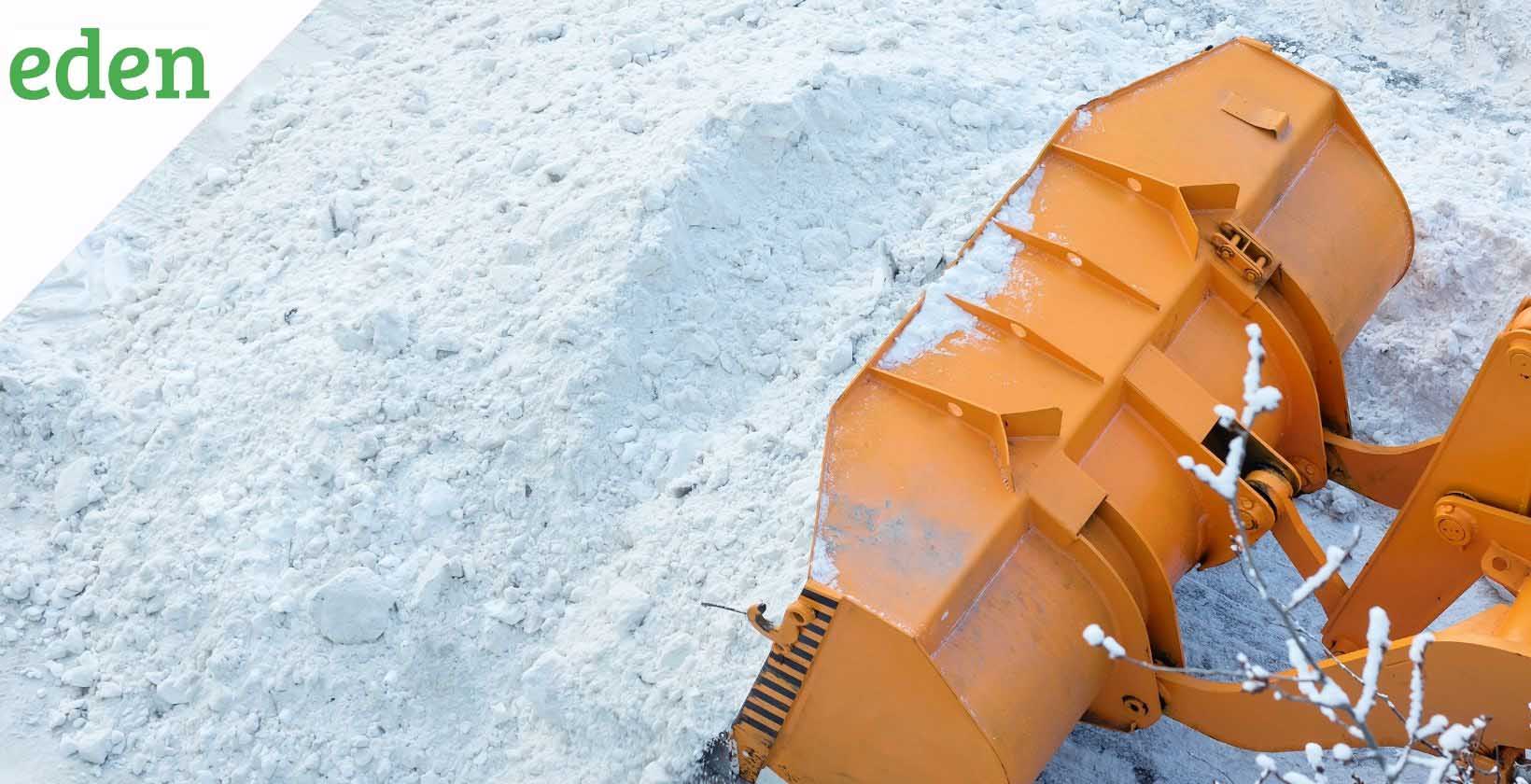 Best Snow Removal Companies
Are you still searching for "snow removal services near me"? Snow removal companies are not that difficult to find, but finding the best one feels challenging. Or, maybe you found a company with the right services, but it only provides commercial snow removal services.
Researching the best snow removal companies can be overwhelming sometimes. Therefore we have created a list of the best and most popular snow removal companies so that you can make an informed decision without much hassle.
1. EdenApp
With over five years of experience in lawn maintenance and snow removal, Eden and its mobile platform. Edenapp has become a popular choice when it comes to trusted on-demand home maintenance services. Edenapp focuses on offering top-rated services in Canada and the US region. From Boston to Chicago and Hamilton to Miami, this snow removal company provides professionals and expert recommendations to help you achieve the stunning aesthetic and plush aura you've always wanted for your residential and commercial property.
While Edenapp renders 750+ services, it also comes with its advantages and disadvantages. To have a better overview of this snow-removing company, let's take a look at its pros and cons.
Pros
Edenapp offers subscription and on-demand services through a mobile and web app.

It does not engage in contracts and offers free will to its customers or clients.

With no contract situation, you don't have to worry about any seasonal fees; only pay for the service you need.

It offers 750+ services to varied cities in the US and Canada region.

The app displays the quotes of the landscape or snow removal jobs you intend to get done. This makes it easy for any customer to accept the tasks that make financial sense to them.

It offers services beyond snow removal.
Cons
Only limited to the US and Canada region
Momentarily the services of Edenapp are available in the Boston, Minneapolis, Chicago, Toronto, Cleveland, Columbus, Ottawa, Milwaukee, Hamilton, Philadelphia, Miami, Naples, and Fort Myers markets, with a dynamic presence in Canada as well. However, more cities can be expected in this list as the company expands into new markets.
Eden, with its online presence, has succeeded in being touted as the 'Uber' for snow removal services. It has garnered great reviews for both its residential and commercial services. Apart from snow removal services, it also offers lawn work, landscaping, and yard work. These services include grass cutting, snow plowing or snow shoveling, ice-melt application, aeration, mulching, backyard oasis, fall cleanup, among other landscape and snow removal services.
In case of any difficulty or inconvenience, Edenapp also provides its contact information on its website and app so that you can reach out to them at any time of the day via phone or email.
2. Ceres Environmental
Ceres Environmental has been in the disaster recovery industry for over 45 years. It is one of the largest debris and environmental services providers in the United States. Along with extensive disaster-related services, Ceres Environmental offers snow removal services and has been providing 24/7 emergency snow response for more than 30 years in Minnesota.
With the sole objective of rapid response and recovery, Ceres Environmental also comes with its fair share of pros and cons.
Pros
This company provides elevated response and recovery services to both the government as well as private sector companies.

It takes charge of leading capital market influencers and other investors to come up with solutions and get hold of actions that can answer the world's most pressing sustainability issues.

Ceres Environmental owns more than 40 pieces of snow event response equipment and hence can meet any catastrophic event regardless of subcontractors' availability.

There are several reviews from the employees of this company that showcase that a company that treats their employees right assists their customers well.

It gives the opportunity to join their culture and become a subcontractor.

While attending to customers in the event of natural disasters or civil construction, Ceres Environmental also develops innovative recycling techniques for a sustainable future.
Cons
Limited to commercial snow removal services.

With expertise in the disaster recovery industry, Ceres Environmental has executed over hundreds of commercial contracts involving civil construction, flood control, and post-event recoveries. Dedicated to improving the communities with its deployment services, Ceres Environmental attends to people throughout the United States, Caribbean, Pacific and New Zealand.

Apart from the snow removal services, Ceres Environmental renders demolition & deconstruction, disaster recovery, civil construction, environmental remediation, and material recycling.

For any emergency or discussion regarding Ceres Environmental services, you can contact them via email, phone or location information mentioned on their website.
3. Greenwise
In this fast-paced world, not everyone is bothered about the environment. Greenwise, on the other hand, has emerged as the leading organic lawn and landscaping company that also provides eco-friendly snow removal services. The team of Greenwise believes in following their mission of safeguarding the environment through their sustainable practices while meeting their client's needs.
Even with its eco-friendly approach, Greenwise comes with varied pros and cons. Let's take a look.
Pros
Greenwise refrains from using toxic chemicals.

It provides both residential and commercial snow plowing.

The team of Greenwise believes in pre-treating the surface before snowfall to lighten your footprint and theirs..

It provides 24-hour customer service.

It offers packages like zero tolerance package, value package, and season pass according to your needs.
Cons
The services are limited to Chicago districts and a few other suburbs in Illinois, United States.

As mentioned earlier, Greenwise offers both residential and commercial snow plowing services for the people of Chicago. Apart from catering the Western Suburban customers and serving Chicago and Oak Park, Greenwise has expanded its service area to Brookfield, OakBrook, La Grange, Western Springs, Morton Grove, among other suburbs and small towns in Illinois, United States.

Along with its proactive, eco-friendly snow and ice removal, Greenwise also offers landscape designs, organic lawn care services, aeration and seeding, landscape maintenance, and pest control. Anyone with snow removal queries or tasks can visit its contact page. You can also sign up for free consultation.
4. Gardenalia
Providing landscape and snow removal services with the values that represent green, holistic, ecologically responsible design is what differentiates Gardenalia from other snow plowing services.
Gardenalia emerged in 2002 at the forefront of the eco-trend in gardening. It entered the landscaping industry as an urban garden boutique and was the first and only store to render these services in Pittsburgh's East End.
Before coming to any decision, let's go over the advantages and disadvantages of Gardenalia.
Pros
The primary goal of respecting the ecosystems and customers prevails for all its services.

Gardenalia's process of beatification and sustainability is different from other landscaping and snow removal companies in many ways, be it designing or planting.

The team of Gardenalia has an interactive and artistic approach.

It provides both commercial and residential snow removal services.
Cons
The services of Gardenalia are limited to Pittsburgh.

The team responds in 2 business days.
Apart from the residential and commercial snow plow, de-icing, snow shovel, and snowblowing services, Gardenalia also offers an array of landscaping and gardening services, such as container gardening, hardscaping, landscape construction, sustainable landscape design, etc.
The landscape designers, gardeners, and skilled artisans of Gardenalia provide these services in Pittsburgh and its liveliest neighborhoods, from Oakland to Lawrenceville.
You can contact them by filling out a form or via email, and they will get back to you in 2 business days.
5. Winter Services Inc.
Winter Services, LLC emerged in 2006 in Milwaukee, WI and has been growing and developing with the sole objective to become an industry leader for snow and ice removal. Winter Services Inc specifically provides snow removal and ice control services while standing by its core values that represent integrity, reliability, accountability, teamwork, and efficiency.
With 40 years of service experience, Winter Services Inc has come a long way, but its services also come with several advantages and disadvantages.
Pros
Winter Services Inc is a 4-time winner of the SIMA safety award.

It provides 24/7 customer service.

It also provides email newsletters with up-to-date weather information and Midwest snowfall predictions.

Winter Services Inc is equipped with equipment like wheel loaders, pick-up trucks, skid loaders, etc.
Cons
It provides only commercial snow plow and snow removal services.

Unlike Edenapp, Winter Services Inc works on a contract basis.

It does not specify the time period of replying to your request/ contact form.
Winter Services Inc only provides commercial snow removal services that include snowfall clearing and hauling, sidewalk clearing services, and de-icing services throughout the Midwest and Northeast, across 18 states. You can contact them by filling out a form on their website.
6. Eagle Rivet
With roof construction, roof design, and roof maintenance services as its main business, Eagle Rivet also extended its line of work to snow removal services. This commercial roofing company is focused on providing industrial, institutional and high-end residential roofing services with varied specialties, including solar photovoltaic (PV) panels and vegetative features.
At the same time, the team of Eagle Rivet also offers services for removing ice dams on roofs, flat roof snow removal, residential home roof snow clearing, etc.
Pros
Eagle Rivet mentions that they won't be making any irritating or disturbing noise while they work.

The company has a no tobacco policy for their employees when they are working on someone else's property.

The company also mentions that they are sensitive and more careful when it comes to a family pet.
Cons
It is a roofing company and has extended its services to snow removal tasks. And hence, it mostly offers roof snow removal.
Apart from its extended services that include high-end residential roofing, solar PV panel installation, roof snow removal, stone ballast removal, Eagle Rivet mostly provides commercial roofing services, roof repair and replacement, among other roofing services.
Eagle Rivet serves all of New England, Eastern New York, and Florida, and you can reach out to them by dialing the number given on the top of their website page in case of roof emergency or filling out a form for any other queries.
7. DH Funk and Sons
Based in Lancaster County, PA, DH Funk and Sons was founded by Donald H. Funk along with one of his four sons in 1975. From a small office with the employment of 20 people, DHF primarily worked on residential and agricultural projects related to excavating services.
The USP of this LLC is that it has been handled and managed by the Funk family for three generations. At present, DH Funk and Sons is managed by the third generation and approaching 50 years of being in this business while adding varied services, including snow removal services, to diversify the company.
Pros
The team of DHF engages in frequent and transparent communication.

The company follows the values of dedication, honesty, family, unity, neighborliness, and kingdom, where combining the first letters also spells out DH Funk.

It provides both residential and commercial snow removal services.
Cons
The company's focused business is site development – excavating, and paving services.
This family-owned-and-operated excavating and paving company offers asphalt paving services, excavating services, heavy equipment repair, crushing services, along with residential and commercial snow removal and de-icing services in Southeast and Central Pennsylvania.
For any query related to the services mentioned above, you can call on the number they've provided or contact any team member via email.
8. Senske Services
With over 70 years of experience in lawn care, pest control, and tree care and maintenance, Senske Services has been a part of this community in Colorado, Idaho, Utah, and Washington. Senske was built and founded on the basis of legacy, integrity, loyalty, and community.
Emerged in 1940, Senske majorly focused on lawn care, tree care, and pest control programs. Later the company expanded and included commercial snow removal services as its expanding service.
Pros
You can get a free custom quote for snow removal services.

The company offers services in the greater communities, from Yakima to Boise.
Cons
It does not provide residential snow removal services.
Along with commercial snow removal services, Senske offers four individual services – lawn care, pest control, tree service, and maintenance services. It also offers holiday decor. Its services cover Colorado, Idaho, Utah, Washington, and some of their cities.
You can contact the company via their contact information (phone number) mentioned on their website.
9. Hansen's
A veteran-owned snow plowing company, Hansen's Lawn Care, is operating in the state of Minnesota. Richard Hansen served the country well during his time in the United States Air force. After relocating to the state of Minnesota, where he started his family, Richard observed that Minnesota receives heavy snowfall, especially in Lake Superior highlands and Duluth.
He started his lawn care and snow removal business on the basis of three values, integrity, service, and excellence.
Pros
The company renders affordable and competitive snow plowing rates.

It provides both residential and commercial snow removal services.
Cons
There is no mention of the 24/7 customer service.
Hansen's Lawn Care offers core aeration, fertilization, lawn mowing, yard cleanup along with residential and commercial ice dam prevention, roof snow removal, among other snow plowing services.
The services are only available to Oakdale, MN, Woodbury, MN, Maplewood, and Lake Elmo. You can contact them via phone call.
10. Davey
Founded in 1880, Davey Tree has been an employee-owned company since 1979. The largest employee-owned company in Ohio is operating throughout North America but is still rooted in its values – safety, expertise, stewardship, integrity, leadership, and perseverance. With the sole objective of exceeding the client's expectations, Davey is leading towards creating and delivering sustainable solutions.
Davey offers three types of contracts to its clients, seasonal, per winter event, and according to the time and materials.
Pros
The company offers varied landscape and snow removal services along with expert advice.
Cons
The company does not provide residential snow removal services.
The company provides Certified Arborists, and other professionals along with diverse landscape and snow removal services, such as tree removal, shrub pruning, landscape maintenance, irrigation installation, snow and ice management, etc.
Davey provides its services throughout North America. For any query, you can contact or send a request by filling out the form mentioned on the website.
11. CentiMark
With over 95 offices throughout the United States, Canada and Mexico, CentiMark has made an exemplary place in the roofing industry and has been exceeding the industry standards. CentiMark has come this long way with the objective and mission to protect your property and meet all your needs through its services.
Pros
The company offers varied roofing and snow removal services.

It provides 24/7 emergency service for commercial roofs.
Cons
The company does not focus on residential snow removal services.
Apart from commercial snow removal services, CentiMark offers asset management, portfolio management, new construction, commercial reroofing, preventative maintenance for the roof, roof repairs, among others.
A number is provided on their website in case of emergency roofing issues.
What do Snow Removal Services do?
The best snow removal company is equipped with specialized tools and equipment to render residential and commercial snow removal services, such as snow plowing, removing snow from driveways, sidewalks, lawns while providing essential preventive measures that protect your property and landscape.
What characteristics should I look for in a snow removal company?
The snow removal company must offer prompt service.

They should be efficient not just with communication but also in using the snow removal tools and equipment.

The company should be punctual.

They must have a detail-oriented process for each job or task.

There should be use of technology and advanced machines.

Ensure that the snow removal company has a good reputation.
What are the advantages of hiring snow removal services?
The benefits of snow removal services include the attainment of an exceptional curb appeal and cleaner aesthetic without draining all your energy.
The process of snow removal involves snow plowing, raking your roof, de-icing, along with numerous other tasks which require varied tools. A snow removal company brings its own machines and equipment while providing you with experts and professionals of this field. This also concerns your safety since heavy-duty machines should not be used by someone unfamiliar to their usage.
By hiring snow removal services, you can also prevent accidents that could occur due to slippery walkways, and amateur snow removal techniques won't help you the entire winter season.
How much does the Snow Removal Services cost?
Reliable companies like Edenapp provide their services at a price range that starts from $35. The average price range of snow removal services can range between $35 to $75 per hour or $200 to $600 per season. But the snow removal cost varies depending on the brand you choose and the type of service you need.
With all the necessary information mentioned above regarding varied popular snow removal companies, we hope that this article has helped you in making the right decision for the same.
If 'By what time will they clear your driveway?' has been your thought all over the winter, we are here to help you easily drive away.