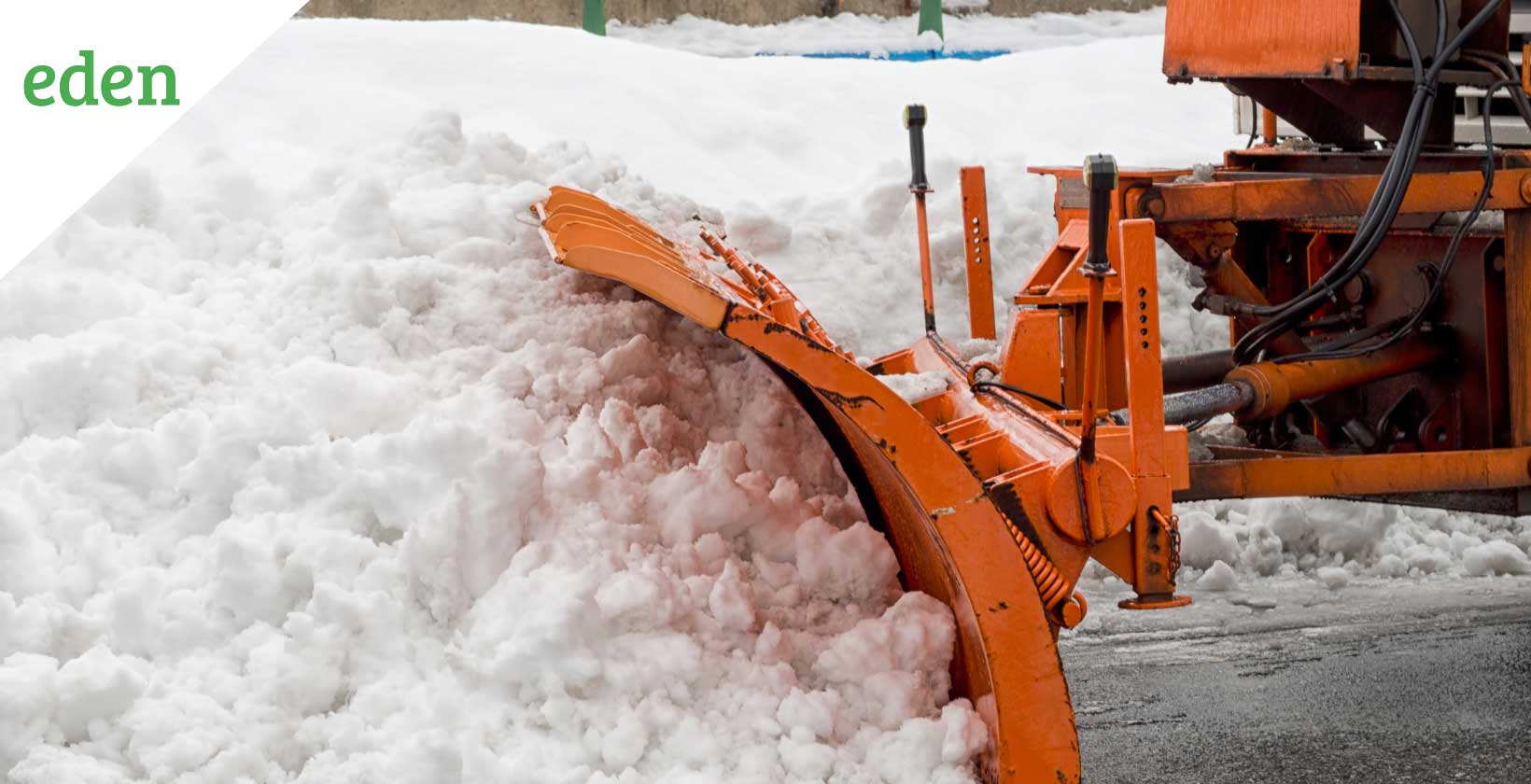 What is Snowplow? Is it Expensive and Useful?
The winter season brings with it a sense of magic with snowfall, trees covered with fluffy, white snow, cozy evenings in front of the fireplace with your loved ones and fun time playing in the snow for kids. But as an adult, winter also brings a sense of dread because snowfall means snow clearance responsibilities that can take away winter's joy. 
While there are various ways to remove snow, in this article, Edenapp brings you one of the more efficient ones so that you don't have to spend a lot of your precious time clearing the snow. Read on to learn everything you need to know about snowplows.
What is Snowplow?
A snowplow is a piece of equipment or a device that is mounted on a vehicle to remove snow and ice from outdoor surfaces like driveways, roads, sidewalks, etc. Sometimes, the term 'snowplow' is also used to include the vehicles to which they are attached, but it is important to note that the snowplow is just the attachment to a winter service vehicle like a pickup truck.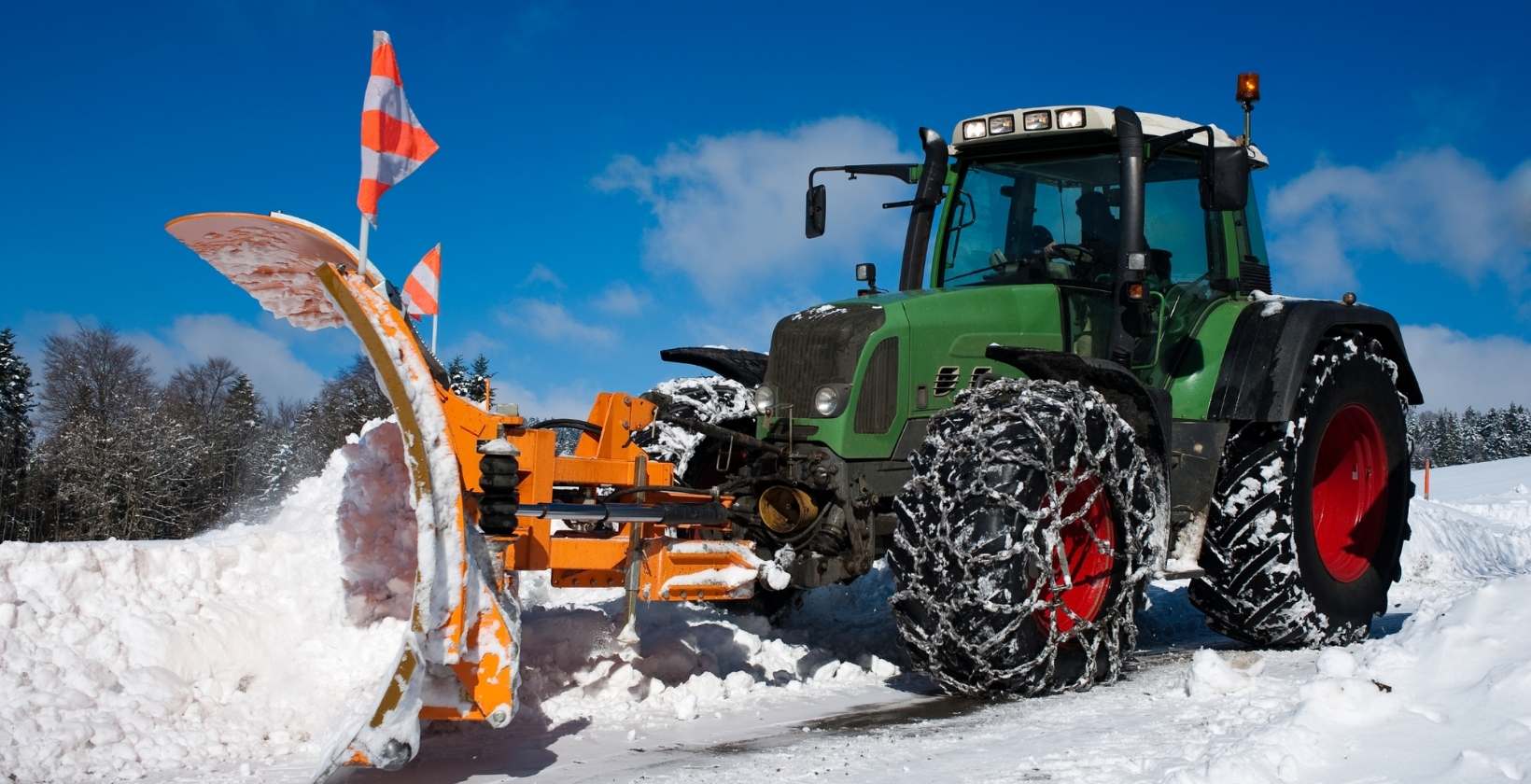 Snowplows are attached to the front of the vehicles so that snow can be pushed to clear a path as the vehicle moves forward. They are one of the most efficient methods for homeowners and businesses alike to safely and quickly remove snow from their properties.
What are the Types of Snowplow? 
Snowplows are manufactured in a varied manner to meet different requirements according to the location where they will be used. For example, a narrow driveway would need a smaller snowplow instead of a wider one. Whether you are planning to buy a snowplow for residential purposes or to start a service professionally, you need to know the various types of snowplows available and the purpose of each so that you can choose the right one according to your requirement.
The following are the five types of snowplows: 
Front-end Plows

: As the name suggests, front-end plows are mounted on the front of the vehicle to push the snow forward to clear the snow. They are the most common type of snowplows.

Rear-end Plows

: Rear-end plows or tow plows are mounted on the back of the vehicle, and they push the snow in the same direction as the front-end plow to remove snow more efficiently.

Rotary Plows:

Rotary plows are similar to snow blowers in that they blow the snow piled on the side of the roads to make a wider path. They are used in regions that receive extremely heavy snowfall.

Wing Plows

: Wing plows are attached to the side of the vehicle, and they work in combination with the front end plow to clear the snow on the sides of the path. They are generally used by government snow removal services as they have to clear snow from a large area in a short amount of time.

Underbody Plows

: Underbody plows are attached underneath a winter service vehicle to scrape snow that has become compact on the roads. They can be used either in combination with a front-end plow or on their own.
What Vehicles can be Used as Snowplow?
Snowplows need to be attached to a vehicle in order to be used to remove snow. So the question arises as to which kind of vehicles are suitable to be used for snow plowing. The answer to this depends on the location you want to remove snow from and the amount of snow that needs to be removed.
If you need to remove a few inches of snow from your driveway, you can attach the snowplow to your car as long as it has a strong transmission and 20 horsepower. Most cars are able to handle small amounts of snow removal.
If you live in an area that receives heavy snowfall and snow piles up to more than 6 inches frequently, you need an SUV or a light-duty truck. Some examples of these are Chevy Silverado 1500, GMC Sierra, Dodge Ram 1500 and Ford F-150.
What are the Construction and Design of Snowplows?
Not all snowplows are created equal as they are constructed using different materials to serve different purposes. Some snowplows are made with a lighter material for easy handling, while other snowplows are constructed robustly to handle heavy-duty snow removal.
Here are the three types of snowplows based on their material of construction:
Steel Snowplows:

Steel snowplows are built to handle heavy loads of snow and can be attached easily to older model trucks as well. They are more cost-efficient as compared to other snowplow materials and hence are a popular choice among professional snow removal services.

Stainless Steel Snowplows:

Like steel snowplows, stainless steel snow plows can also perform heavy-duty snow removal tasks. The difference between the two materials lies in their durability. Stainless steel snowplows are more durable than regular steel snowplows as they are scratch and rust-resistant. Additionally, snow does not cling to this material, making the task easier.

Polyethylene Snowplows:

These snowplows are made of durable plastic, which makes them dent resistant, thus increasing their durability. They weigh more than steel snowplows and might be difficult to attach to cars. They are the more expensive choice, but their long life makes up for the difference in price.
The blades of snowplows come in different shapes and sizes to perform heavy-duty snow removals as well as light snow clearance. Given below are the three types of snowplows based on blade design:
Straight Plows:

Straight blade snowplows are the most common type. They are used to angle the snow away from a building and towards the perimeter. They are typically used on highways and parking lots. For residential purposes, if you live in a region that receives less snowfall (not more than 6 inches at a time), then a straight blade snow plow is the right choice for you as they are the least complex blades of the three.

V-Plows:

V-plows are the most versatile of the three-blade types. Though they are typically used to make the initial breakthrough in a heavy snow pile, they can be used for other snow removal jobs as well. V-plows work well with snow of various types (dry snow, wet snow, mix of wet and dry snow) and depths. The scoop feature of the V-plow allows snow to be carried without spilling.

Containment Plows/Snowpushers:

Containment plows or snow pushers are the most efficient plows for the removal of large amounts of snow. The pusher is attached to a loader to hold large amounts of snow and move it to a different location. Since the snow is contained, this prevents the spilling of snow and eliminates the need for repeated plowing.
What is the Usage of Snowplow?
Snowplows are typically used to remove snow in regions that receive high average annual snowfall or where large amounts of snow need to be removed quickly.
Airports, parking lots, highways, sidewalks are areas that are too long or large to use a snowblower for snow removal. Snowplows are the best options to use in such locations where they can quickly push all the snow to the perimeter when they are attached to a vehicle.
People with physical limitations also use a snowplow for snow removal as it allows them to remain seated and operate the machinery to complete the task.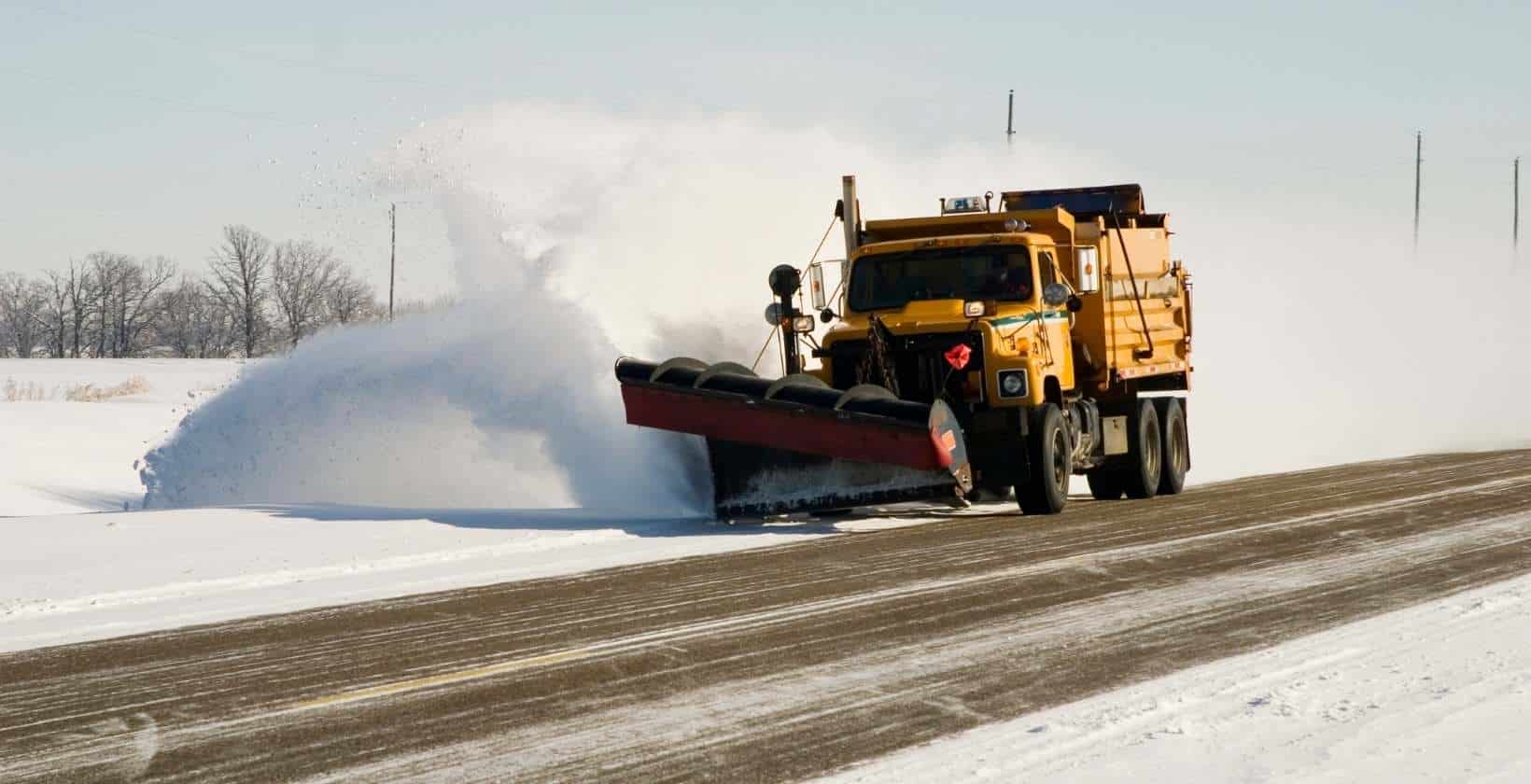 When was the Snowplow Used First?
The first type of snowplow was used in the early 1800s. These were crudely made snow rollers and carts that were pulled by horses and oxen. These evolved with the industrial revolution, and the first actual snowplow was built in 1862 in Milwaukee, where a large wedge-shaped wood was attached to a horse-drawn cart.
The first motorized snowplow was manufactured by Good Roads Machinery in 1913. Good Roads started creating snowplows in various sizes and shapes by the 1920s.
What are the Benefits of Snowplow?
Snowplows are amazing instruments that make the task of snow removal easy and efficient. The following are the benefits of hiring a snowplow service:
Snowplows make the process of clearing snow fast and efficient. The blades of a snowplow are made of durable materials that allow the plow to scrape the surface completely clean without risk of damaging the equipment. Because of this, there is no need for multiple rounds of plowing, thus saving time.

Lightweight snowplows can be attached to already existing vehicles, reducing your investment costs.

Snowplows decrease the risk of slip-and-fall accidents as plowing while adding de-icers will clear the area of snow and ice both. This will provide traction to walk safely.

Because snowplows clear the snow efficiently without leaving trails of snow, this will reduce indoor messiness due to wet snow that can get dragged inside due to foot traffic.

Snowplows can handle large volumes of snow with ease. Do you have a long driveway or a parking lot to clear? Snowplows are what you need.
What are the Drawbacks of Snowplow?
As efficient and effective as they are, snowplows are not without their faults. Given below are a few drawbacks of using a snowplow:
Because of its large and curved design, it might be difficult to store a snowplow during the months when it is not in use. Also, it can't be stored outside because constant exposure to the elements will damage it.

Snowplows are bulky equipment and therefore require a larger area for maneuvering. They are not very suitable for snow removal from tight corners.

If you want to drive a vehicle attached to a snowplow on the main roadways, you might have to seek special permission from your local council as it can pose a safety hazard.
What Things To Look For When Buying a Snowplow
There are a few factors you should consider before buying a snowplow. The first is the purpose for which you will be using it. If you are looking for a versatile plow to handle different depths of snow, you should choose a V-plow. If you live in a region that does not receive a lot of snowfall, you should buy a straight plow.
The second factor to consider is the size of the plow. You need to choose a snowplow that can be attached to your vehicle with ease. If you are using a car instead of a truck or an SUV, you should consider buying a smaller snowplow of lighter weight.
The reputation of the dealer should be looked into before buying a snowplow from them. Ensure that they offer reliable repair services. 
Lastly, consider the material of the blade. A steel snowplow is a cost-efficient option for heavy snow removal tasks.
What is the Cost of Snowplow?
The cost of a snowplow depends on its type and brand. Light duty snowplows for personal use, like removing snow from a driveway, have a pricing range of $500-$2000. 
Snowplows to remove snow from larger areas like parking lots are of the commercial type, and their price starts at $5000.
Manual snowplows without any remote controls or hydraulics start at $1300. They don't have a complex setup, they just need to be attached to a truck, and they are good to go. But all the lifting needs to be done manually in this type.
Electric lift snowplows start at $1400. They have an automatic angling feature that allows the blade to be positioned at the desired angle for the best results.
The price of hydraulic snowplows starts at $3600. They are the best option for regions that experience extreme winter weather. All the lifting, angling and moving can be controlled remotely in this type.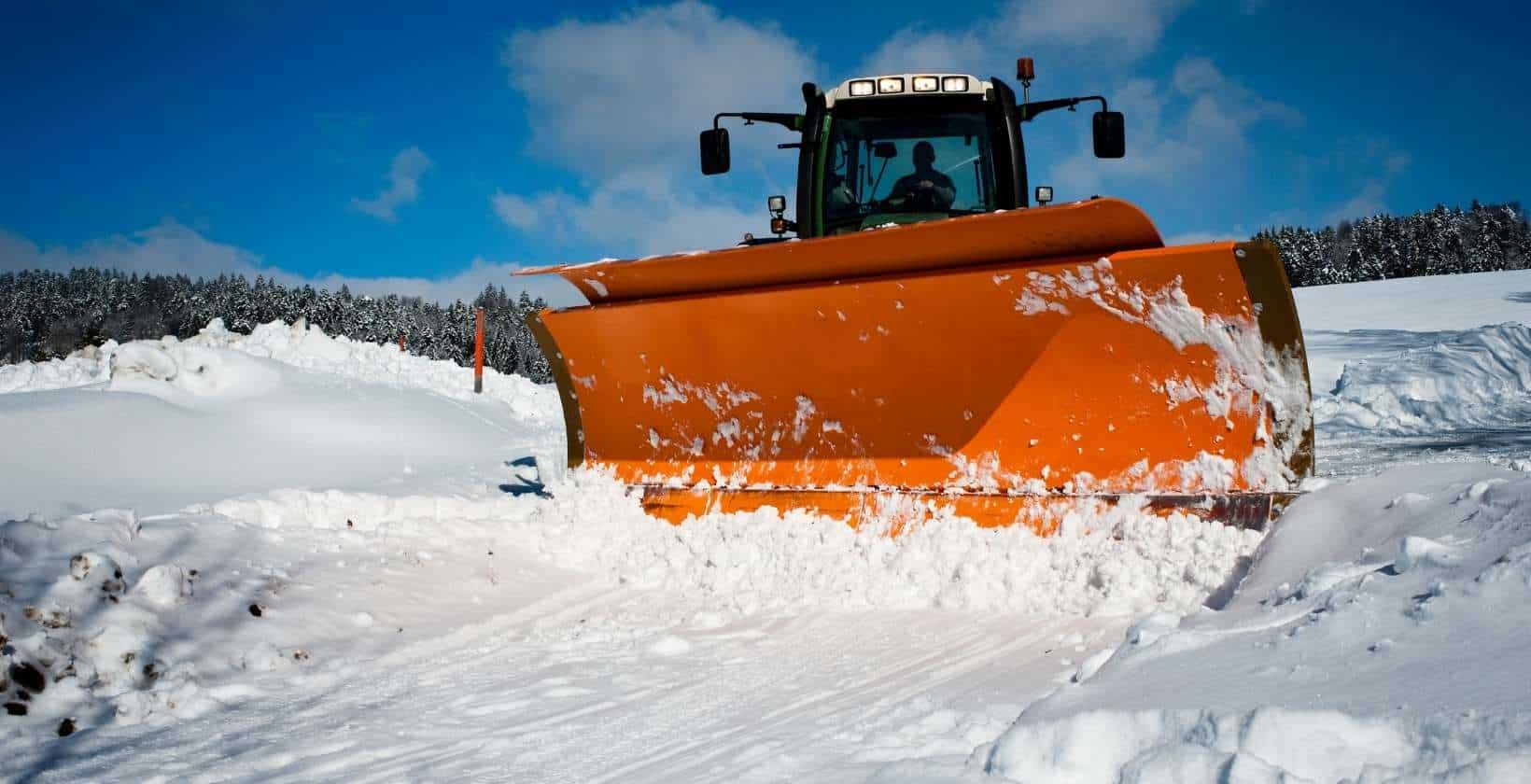 What are the Best Snow Plow Brands?
The quality of the snowplow is a crucial factor in determining its performance and durability. Edenapp will list the best snow plow brands that provide great quality for the money invested.
SnowSport:

Snowsport is one of the top brands in the snowplow manufacturing business, and in their own words, they revolutionized the snowplow industry with the SnowSport HD Utility Plow.

Meyer:

Meyer snowplows are a popular choice among users of light trucks as they are easy to attach and handle.

Nordic:

Nordic snowplows are known to be a good, cost-efficient choice that produces the quality it promises.

DK2:

DK2 snowplows are durable and rust-resistant while being easy to install and remove.

FirstTrax:

FirstTrax is known to construct home plows that have good visibility and a galvanized surface to retain the look of the blade for a long time.

Snowbear:

Snowbear plows are easy to assemble and are lightweight. They are also cost-efficient.

Bizon:

Bizon snowplows make snow removal easy with their simple and clean design. They can be easily attached to an SUV, pickup truck or Jeep.

Fisher:

Fisher snowplows are manufactured by Fisher Engineering, which is a subsidiary of Douglas Dynamics.
What are the Snow Plowing Services with Snowplow?
Snowplows can be used to provide two kinds of snow plowing services:
Commercial Snowplowing: Commercial snowplowing is the removal of snow using a snowplow from commercial spaces like outside office buildings, storefronts, parking lots, etc. They ensure that the space adjacent to your commercial establishment remains clear of snow and ice for the safety and convenience of the employees as well as customers.
Residential Snowplowing: Residential snowplowing is the removal of snow from residential areas, like driveways and sidewalks adjacent to private properties, using a snowplow. This ensures that access to a property is not blocked due to snow and the hardscape areas remain ice-free for the safety of the residents.
If you are looking for prompt and efficient snow plowing services for commercial and residential properties, contact Edenapp. We have a proven track record of providing quality services that meet our client's needs and exceed their expectations.
If 'By what time will they clear your driveway?' has been your thought all over the winter, we are here to help you easily drive away.